Britain's Prime Minister David Cameron, right, and Mayor of London Boris Johnson take part in a hand painting session, during a General Election campaign visit to Advantage Children's Day Nursery, in Surbiton, England, Wednesday April 22, 2015. Britain's most unpredictable general election in decades is Thursday, May 7, with polls showing the two biggest parties Labour and the Conservatives running in a virtual dead heat. (Toby Melville/Pool Photo via AP)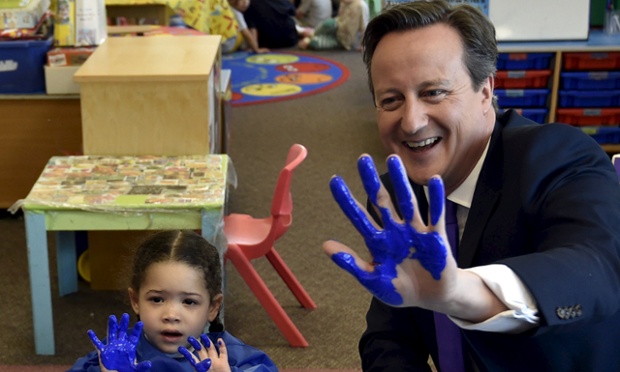 My irregular "David Mitchell is on holiday" columns on page seven of the Observer New Review frequently generate massive web traffic, with thousands of below-the-line reader comments, though, admittedly, most of them call for me to be sexually punished.
But these opportunistic weekly election diaries have provoked minimal comment-is-free contributions from the Observer's hopefully future-proof online consumers. They are about as popular as one of those throwaway weekly columns, written by an ornithologist or a potter, about how they like to spend their Sundays.
"7pm. A final check on the clay, and then up the wooden hill to Bedfordshire. Tomorrow is side-plate day."
Far be it from me to compare myself to the prime minister, but when I took on this election-column job, I arrogantly believed it was simply something "I might be rather good at". This was Cameron's famous answer, given when asked why he wanted to be prime minister.
Running the country, of course, ought not to be merely a self-improving challenge for jaded Bullingdon plutocrats, like learning the French horn from scratch in a week, unicycling, or becoming a pierrot. "Being prime minister. For the man who has everything." But I am not fit to criticise Cameron.
Like Cameron choosing to be PM, I took on this election columnist job even though I didn't necessarily have anything to say to anyone, or believe in anything much, or care. It is not a long contract, just six weeks, and I imagined I, too, might be able to serve out my time in office before anyone noticed my shortcomings, and my failure to harbour any cohesive hermetic vision. And perhaps I, too, would get to meet Mumford & Sons.
Like a lot of people in politics proper, I entered the political columnist game largely with an eye on what was in it for me. David Cameron will doubtless depart from his political career next month with the bare minimum of a few lucrative company directorships and a kiss-and-tell book deal, so long as that police horse, Raisa and the lamb he cuddled at Easter can be persuaded to ditch their own competing publications, both currently being ghostwritten from audiotapes by the Financial Times's Ben Thompson.
Advertisement
In contrast, I'm four weeks into this job and my election columns haven't provided any of the expected financial fringe benefits. As the only British standup comedian with a weekly election-based humour column in a national newspaper, I was at least expecting to be asked on to C4's Alternative Election Night, hosted by David Mitchell and Jeremy Paxman, but all the slots have gone to familiar panel-show faces and my former support acts. Perhaps I will be asked on if Mitchell goes on holiday at the last minute.
Out of my depth, and committed to a professional political engagement I no longer believe in, I suddenly have every sympathy for David Cameron. Just as I underestimated the sheer hard work involved in writing funny election columns, Cameron clearly thought being prime minister would be a lark, a breeze, and a wizard wheeze, something to chalk up on his business-class bucket list, along with getting a selfie with Helle Thorning-Schmidt and sucking the bass player from Blur's luxury cheese direct from the goat's teat.
But it wasn't all kissing lambs and dressing up as The Stig for Jeremy Clarkson's birthday, and riding purloined police horses through the Chilterns, flaxen hair-a-billow. There were floods and beheadings and genuine horrors, and even as Cameron was almost out of the door of No 10 and home and dry back to Chipping Norton, inconvenient bodies, that he is expected have a genuine-sounding opinion about, wash up pointedly on beaches.
I've found these weekly election diaries a struggle, to be honest. I think the problem is that, in 2011, I decided the best way to write the supposedly humorous newspaper columns increasingly requested from me was to detach myself from the process, to treat it not as an opportunity for impassioned thought, but as a professional problem to be solved. It was best to write the columns in character, as the version of myself who was the sort of person who would have been asked to write for a liberal broadsheet, with all that entails.
This is why, as another defeated middle-aged man who no longer believes in anything, obliged to feign conviction for financial gain, I understand David Cameron. He, like me, has been in a succession of supposedly appropriate disguises all along. He entered No 10 wearing the straw boater of jaunty comical arrogance; he recently tried the itchy woollen hat of humble public servitude; and now he wanders between micro-managed photo-opportunities – a milk-guzzling lamb, a paint-smeared child – without any hat at all, bareheaded in the storms. Because David Cameron's hat cupboard is empty. I click my fingers within it and recognise its resounding echo.