Giant Sand on the Smorgasbord
'Long Stem Rant', Giant Sand's eighth LP, opens with the lines, "Welcome, come on in, right in to the red shed." Said red shed is where all round nice guy and naked guitarist sex god Howe Gelb, and drummer John Convertino, spent a few spare days jamming off the tops of their heads alone, or with whoever was passing, to prune the salvageable results into an album of startling inventiveness and bewildering diversity. Aided by ex-Dream Syndicate bassist Mark Walton they took the results, plus a mixture of old and as yet unrecorded songs, on the road round Europe, starting at the Ladbrooke Grove Subterranea.
How does live work reflect the intuitive approach of much of Giant Sand's recorded output?
"When I'm writing, in the middle of a waltz, I want Mark to know, if I'm thinking 'D', then we're going to 'D' now."
"But he's not gonna tell me," elaborates Mark "he's just gonna vibe it to me, and hopefully I'll catch on." Are you a kind of psychic band then? "Psychic killer," mumbles Howe, randomly, while Mark grabs at straws from the world of cod psychology to substantiate Howe's claims,
"Yeah, it really happens. Y'know when women live together they all end up having their period at the same time."
"We've been yawning together," yawns Howe, "there's five basic phrases we have, we know when somebody in the band is gonna say one. We got that down."
"Its funny" begins Mark, "like today we all checked into the hotel separately. First guy walked in and went 'Ah Home!'. then John walked in and went 'Ah Home!'. Then I walked in and went 'Ah Home!'.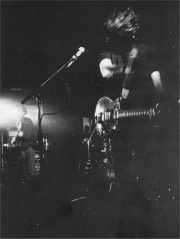 Then Howe walked in and went 'Ah Home!'. we all said the exact same thing at exactly the same point as we all walked in." Amazing. The upshot of all this, apart from giving hotel clerks a dull time whenever Giant Sand hit town, is that the band has a tremendous flexibility live. John Convertino plays drums on the edge of his seat, exchanging nervous hysterical glances with chain smoking iceman Mark Walton as they try to tune into the 'vibe' of just what wild Howe will do with the song next. Maybe it'll build to a climax at a point it never did before, maybe it'll follow a previously unrehearsed chord progression, or maybe it'll turn into a version of 'Lay Lady Lay' that they didn't know they were going to play.
For the Bobs and Freds on hand to make a professional recording of tonights live Giant Sand experience, this is no fun. The band are unable to say what they will play, offer any kind of set list, or even guess how long it will take. Finally a series of code words are agreed on. When its time to change over the first half hour of the tape Howe will signal a break by saying, 'Ok Boys, take a nap.' Changeover complete, he'll say 'Food's up!'.
Howe has eating on his mind tonight, and describes his musical influences as, "five basic food groups, Neil Young, Mott the Hoople, Theolonius Monk, Jimmy Rogers, er, and a rotating fifth. 'Sticky Fingers' is the most perfect record ever produced." Similarly Howe explains the reckless variety of 'Long Stem Rant', from the gentle blue-grass of 'Loving Cup' to the sub Boltthrower grindcore of 'Anthem' in culinary terms.
"I make records I like to hear, that I can't buy. It's like taking your plate over to the smorgasbord and putting on different food items.
There's plenty to choose from out there. We can make what we like to eat." If 'Long Stem Rant' is a visit to the smorgasbord, then 1988's 'Storm' is a well mixed dish, perfectly balancing the Country and Western seasoning of Howe's recording alter ego Blacky Ranchette, with the more familiar rock flavour of Giant Sand. "That was the idea. 'Storm' came out as a Giant Sand record because I had to pick one name. 'Giant Sand ' is smaller. Fits on shirts better." There's a new Blacky LP out in the spring though?
"Yeah. I wanted to play with some pedal steel. I never hear pedal steel anymore. I live about five miles from this hardcore Country bar. Every week a new band, and no pedal steel."
Howe's random recruitment of ex-officio members follows the 'we can make what we like to eat' mantra. New players are never auditioned but musicians who spend too long within a certain radius of the current Giant Sand camp are likely to be sucked in sooner or later. At best Howe's records, with different people drifting in and out of different tracks, sound like documents of the spare time artistic endeavours of a talented small community. "That's our basic attitude. We never audition. I doo't know how to go about getting players. John I met in my building. I dream of getting two backing singers. Girl singers. You know what I mean? And I never can really. I don't know how to go about getting them. I've been saying this for over two years now." For the future, Howe oontinues this search, living in Joshua Tree, California, "raising my kid", and now in the enviable position of just about making a living from his music. Writing on the road, evolving new songs day by day in frenetic onstage improvs with Mark and John keeping up through telepathy alone, and with more upcoming projects in the pipeline than most people dream up in a lifetime, the evidence is that Howe Gelb, whether as Giant Sand or Blacky Ranchette, will be making what he likes to eat for a few years more yet.
Stewart G Lee
Photos Simon Mills