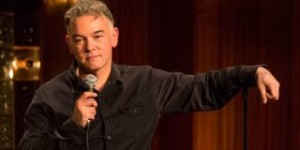 Stewart Lee has said that nobody is competent to review him. It's a sentiment he echoes early on in the first episode of his new six-part BBC2 series. So after thinking about doing something more useful with my time I decided to have a go. Does he mean it? It's a remark like a lot of remarks in this episode. They can be taken as face value, they can be taken as a wry postmodern joke. Or maybe both. It's a very layered show, that's for sure. Not so much a comedy vehicle as a comedy Viennetta.
The trouble is that Lee is such a profoundly good stand-up these days he is able to have it every way. He makes his audience at the recording laugh while insulting their intelligence, blaming the BBC ticketing system for sending the wrong crowd to watch him perform..
He puts the boot into fellow comedians such as Lee Mack and Graham Norton and then appears to imply that he is joking. But you never quite know what he is thinking. 'Stewart Lee' onstage is a character, but there seems to be plenty of Stewart Lee in there, much the same way that there is plenty of Steve Coogan in Alan Partridge. It's because of the overlap that Lee is so good at being 'Lee'. He works hard at it – god knows he did enough warm-ups for this series – but it also comes naturally. By the way, on the subject of Partridge, Lee's "Orienteering with Napalm Death" remark is the new "Monkey Tennis".
This first episode, entitled Wealth, though it also touches on social responsibility, success and fame, is actually quite benign. It feels as if it has been scheduled to sucker the audience in. Later shows are clearly going to be more political. There is one on Islamophobia coming up, which should be a bundle of laughs for the Daily Mail. And talking of people that piss off the Mail it's nice to see Chris Morris here interviewing Lee during his set and adding to the sense of textured deconstruction, though Morris doesn't say much. Then again, his silences are worth a thousand Alan Carr quips.
In this opening outing Lee seems to have loosened up in all sorts of ways. He seems to smile more (though I can't prove this scientifically). And he is not wearing a suit and a collar that is so tight the veins on his neck stand out like whipcords. He might even be less pasty-faced.
He definitely seems more relaxed and playful. And however much he wants to quote Brecht and make asides to the camera, such as wondering why his gag about Mock The Week doesn't get a bigger giggle, the comedy is definitely more accessible. His swipe at James Corden or his despair at becoming a middle class dad could actually almost be on Mock The Week. There are plenty of stand-out standalone lines in this show that I could happily print here and they would make you laugh. But I gather reviewers aren't supposed to quote material and I'm trying to be as competent a reviewer as possible.
I'll just quote this though. At one point Lee says "this isn't entertainment". Well it's a lot more entertaining than a lot of entertainment.
Stewart Lee's Comedy Vehicle, Thursdays from March 3, BBC2, 10pm. Watch the first episode online here.
Watch Stewart Lee talking to Alexei Sayle about comedy here – it's not part of the series.