Le Document (LD) Will you be following in the footsteps of Stephen Fry, Rob Newman etc and start writing novels or are you happy just being on the telly and making people laugh?
Stewart Lee [1996] (SL-96) I've started on the novel already, but of course it will just be slagged to shit by the lit establishment even if it's any good just because they don't like people coming into their patch uninvited. My novel is about the Dresden Fire Bombing, The Homeless and anal sex. I hope I can resist the temptation to write a play as the theatre is run by and for wankers. I think making people laugh is a worthy occupation, but I think you're under appreciated so you tend to get itchy feet.
A German journalist once said to me, straight up, "You must be embarrassed to be a comedian", as if it was something I'd get asked everyday. A girl in Wales said "A unique brand of cerebral juvenalia" – that's not much of an epitaph is it? And told me a Greek myth: it's the Satyr's job to clown around, but he wants to be a poet and make his audience weep. He asks Pan to make him a poet. Pan says no and tells him to carry on acting the fool. The Satyr steals Pan's pipes to play sad music and move his listeners. Pan strikes him dead. The other animals cry in the river of his blood. In his death, he achieves his ambition.
Stewart Lee [2021] (SL-21) I did write a novel in the end. It was published in 2001 I think. I don't think it stands up. Lots of the factual content was not accurate and it is too cartoony. I have been cured of that desire, luckily for the world. I don't imagine ever being on the TV again. My ambition from 2005 onwards was just to do live stuff for ever, and that seemed totally do-able as you weren't reliant on capricious commissioners commissioning you or publishing you. But now that certainty seems very uncertain.
After reading his answer from 1996: I don't remember anything about that novel as described. It sounds like a Vonnegut rip-off and I sound really arrogant. It turns out the German journalist was Dave Callahan from Wolfhounds' then girlfriend. I have always remembered that put down. She probably thought I was arrogant and wanted to put me in my place. The other woman sounds fantastic. I can't remember her, or much of the 90s.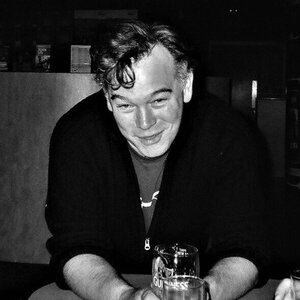 LD Are you jealous of comics like Ken Dodd who can make people laugh just by pulling a face, and do you ever wish you were really over weight or born with bucked teeth, large ears etc?
SL-96 I'm not really envious of many other comics – probably only Harry Hill and Simon Munnery (aka Alan Parker), because they're the only people that I think are really better than me in the kind of things I like to do. I'm not envious of other comics really – Angus Deayton maybe rich etc. but I wouldn't want to have to wake up and be him every morning. I am actually very fat – 14 stone – but I somehow seem to be able to carry it off unless naked when the horrible truth is revealed.
SL-21 I am overweight now and I need to address it because it gives me too much character and I need to be sort of nothing-y for my act to work. If I don't lose weight before live work starts again I will have to reinvent myself as a jolly fat man.
After reading his answer from 1996: I am still envious of the talent of both of them, but add Kitson to the list now. Despite what people say I am not envious of more financially successful comics as I wouldn't want to have the oppressive lives they do, but I do get irked when people strike it rich having assembled stuff for my old bits. Simon Bird's new stand-up special is like a baby standing up its cot and doing my act to an empty nursery, and I like him.
LD Since the Beyond The Fringe and Monty Python people in the 60s, there's been a steady flow of top comics coming from Oxford and Cambridge. Was the place jam packed with Stephen Fry and John Cleese types when you were there?
SL-96 At Oxford we met loads of people who were Python/Fry wannabees which even in 1986 was a bit embarrassing, and pushed us even further away from the posh comedy model. Armando Inanucci from 'The Day Today' was a post-grad. About 6 years older than us when we were little. Arm was always polite and charming. Kevin Cecil & Andy Riley who wrote for 'The Day Today', 'Spitting Image' and 'Def 2' were two years below us. They are nice lads. Ben Moor, who writes great one man fringe shows and does crap adverts, and Al Murray, who does a stand up act called 'The Landlord' and works with Harry Hill, were both in the year below me. Al and Ben are among my best friends now. People still go on about Oxbridge Comedy mafia but I fund the resistance to it when I started a real hindrance. 70's ex-public school fake communists would hate you on principle before they found out that you were actually ok."
SL-21 The only people from my year who are still doing comedy are me, Rich Herring and Al Murray. Rich is a sort of 'personality' now I suppose, like Rusty Lee or Richard Osman, and Al does periodic circuits as the landlord but is really working in drumming now which is his first love, and doing very well. I suppose I am the last one standing, for better or worse. Arm Ianucci was a few years above us and obviously has changed the world. There were more people from Cambridge who were our contemporaries, of which Mel and Sue's dbl act was the best by far, but they were never really given the chance to do it anywhere despite being from Oxbridge and therefore controlling the world."
After reading his answer from 1996: Ben Moor was probably one of the most talented people. These days he still does adverts and bit parts, and increasingly great one man shows, but in his 50s, so he has won the game of life. I too am an ex-public school fake communist but I got a charity grant for 'waifs and strays' and was a cuckoo in their nest really."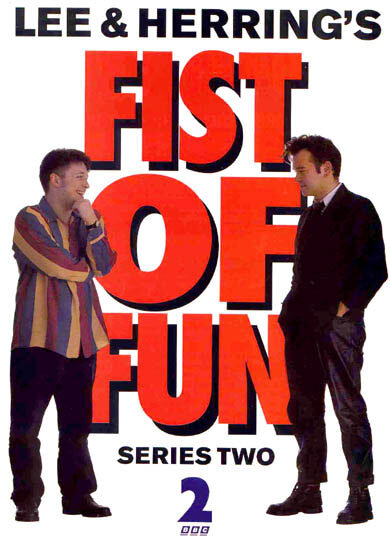 LD Unlike Richard Herring, your material is far more laugh at this, laugh at that – but don't laugh at me. Do you agree?
SL-96 I hope when I'm picking on people or things to laugh at, there's always an element of me being the twat for bothering to express the wrong/mad/obsessional opinion I am – I hope it works both ways, with me as a kind of ignorant victim of myself, maybe not.
SL-21 Not any more. I have worked out how to make my own deficiencies and paranoias the butt of the jokes, at the same time as they target various other people, institutions, ideas etc. But in 1996 this was a very accurate description yes.
After reading his answer from 1996: Wow – same answer.
LD Why do you think you and Richard work so well together?
SL-96 We dislike the same things rather than like the same things. We have different things to put into the cauldron. We used to be great friends – we still are but we don't really socialise together now as we're together so much. We've probably had the worse arguments we're ever gonna have now – Rich threw a New Castle Brown bottle at my head once in Cambridge and a chair at me about 18 months ago – and I don't think we'll ever actually officially stop working together, although hopefully the breaks will get longer, so I can go off and do self indulgent failed stuff. I want to make a country rock album under a false name.
SL-21 It seems hard to imagine that we did work together now, given that I haven't really spoken to Richard, aside from during his podcasts when he would ask me to remember things he had done, this century. I understand from his appearances on podcasts that he thinks I didn't really contribute anything to the double act anyway so I don't know how or why it worked. I know I wrote some of the material as it was based on my personal experience, opinions, interests, and sad memories of my own family, but he may be right. Certainly my individual popularity and success as a stand-up initially lead to us both being signed by Avalon, but I am not sure that was a very good result for either of us in the end anyway.
I think there was an adolescent dynamic at work, probably based on how we saw ourselves as teenagers, that limped on into our 20s, but I don't think there was much more you could have done with it as adults. Certainly there was no financial incentive for me to continue with the double act as on balance the double act lost money because the tours ate up anything else we made in debts to Avalon promotions and everything I made from the 90s was from the stand-up circuit or writing for other people. (After that, Avalon produced Jerry Springer The Opera and lost millions in much the same way) I think I was good at hanging back live and providing Richard with the opportunity to be excessive – he sort of plays chicken with notions of taste – that I would then reign in at the last possible point, like a police dog handler, but I don't think I was able to transfer over many of the skills I developed in the stand-up.
I was doing stand-up 5 nights a week for most of the 90s, which was where my heart lay and was always where I saw my future, ever since seeing Ted Chippington at the age of 16. But I tour around the country there is always someone in the merch queue that wants a Fist of Fun book signed so it does seem to be fondly remembered by some older people. I can't really remember much about it to be honest. I hated the production style of the second series of Fist of Fun and just remember being very stressed by the two live series.
The other performers in all of our TV stuff were very good – especially Kevin and Paul and Pete Baynham. I am ashamed that I strip-mined my family's lives for a lot of material in This Morning With Richard Not Judy without thinking what that might feel like. As a parent I understand them better now but they are all dead. The Lee and Herring live dvd was badly produced by Avalon which was a shame as we did sometimes get quite a hysteria going live and that isn't documented anywhere, although the bit of my stand-up act on that is quite interesting.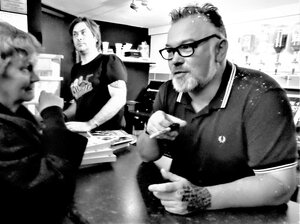 Rich worked very hard and was very conscientious but I don't think he had much of an ear for tonality or musicality and wasn't interested in learning from other practitioners or in finding out about areas of culture outside his immediate sphere, although I think that very insularity might have helped him to consolidate his podcaster character, which has proved an effective and lucrative way for him to maintain both his profile and his independence. I am the opposite. Maybe that was what was good about it. I am glad I had a second chance in life to do things I was happier with. I have been very lucky.
After reading his answer from 1996: Well, that's pretty much the same. I still haven't made the country rock album, but I have done other musical things. The self-indulgent failed stuff became my successful career in the end, so well done to me. I have lived a charmed life. But I am glad it is not 1996 and I am not that bloke.