During our third and quite feasibly final lockdown, Circuit Training got to lightly grill Stewart Lee and Toast/Brass Eye director Michael Cumming about their marvellous documentary King Rocker, which is streaming now on Sky Arts.
That film is a lovingly-crafted look at punk outfit The Nightingales, and particularly frontman Rob Lloyd, who has splendid comedy links. He replaced Frank Skinner in previous band The Prefects, signed Lee's stand-up hero Ted Chippington to his record label, Vindaloo, and had a sitcom green-lit by Geoffrey Perkins, before an unfortunate falling-out (here it's given a table-read by an impressive comedy cast, including Bridget Christie, Nish Kumar, and an inspired Kevin Eldon.)
Lloyd co-wrote that script with the late, great rock critic Steven 'Swells' Wells, and during this Zoom we get into Lee's own Swells links – writing On The Hour – how post-punk helped launch alternative comedy, and the latter movement's awkward godfathers: Chippington, John Dowie, Tony Allen. This weird year might have altered Lee's own outlook, meanwhile – is that a Taskmaster hint, even?
But let's begin with the unlikely joys of launching a film in lockdown. Even promo stuff like this has been a fillip, it turns out.
Part One: Lockdown lows, unsung legends, and the best buzz since Jerry Springer
Good to see you, Stewart – I was pleasantly surprised to hear that you do Zoom.
Stewart: I've done it for this film really, because there's no other way of talking about it. Here's Michael… how are you Mike, alright?
Michael: We only ever talk on Zoom these days.
Stewart: I feel I should then ring you up afterwards to just sort of…
Michael: …have a phone call about the Zoom.
How have your lockdowns been? Had you already finished the film before everything stopped?
Michael: We finished it just before, yeah. But, you know, there's been lots of admin, interviews, and also preparing all the stuff around it, the DVD extras, a single. Plenty to keep us occupied.
Stewart: To be honest, it coming out came at the right time for me. I mean, I've got nothing to complain about, I've got this lovely room full of obsolete physical media, and I've got work to go back to. But I've done six months of home-schooling, because Bridget [Christie] has been working a lot on writing things, and you just never see anyone, you start to feel a bit disconnected.
I'm sure lots of people don't realise that the black dog is creeping up on them. And then when I was obliged to start talking to people about this in January, I've really enjoyed it, and it really cheered me up.
And then when it got really good reviews and everything as well, it reminded me of why – as the shallow, needy person that I am – I went into comedy in the first place. And luckily, I've been able to get a little bit of the same affirmative self-aggrandizing endorphin hit that I normally get by going around the country and getting the applause of strangers every night.
It's really coming at a time when I was starting to have real problematic withdrawal symptoms. So it's nice to have landed a piece of work during this, and for it to be so well received.
Michael: We were going to go to some cinemas with it, do Q&As and all those sort of fun things that you can do, see audience reactions and all that. But that all got cancelled.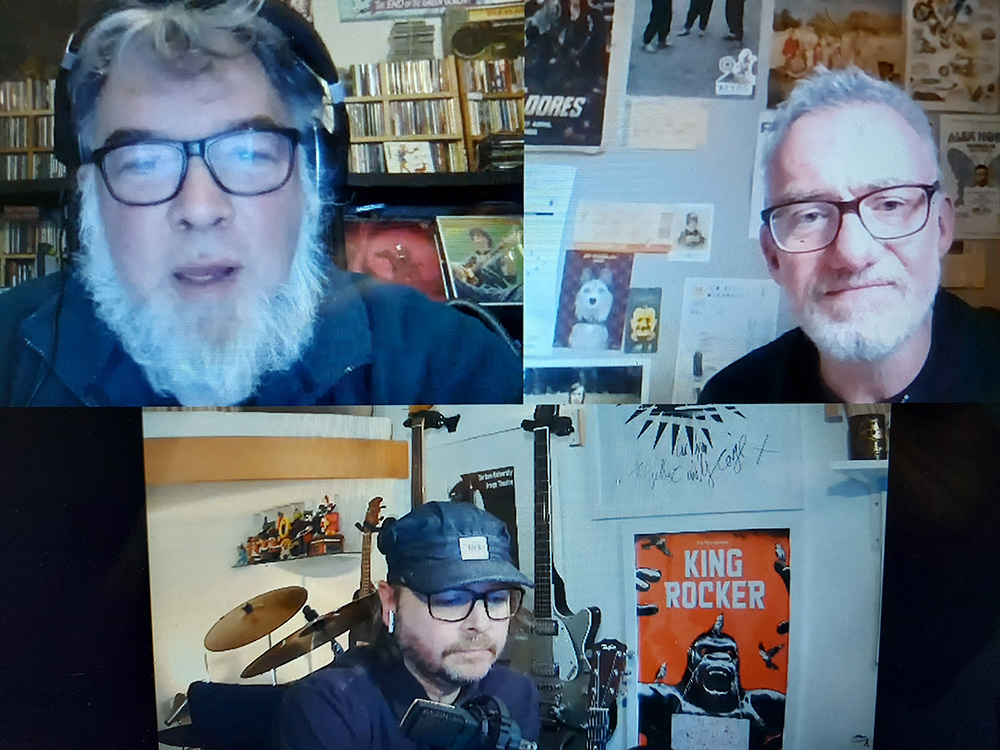 It's great that you got it on Sky Arts instead, so lots of people got to see it. How did you two meet originally?
Stewart: Michael directed the pilot of Comedy Vehicle, but when we came to the series, he was already on Toast. Then I spent seven years thinking about how to do this film after Rob [Lloyd, from The Nightingales] suggested it, realised that we'd have to make it ourselves, because no one… TV is generated by algorithms now. And it suddenly came up that Michael was a big Nightingales fan.
Michael: We thought we probably could pull this together ourselves. We've done enough things in the past, we were owed enough favours that we might be able to pull it off.
Stewart: The thing that wasn't negotiable was just how much archive footage costs. That was where most of the budget went. But luckily there isn't very much footage of The Nightingales, so there wasn't that much to buy. We just couldn't afford the pop video for Rocking with Rita – the hit!
Rob and The Nightingales have had a fascinating career – it's nice that you're getting the name known.
Stewart: You know from writing about comedy, it's not necessarily a meritocracy. Some people work really hard and are successful, some people work really hard and aren't successful. Some people are talented and successful. Some people are untalented and successful. Some people are talented and not successful.
And some people are untalented and unsuccessful. And they're the ones I dislike the most!
And so you put The Nightingales in there, and they're fantastic. If you watch the concert footage, whether you like that music or not, you can see it's something that's working.
It's novel for a punk film, Rob ending up fairly normal. My wife liked the bit where you're in his vegetable garden – very lockdown-friendly.
Stewart: I really like that bit. Lots of people went 'my 85 year-old mother watched it and really liked it.' They liked the story, they like the bloke, they liked just seeing people out and about. The audience for it overlaps, because it's three things: comedy, music, and it's a very sort of filmic documentary, it's doing things with film. So that's three different pockets of people.
You don't dare to hope, really, but I've never been involved in something that's had such a buzz since doing Jerry Springer: The Opera, for Richard Thomas at Battersea Arts Centre, when it was just starting out. It really feels like it might have a bit of a life.
Michael: It's not really necessary to know the band or like the music: just enjoy this extraordinary man's very unusual story.
Stewart: It is unusual. My brother-in-law in Sweden, he doesn't think artists or musicians are inherently interesting. But he said, really it's something you don't normally see, which is a kind of in-depth study of just a normal person; growing vegetables, taking his stroke tablets, carrying on.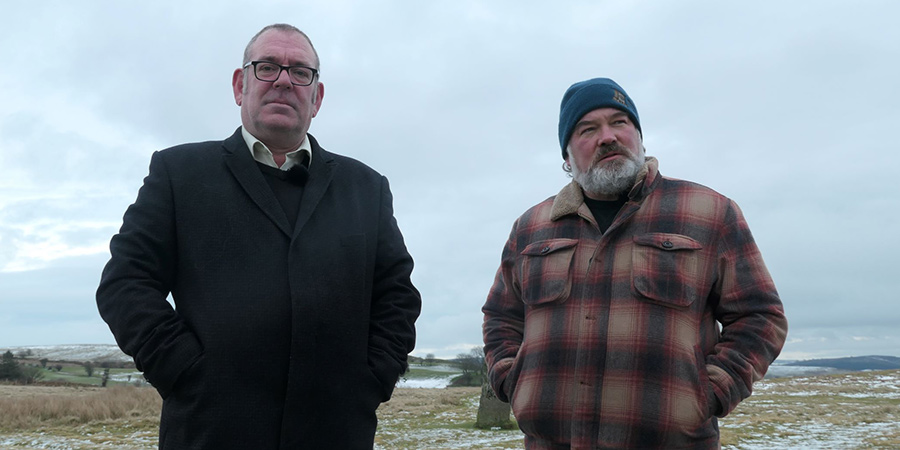 You recorded a Nightingales concert film too, where Stewart did the warm-up using material from the 1980s – King Rocker was going to be about Stew touring with the band originally?
Stewart: We ended up covering them for about 18 months, and initially we thought it would at least mean there was a reason that I was in the story. But it didn't seem to matter in the end.
When it got to the final edit, a year ago, it just seemed really obvious what was important. And it was really nice that we didn't really disagree on that; somehow we've coalesced. I personally get a sick thrill out of cutting really great things out of stuff…
Michael: I don't know what that's all about.
Towards the end of that concert opener, Stew repeatedly mentions someone being dead, which made me wonder if the The Nightingales appreciated your crowd-warming technique.
Stewart: Well they're used to it because they used to have Ted Chippington doing it, for years.
Michael: And that was a bad warm-up.
Stewart: Much worse than me.
Did you do band warm-ups back in the day as well?
Stewart: No, but that's where I used to see people. Living in a region, you'd read in the NME about this amazing alternative comedy, but it was all in London. And then if you were lucky, you might see one of these people opening for a band.
I saw Phill Jupitus opening for Billy Bragg in '82, and Peter Richardson from The Comic Strip opening for Dexy's, which I thought was brilliant. And then I saw Ted Chippington opening for The Fall in the autumn of 1984, which was a real life-changing moment.
So that's where you saw people, then you started to get people at the Warwick Arts Centre or whatever, but alternative comedy hadn't really reached outside of London. I think Alexei Sayle and Rik Mayall did a tour in about '85. But beyond that, alternative comedy was sort of something to do with punk and indie rock.
Michael: It was somehow connected. I went to the Edinburgh Festival as part of a band in a show when I was 18. And my mind was blown by being able to see, like, [alt-comedy pioneer] John Dowie, Ivor Cutler. You went along, an 18 year-old from the Lake District, and it was, 'Oh my god, I didn't realise there was this thing that wasn't like the blokes telling jokes on telly.'
That's another great music doc recently, KT Tunstall On Ivor Cutler – but that's a posthumous tribute so feels very different.
Stewart: I'd really like to see that. I like both of them, and I didn't imagine they would ever be in the same thing.
I saw John Dowie in the early '90s, doing a show called Why I Gave Up Stand-Up Comedy. And then he gave up stand-up comedy. I think he was thinking people would go 'oh don't!', but its ship had sailed. Alexei Sayle said that the problem was, Dowie invented alternative comedy about five years before it was necessary. In 1971.
When people started doing The Comedy Store, everyone was doing 10 minutes; he was already writing hour-long shows. He was kind of trapped by being too ahead of his time. But he's an inherently hilarious bloke. He rings me up sometimes.
Michael: In my mind, people like him and Ivor Cutler were very much connected to music, because you'd hear them on the John Peel show. And Dowie did that brilliant EP.
Stewart: On Factory? Yeah, he was part of that scene. It seems funny that he was on Factory Records, but he was.
Michael: One of the first I think, on Factory, [category number] FAC1 or 2 or something.
Stewart: You're making me think there should be a film about him now.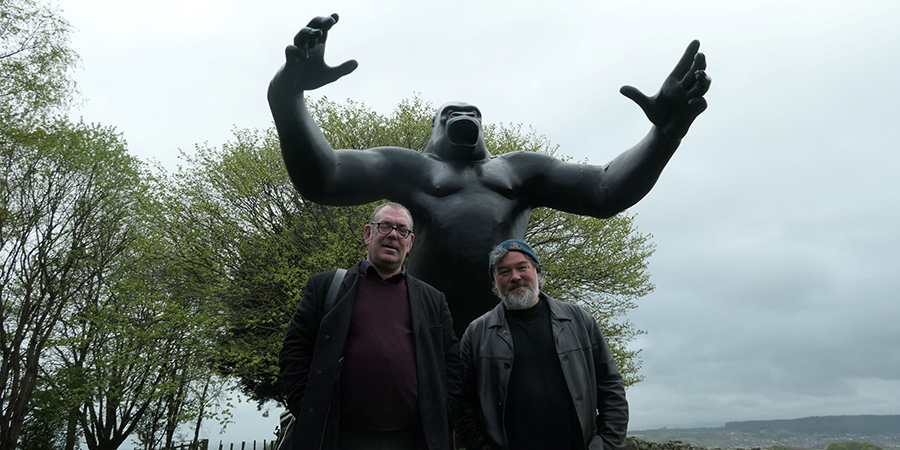 Part Two: Brown-envelope sitcoms, Swells, and "nice, happy, smiley" Stewart Lee
Rob wrote a sitcom with Steven Wells; 'Swells'. Did you know him?
Stewart: I worked with him on On The Hour. The fact that they got this thing, which in comedy is quite hard… to get somebody to say, 'Okay, we'll commission you to make a pilot of this sitcom,' there's not many people who get that. And then to sort of blow it by falling out within half an hour [as Rob and Swells did in the pub after meeting Perkins, apparently]. It's classic really.
Michael: Originally, we wanted to maybe act it out, if we'd had a few more quid, actually stage the scenes properly: we'd have Kevin [Eldon] dressed up.
When did you first come across that script?
Stewart: I first met Rob in about 2004/5, I was doing a gig in Telford, and he turned up. He didn't know who I was but someone had told him there was this comedian that liked The Nightingales, and we went for a drink afterwards. And he brought that sitcom along in a brown envelope – did I think anyone could do anything with it?
It was the only copy, the same copy we ended up working from for the film, 15 years later. I got it and was so stressed out about it. What if I lost it? How many things do you have in the world now where there's only one copy of it, in a brown envelope?
It makes sense that he'd try to revive it. If you've written a sitcom and it's had that much interest…
Stewart: It was going to be commissioned by a broadcaster, which is more than the documentary about him ever was! You can see it would've been good, like a sort of crusty version of The Young Ones.
Rob said that Geoffrey Perkins said all the best bits were Steven Wells' bits and the worst bits were his, but my favourite bit is that scene in the Trades club, where the barman is ranting, the bit we used in the film [performed by Eldon]. That's pure Rob; it was based on his stepfather.
Michael: I imagine that all of it was filtered through Swells, he was probably the one with the computer who wrote it all down, and Rob contributed characters and ideas…
Stewart: I don't know if it would have been Swells – in the On The Hour room, David Quantick was like Swells' interpreter, Swells would run around ranting and Quantick would document it, try and capture it before it disappeared.
I think they were all on the fringes of writing something for Chris Morris at some point, but no one can really remember now, exactly who was doing what.
Frank Skinner pops up in the film too – he was in Rob's previous band, The Prefects?
Stewart: He was in The Prefects for five rehearsals, and he wrote one song with them. And then they tried Rob out afterwards.
Frank had a good line about their subsequent careers…
Michael: 'I don't know if I'm their Pete Best, or they're mine.' He's full of good quotes, Frank.
Stewart: It's brilliant, he turned up with so many that you thought, I wonder if he'd thought about it before. But I think he just speaks like that.
And you got Frank to stand on stage with the rest of The Prefects – or was it CGI?
Michael: Ha! I think we should say that was GCI.
Stewart: There's no CGI in the film.
I'd be interested to see the DVD extras you're sorting Michael – you must have done so many interviews…
Michael – There's lots of tangential stories on there: 'Okay Fuzzbox were connected to that, and Nigel Slater's connected with that, and somehow Robin Askwith's slightly connected to that' – that became a fascinating part of it really.
There's a great bit where you go to interview Ted Chippington, who was on Rob's label, but he doesn't turn up. How long did you wait?
Stewart: We were there for about three days, in Totnes. We only really went there to talk to him.
Ouch
Stewart: In 2011 I did this show at the Southbank called At Last the 1981 Show, the kind of bill you would have had in a comedy club 30 years before. It was pretty good: Kevin McAleer, Alexei Sayle, Nigel Planer, and I wanted Tony Allen to do it, who's a notoriously contrary figure.
At first he said he wouldn't. Then he had to see the theatre, so someone had to get up and let him in at eight in the morning. Then when he turned up, he was dressed as a clown. He said, 'I don't want to even be on the stage,' so I went 'well just go into the audience and you can shout something from there'. Then at the point where he was supposed to interrupt, he just never turned up. He was so opposed to the idea of the mainstream.
Really, it's perfect that Ted didn't appear. Because that gave us a legitimate reason to drop in this [documentary] package from 15 years ago.
I like that you can see the film's joins, things going right or wrong along the way – was that always the plan?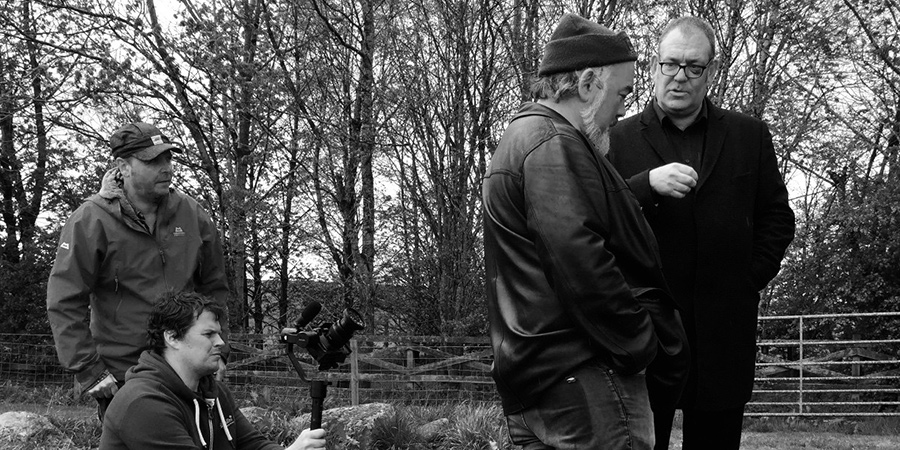 Stewart: It just seemed like the way to do it. And Michael did Brass Eye, which has an explosive relationship with the conventions of the news that it's parodying, so it was logical to bring that to bear a bit on the documentary.
Michael: It just sort of happened, Stewart said, 'right, we're going to cut to that now,' on camera. It didn't feel contrived, it felt just like he would be performing if he was doing a thing. Except it isn't grumpy performer Stewart Lee, it's nice, happy, smiley, chatty, the 'real' Stewart Lee, isn't it?
Stewart: I hadn't thought of that, but it's been enjoyable watching that play out online. People saying 'oh, so him crying on stage and stuff, it's sort of an act…'
After this is all done, do you have someone in mind for your next documentary?
Michael: We might have just come up with it accidentally, on your interview.
The tricky thing is, it's hard to think about doing another labour of love, because how many labours of love have you got in you? And then it's also hard to imagine if you had finance for it, how it would change – you might hate doing it. So it's finding that balance.
Stewart: On the other hand, the budget was less than what someone gets paid to appear on Taskmaster. So I'm thinking, we made a really worthwhile, life-affirming thing for the price someone gets paid to go on a panel show, and I think maybe I need to do some creative ethical accounting for the future, and think it's probably worth joining in more.
Michael: Like Johnny Rotten's butter commercial, funding PIL?
Stewart: That's what I'm thinking, yeah, no one else tortures themselves. But you then sort of… you reduce the market value of your stock by doing that. But on the other hand, you get some actual money!
I feel like things changed, even before lockdown. Years ago, if a band's song was in an ad they were no longer cool – you've obviously talked about this in your stand-up, Stew – but it seems different now.
Stewart: That's because the internet companies prevented musicians from getting paid for actually selling music. So they've had to move the moral goalposts.
I still resent it on some level because I don't like a thing that means something to me having its meaning rerouted through cheese. Or lavatory paper. But on the other hand, I also remember when The Fall's Touch Sensitive was used on an advert for a hatchback car, about 15 years ago. I was grown up enough by then to sort of punch the air a little bit and think, well, at least someone's going to get some money.
Michael: I don't think you would resent it if a Nightingales track came on an advert.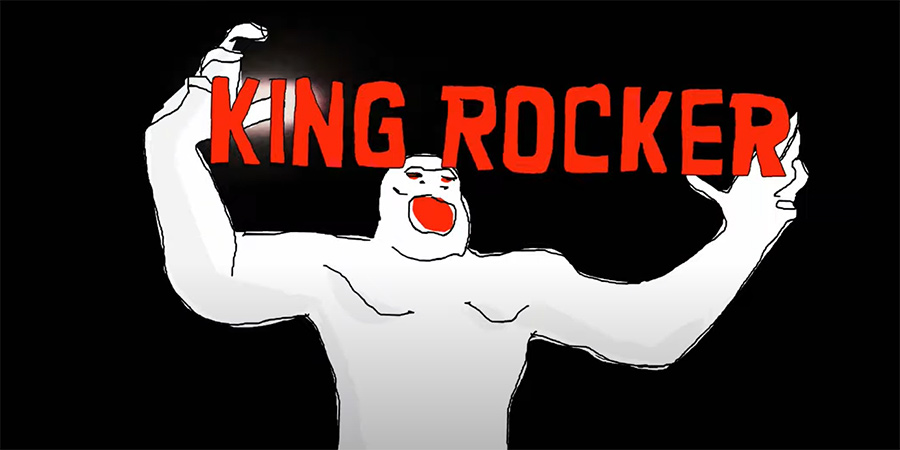 One last thing from the film, you've got the newsreader Samira Ahmed lip-synching over the end-credit song. How did that happen?
Stewart: I was a student with her. I met her on my first day as a student, and I remember, we ended up in a room which was me, her and a guy who played us some sort of heavy metal songs that he'd written on his guitar. Which was really strange when I think back on it.
In recent years she's done all sorts of interesting things. Like she went on Mastermind and answered questions on Space 1999, dressed in a Space 1999 uniform. So, of course, I said 'would you do this?'
Michael: She was absolutely determined to get it right. And it's not easy, lip synching to something that Rob actually just improvised quite late at night in a studio in Germany with the lights off after having a few drinks.
The film has premiered now, but people can still see it On Demand, for a while?
Stewart: That's the thing about the modern world, things kind of come out and they don't really go away.
Michael: I suspect, because there's not a great deal of content being made at the moment, it will probably be repeated endlessly to the point of everybody being sick of it.
Stewart: It'll be like It's A Wonderful Life.