Stewart Lee
Observer columnist and a stalwart of the standup circuit, Stewart Lee also had a Bafta-winning solo show that ran for four series on BBC2: Stewart Lee's Comedy Vehicle. Born in Shropshire, he began performing standup aged 20 and in the 90s formed a comedy duo with Richard Herring. In 2001 he co-wrote Jerry Springer: The Opera, which went on to win four Olivier awards. His current show, Stewart Lee: Content Provider, is at Leicester Square theatre until 28 January and touring throughout 2017. See stewartlee.co.uk for details.
9 Carry On Screaming!
Gerald Thomas, 1966
The League of Gentlemen all cite the same 70s TV screening of Carry On Screaming! as an influence. Because it was parodying a cinematic milieu – British 50s and 60s horror – of which I as a little boy knew nothing, it seemed utterly unanchored, occurring in an incomprehensibly surreal world of saturated-colour Frankensteins, Wolfmans and Draculas. Kenneth Williams, Fenella Fielding, Charles Hawtrey and Harry H Corbett are all superb. And, while remaining tonally accurate, the script bubbles with great stupid jokes. The banquet scene in Carry On Up the Khyber is the series' highlight, but this is the funniest Carry On film and its Victorian gothic milieu protects it from the ravages of squeamish social revisionism, which have rightly rendered many Carry Ons unwatchable.
10 Festen
Thomas Vinterberg, 1998
The first time I saw Festen's family reunion gone wrong I found it unremittingly bleak. Then, years later, I watched it again and laughed my head off. It's possible to view Festen as the blackest black comedy ever made. If you thought your family parties were bad, try this one. Violent beatings, abuse revelations, racist songs and suicides are all relayed via the puritanical dictates of the Dogme 95's manifesto in a lucid, watery, midnight sunlight. It's the cinematic equivalent of the standup who refuses to crack a smile but gets you in the end.
11 Get Santa
Christopher Smith, 2014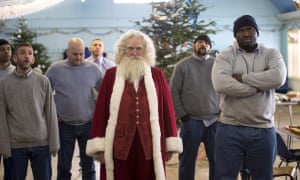 A family film that pleases everyone on the sofa without being remotely patronising is a joyful thing and a relief for parents. Jim Broadbent, in a career-defining performance, is Santa, who crashes his sleigh into a shed, leaving estranged ex-con father Rafe Spall and his son to save Christmas and round up the reindeer. The scene where Santa, now in jail, talks to the prisoners about their childhoods deftly avoids sugary sentiment. Santa's delight at meeting jailbird Warwick Davis, whom he naively mistakes for an elf, is brilliantly handled. It's the funniest film no one has seen, except parents with young families, desperate for a moment's respite at Christmas.
12 Who Dares Wins
Ian Sharp, 1982
Why not watch this reactionary anti‑CND action thriller while imagining it is actually a Comic Strip parody and pretending it stars Keith Allen instead of Lewis Collins? In one of the nastiest films ever made, coming off like Richard Littlejohn writing The Professionals, married SAS man Collins goes undercover with peaceniks to gallantly probe their firebrand leader (an admirably committed and oddly out of place) Judy Davis, only to murder her in cold blood later. Fairport Convention appear as some kind of beardo commie new wave band, playing a weird boingy protest music that never existed anywhere except in the imagination of the makers of this hilarious atrocity. Wine's Oz Clarke has a small role as a man looking suspiciously through a window, but refused my requests to appear on stage when I screened Who Dares Wins in the Barbican's Bad Film Club season.
13 The Unbelievable Truth
Hal Hartley, 1989
When I was twentysomething, Hal Hartley seemed to speak directly to me. I was a fan of his in the way I'd been a Smiths fan in my teens, eager for his next release. The Unbelievable Truth is his first and funniest film and stars the luminous, now late, Adrienne Shelly. Few of Hartley's subsequent movies are really comedies and I really like his mid-period stuff where he experiments with movement and dance, but his sense of the absurd persists into his current, crowd-funded and criminally neglected work. In The Unbelievable Truth, small-town American parent-child conflict is realised with a kind of Chekhovian minimalism. Deadpan characters spew out lengthy standup soliloquies in crimped cul-de-sacs. Nobody works the jokes. They just lie there, asking for your consideration, indifferent to your approval.
14 Thundercrack!
Curt McDowell, 1975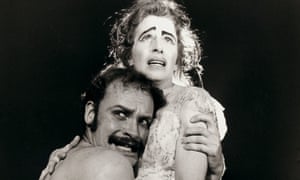 McDowell took porn money to fund George Kuchar's weird comedy noir script. Today, I don't know if I'd stomach the hairy 70s hardcore scenes he was obliged to include, but Thundercrack! remains a work of deranged genius. Harsh lighting and ponderous piano frame six storm-tossed travellers pursued by an amorous ape, sheltering in the home of a crazy lady whose sexually deformed son is locked in the cellar. In 1994 I turned away from Kuchar's San Francisco door, having failed to pluck up the courage to congratulate him on his ludicrous vision.