We appeared on All Tomorrow's Parties 2.0 curated by a famous comedian Stewart Lee. It became the 2nd time to play for us since 2010.
当日は、昼にマンチェスターのホテルをチェックアウトして、まずはお昼ご飯。私はイタリアンを頂きました。
We checked out the hotel in Manchester at noon and went to eat lunch I had Italian dishes.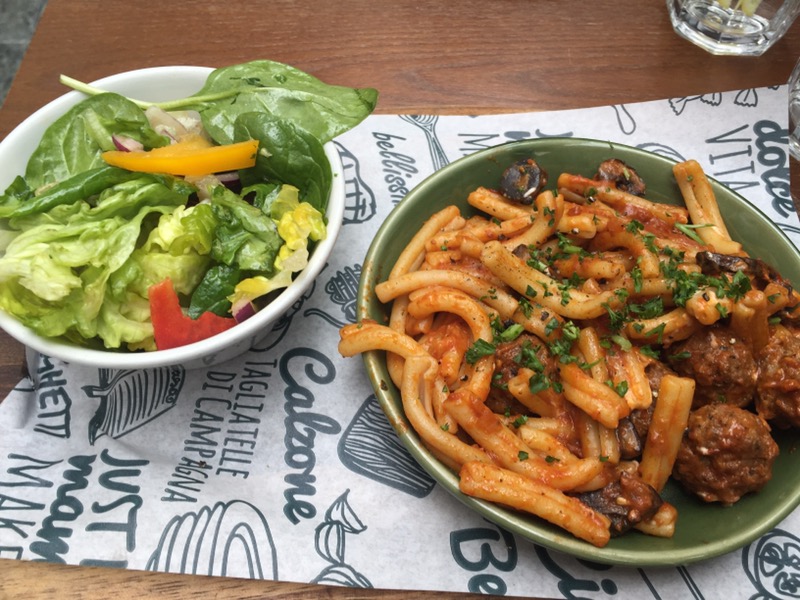 道が少し混んでいて2時間半かかって会場到着。会場は、ファミリー向けリゾート施設「ポンティンズ」。海の近くにあるので、夏休みは家族連れで賑わうでしょう。今はオフシーズンなので、ATPの貸切です。ここ、レトロな雰囲気がいいなぁ。
Getting a little traffic jam, we took 2 and a half hour for arriving. The venue was a family resort. Pontin's. It's by the sea and must be busy by many families in summer season. Now it's off-season and all rent for ATP. I love this retro atmosphere.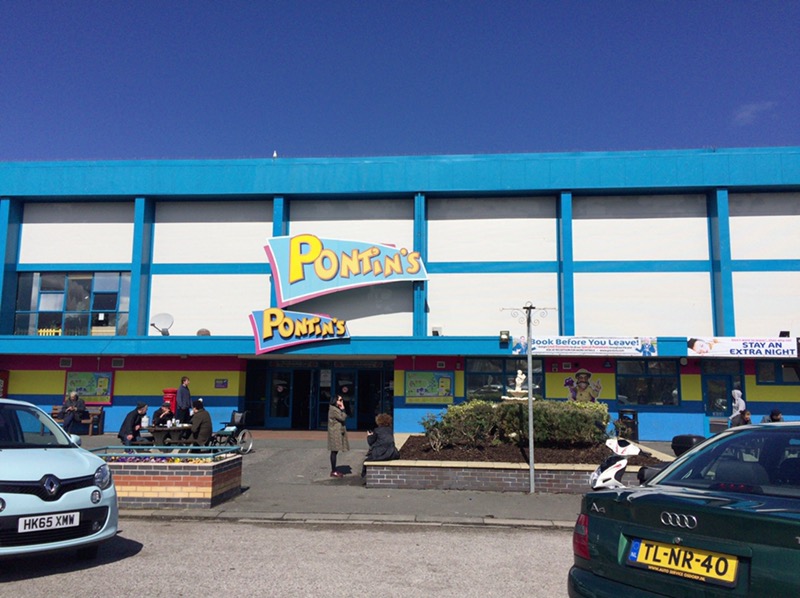 受付には既にお客さんの長蛇の列が。皆さん、アウトドア対応、食料完備で来られています。周りにお店がないからね。皆さん楽しそうやなぁ〜。ええなぁ〜。
There had been a long queue at the entrance office. Everyone wore clothes for out door activities and had food. Because there is no food stores around there. They seemed having fun. That's nice.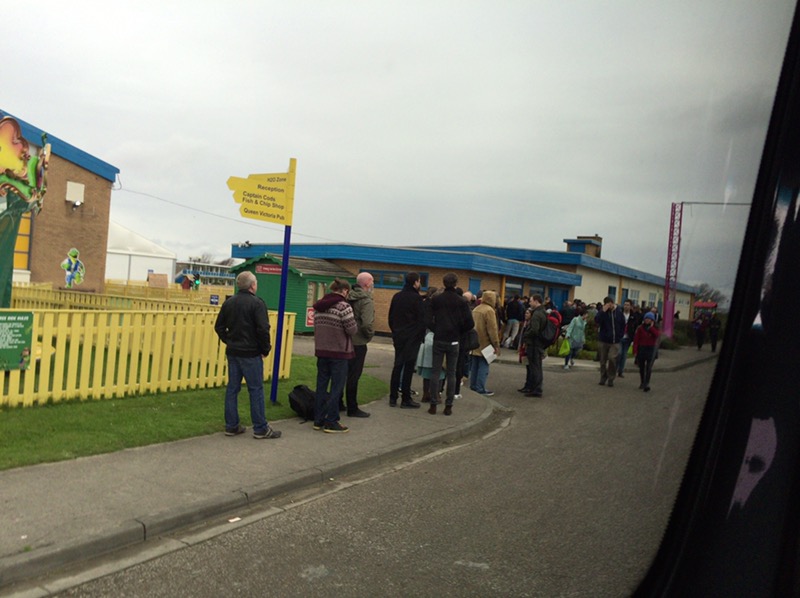 会場内に宿泊施設があってそこに泊まりました。シーツはセルフで付けるシステム。キッチンもあります。
There were many accommodations in the site. We set bedding by ourselves. There was a kitchen in a room.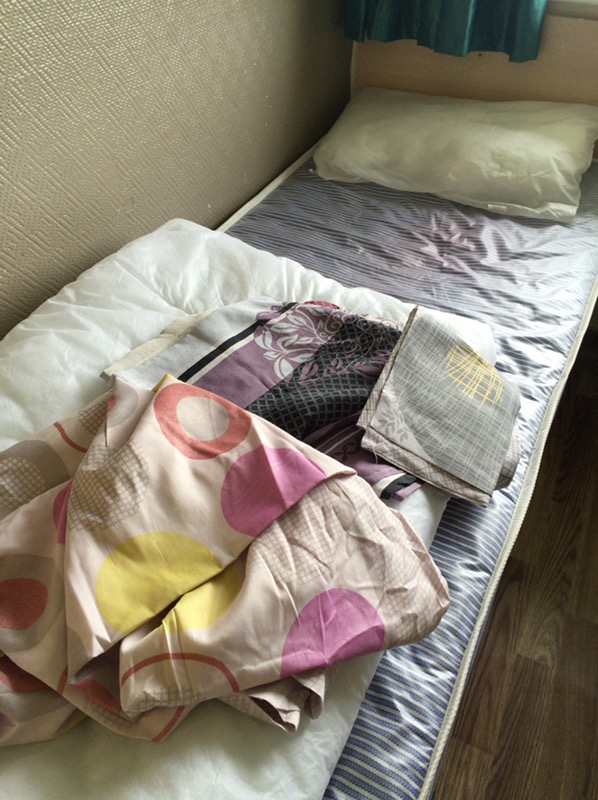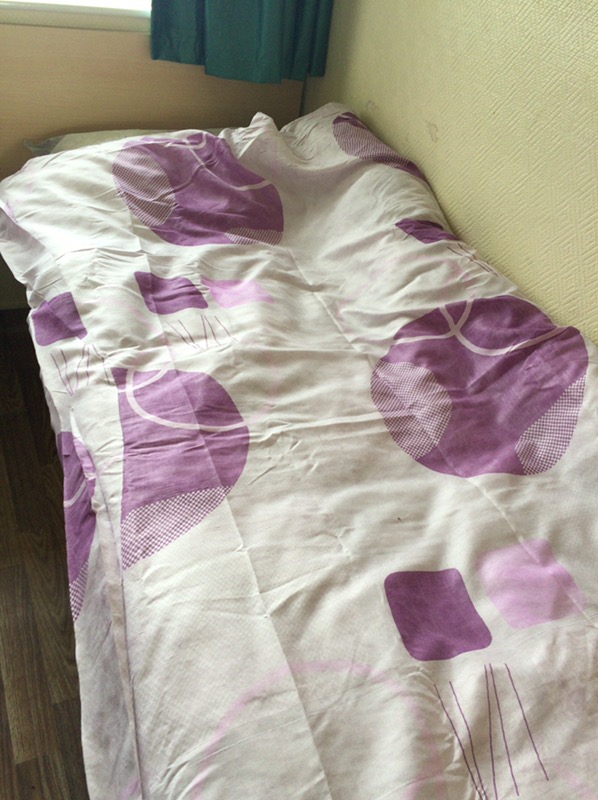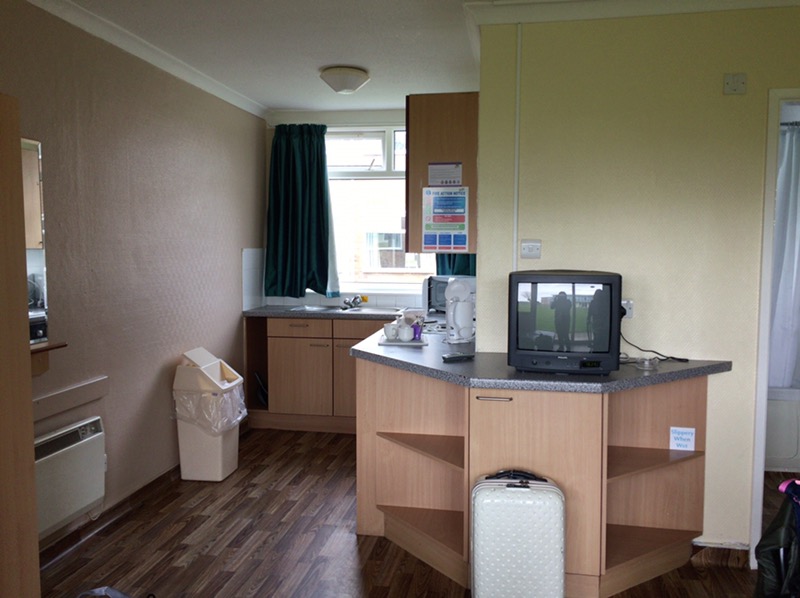 巨大なカモメたちが、餌をくれ!と、部屋のガラスを突きます。こわっ。
Giant seagulls knocked the window by their beak and required food. Scary!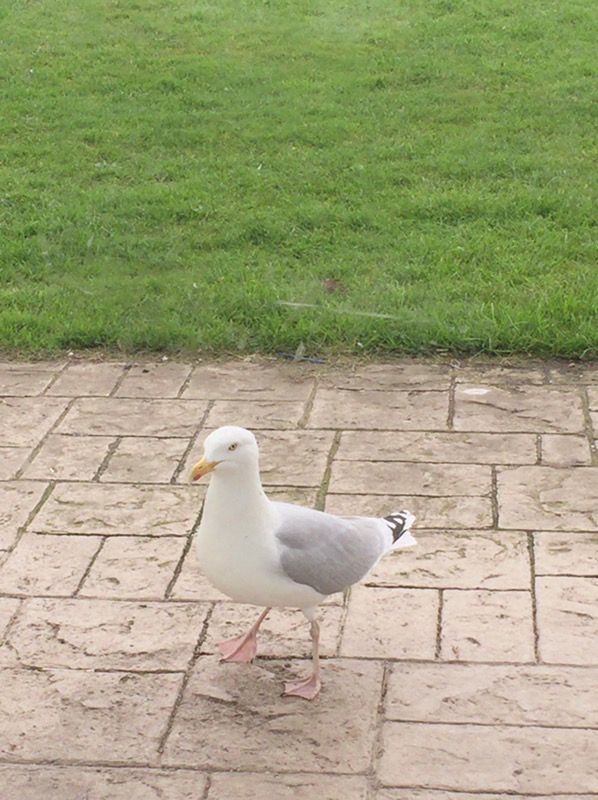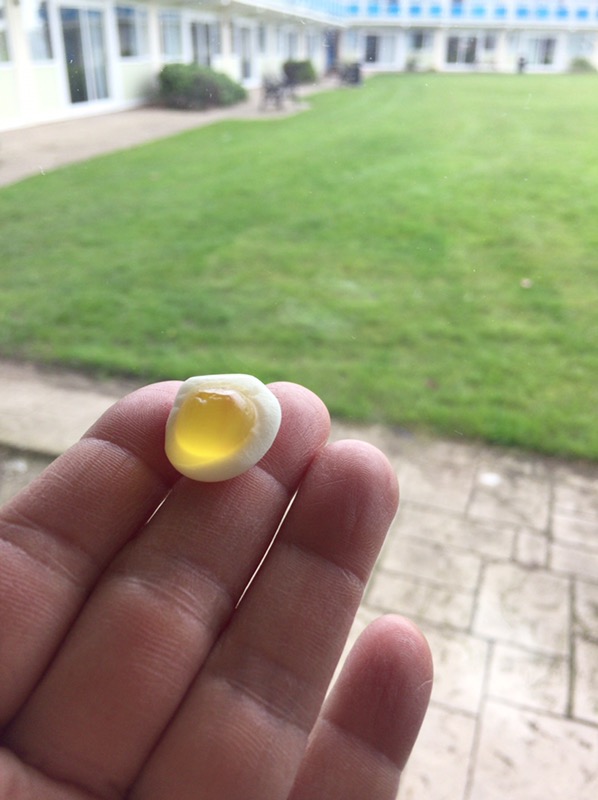 カモメさんよりもこちらがお腹ぺこぺこ、という事でケータリングエリアに。そこでレインコーツの皆さんと遭遇!約5年ぶりの再会を喜び合って記念写真を撮りました。レインコーツは、高校生の頃から大ファンです。気さくで本当に素敵な人たちです。
We were more hungry than the seagulls and went to catering area. I met all members of the Raincoats there for the 1st time after 5 years! I was so happy and took a picture with them. I've been a fan of them since I was a high school student.  They were friendly and  ladies.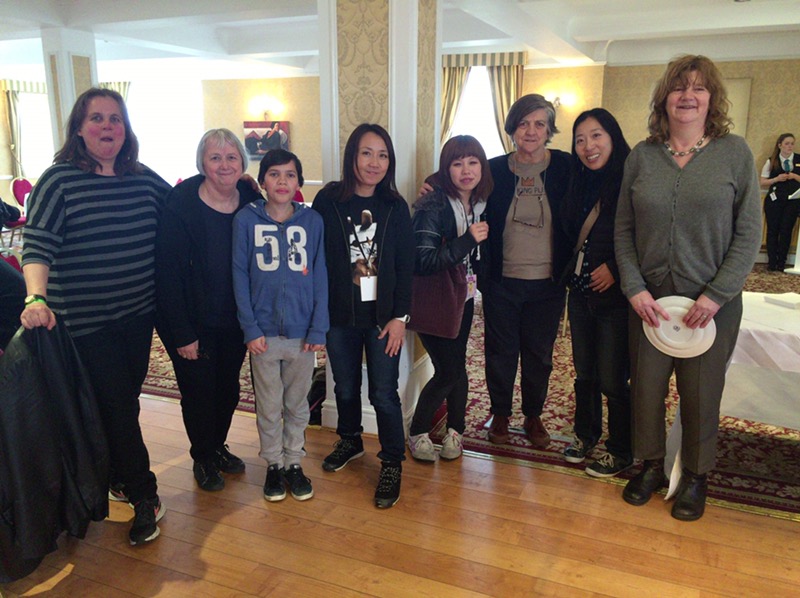 ケータリングでは、イギリスならではのお料理を頂きました。お芋が美味しかった!
We had nice British meal there. Potato tasted so good.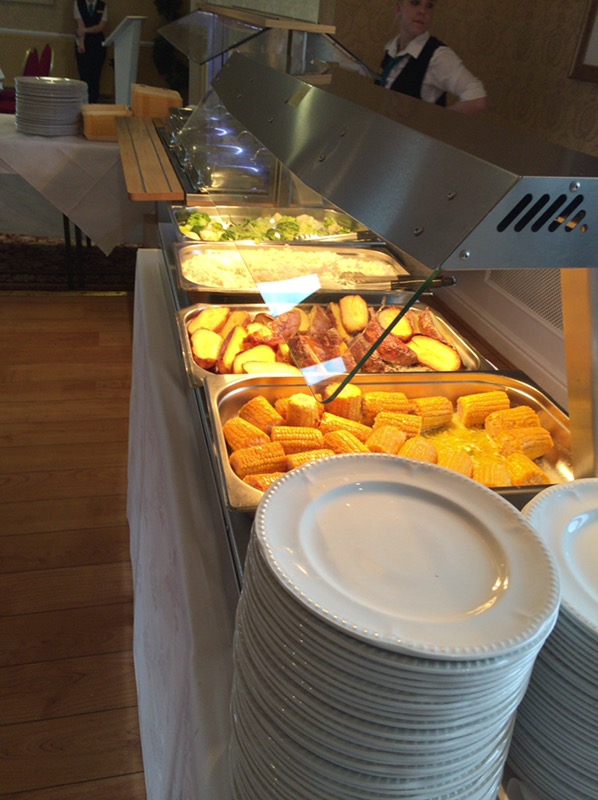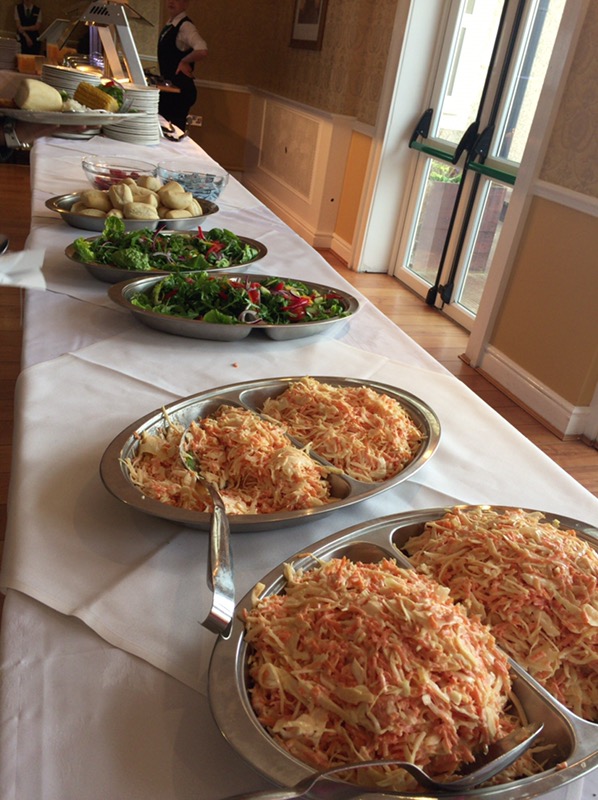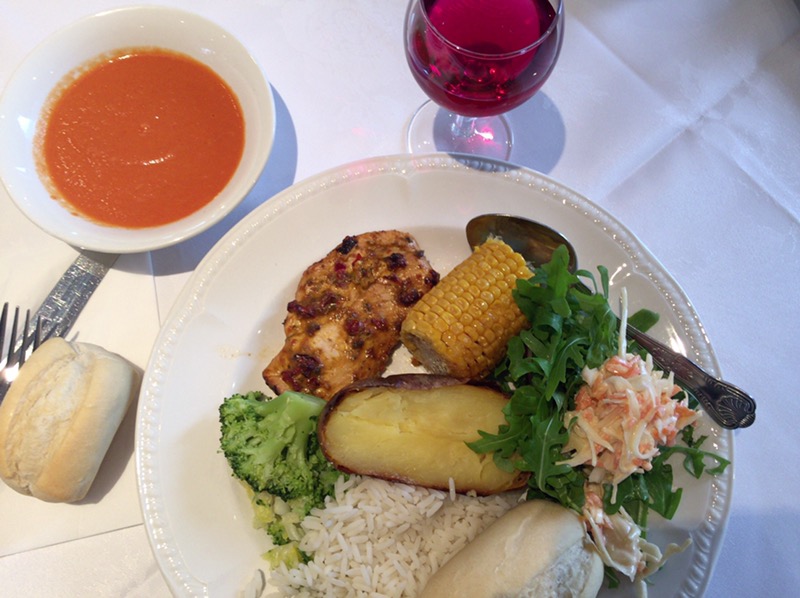 そして、ナイフグッズを陳列した後、ラインチェック。私たちのステージは体育館みたいな所。
After that, we set our goods and did line check. The venue is like a gymnasm.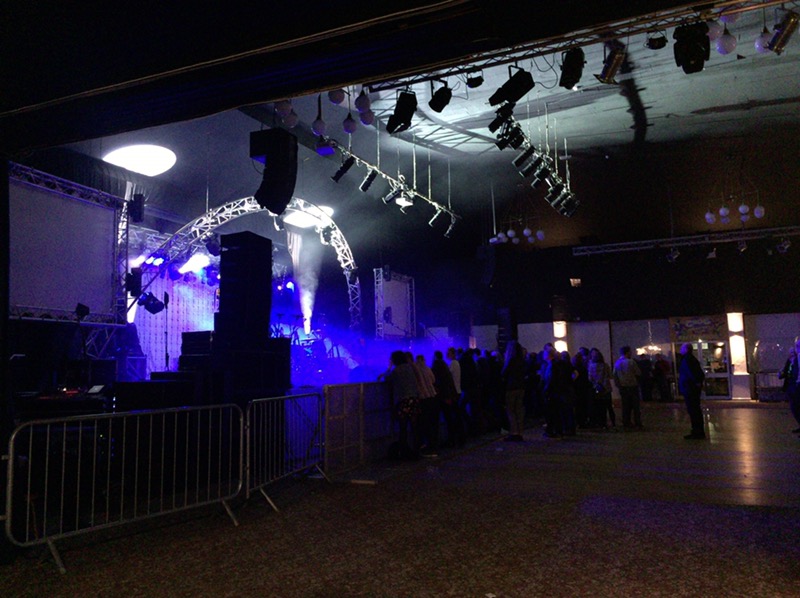 会場の中には、リゾート施設らしく子供向けの乗り物が置いてあります。
Since it's a resort for family, I saw some kids rides.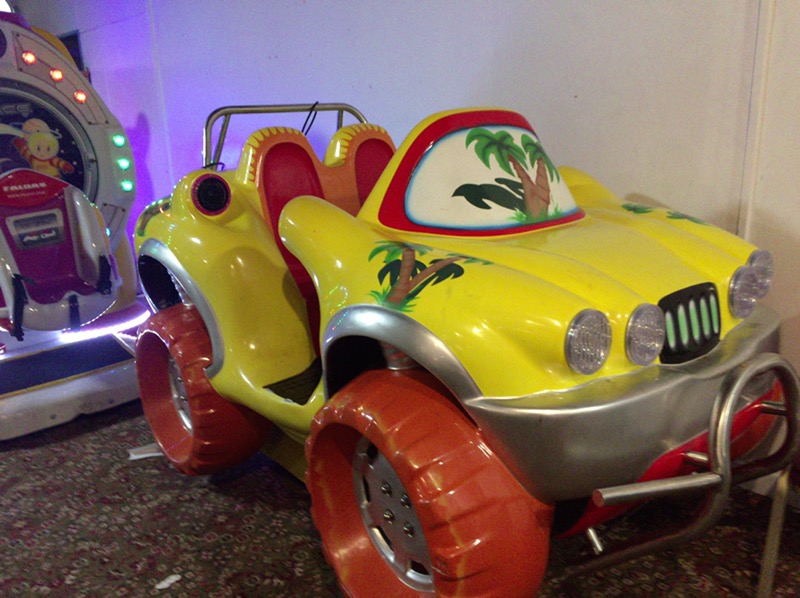 息 つく暇もなく、3分で着替えてライブ本番。1番目に出るバンドのメンバーが怪我でキャンセルになったので、少年ナイフがトップバッター。約1時間、大きな 会場一杯のお客さんの前でメンバー3人、シルバーの新作衣装を着て全力疾走しました。見に来てくれた方々、ありがとう!
We rushed to change into stage costumes, the show started. The first band cancelled the show because of a member's injury, we played the first. Wearing our silver new costumes, we ROCKed very much for an hour set in front of a big audience. Thank you for coming to see.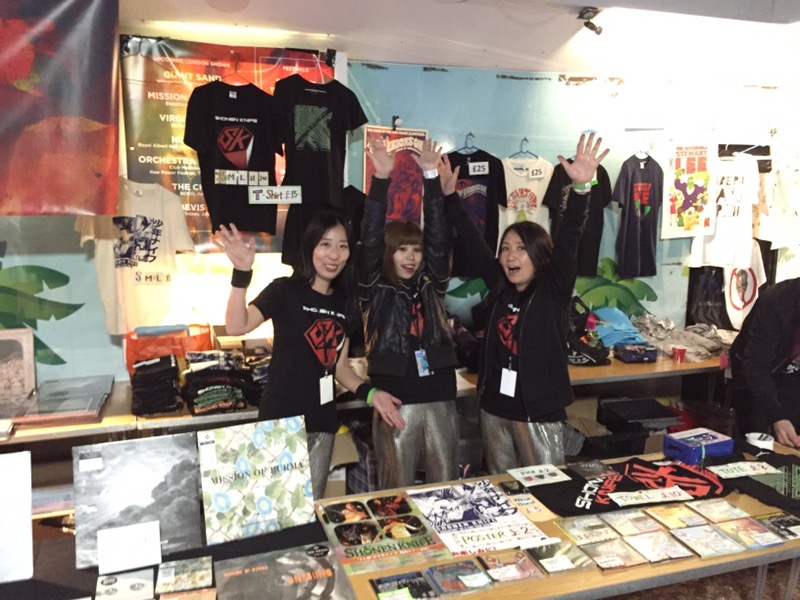 ライブ後はグッズコーナーでお店番。前日お世話になったBBCのDJ、マーク ライリーさんが来て、楽しかった!と言うてくれはりました。嬉しい!やぁ〜、ATPホントに楽しいイベントです。
We sold our merch after show. Marc Riley came to see us and said that he had fun during our show. Thank you. I'm honored. ATP is a fantastic event.