FROM THE METRO-LIB-ELITE DESK OF Stewart Lee – FEBLY 2019
(Posted January 29th, 2019)
1) CONTENT PROVIDER ON BBC2
2) KING ROCKER
3) Benefit Gigs
4) WOLVERHAMPTON LIT FEST
5) Sea Change Totnes
6) I Arrogantly Recommend
---
1) CONTENT PROVIDER BBC
CONTENT PROVIDER is on BBC I-player until end of March.
And all the COMEDY VEHICLES seem to have gone back up too. See how the world has changed in a decade.
---
2) King Rocker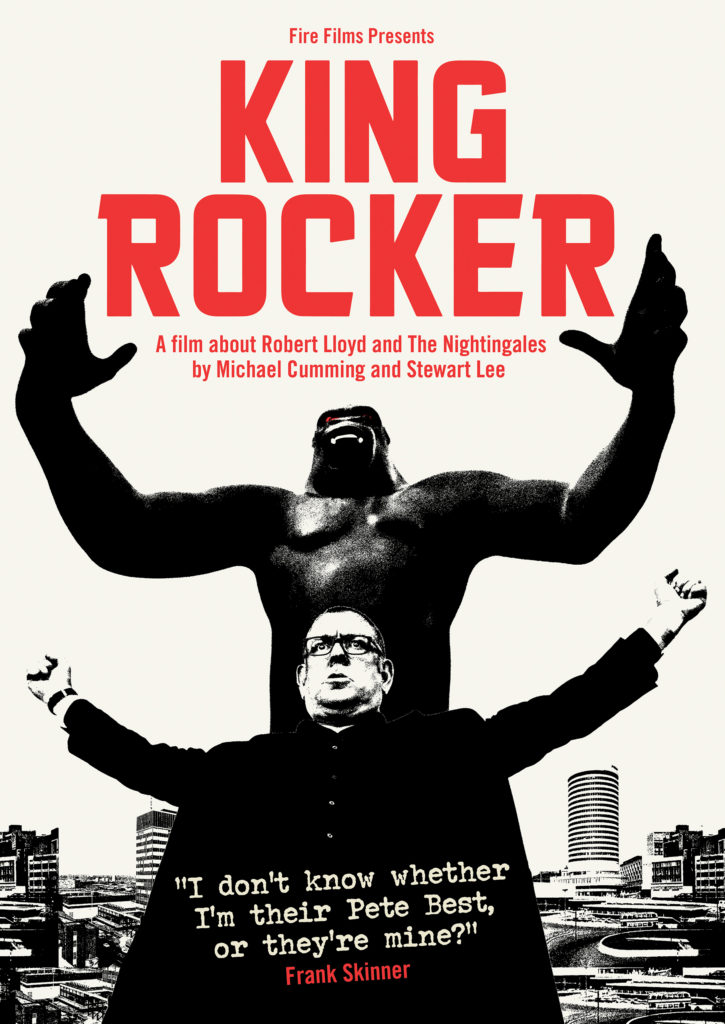 How does a working class autodidact, with no visible means of support, maintain his role as the leader of a cult British underground band into its fifth decade? Comedian and writer Stewart Lee (Stewart Lee's Comedy Vehicle) , director Michael Cumming (Brass Eye, Toast) and James Nicholls (Fire Records, Fire Films) investigate the mysterious existence of Robert Lloyd (The Prefects, The Nightingales, Robert Lloyd and the New Four Seasons), Britain's ultimate post-punk survivor.
Robert Lloyd's Prefects played with The Clash on the White Riot tour in 1977, and their ongoing incarnation, as Birmingham's Captain Beefheart suffused post-punk poets The Nightingales, recorded more John Peel sessions than any other band. Ever.
Buoyed by endless critical acclaim, but hampered by ongoing commercial indifference, Lloyd has nonetheless continued to tour and record, The Nightingales' affairs managed by drummer Fliss Kitson, from a Wolverhampton shipping container, and Lloyd himself, from the isolated borderland mountain fastness of Wellington, Shropshire, surrounded by prehistoric remains and industrial archaeology.
Lloyd, a post-punk flaneur, sometime postman, and master snug room raconteur, appears to have maintained a lifestyle outside the system via a succession of hustles, often involving an encyclopaedic knowledge of horse racing and pre-punk musical weirdness.
But what were the social, cultural and economic circumstances that enabled and sustained such outsider artists in the punk and post-punk eras, and how has the world changed to the point where such figures are unlikely to flourish in the same way today? Lloyd's own odyssey echoes how abstract notions of social mobility, of the value of culture and music, have changed in the last five decades.
In an odd coincidence, Lloyd's current home, the Shropshire market town of Wellington, in the shadow of the Wrekin, is also where the comedian Stewart Lee was born, though he only spent nine days there before being dispatched to an orphanage, and has not been back since.
Further chance collisions abound. For a brief period the skyline of '70s concrete Birmingham was defined by Nicholas Monroe's unloved, and soon sold off pop art sculpture, of the giant ape, King Kong. Missing and presumed lost for years, this icon of Birmingham was eventually discovered prostrate in a Lake District garden, before being critically rehabilitated in an exhibition of great British public sculpture at the Henry Moore Gallery in Leeds in 2017.
As a child, Stewart was fascinated by the sculpture, and in a strange piece of synchronicity Lloyd compared his onstage persona to Monroe's Kong in a triumphant post-gig rant in King's Cross this year. The parallels make the point of comparison too good to ignore. King Rocker will shadow Lloyd's story with that of Birmingham's forgotten, and rediscovered, giant art ape, King Kong.
---
3) BENEFIT GIGS
i) UP THE CREEK, GREENWICH
I am doing a benefit for something with Phil Kay at Up The Creek, Greenwich on Tues 5th of Feb.
The Goodfather: PHIL KAY, STEWART LEE, TONY LAW
+ Roisin & Chiara, Lucy Hopkins, Russell Hicks, Tom Ward
and Phil Kay (MC aka The Goodfather)
Tue 5 Feb 2019 7:00 pm for 7:45 start. Up The Creek, SE10 9SW – EVENT LINK / TICKETS
ii) BELTER FOR THE SHELTER – 19th Feb 2019
– I AM NOT IN THIS ANYMORE
BELTER FOR THE SHELTER, Hackney Empire, London, 19th Feb 2019, 7.30.
Join us for a spectacular evening of comedy in aid of Hackney Winter Night Shelter. Going into its 5th year with an incredible line up at the Hackney Empire to help raise money for the Shelter's vital work with local homeless people.
All money raised on the evening goes towards keeping people off the streets of Hackney, providing them with a hot meal and warm bed throughout winter.
I have had to drop out of this due to a dates mix-up that was my fault due to not understanding i-phones, ROB DELANEY (Catastrophe) and DANIEL KITSON (Crystal Palace) have been added to the bill. Also providing gags for the evening will be Kevin Eldon (TIE), Sofie Hagen (Scandinavia), Harry Hill (Tooting Medics' Review), Athena Kugblenu (Nish Kumar's Edinburgh Nights), Nish Kumar (Nish Kumar's Edinburgh Nights), Rosie Jones (Nish Kumar's Edinburgh Nights), Robert Newman (Steve Wright's Radio 1 Posse)
TICKET LINK £10-£20.
iii) RESOFIT benefit for RESONANCE 104.4FM ARTS RADIO – 25th March
Bloomsbury Theatre, details TBA
iv) BENFIT FOR CANCER, KINGS CROSS – 28th MARCH
This will be at the Francis Crick research centre, details TBA
v) HILARITY FOR CHARTITY – LEICS SQ THEATRE – LONDON – 2OTH MAY
Details TBA
---
4) WOLVERHAMPTON LIT FEST FEB 2ND
On Saturday 2nd February Stewart Lee (comedian/writer) will read from his contribution to the book 'Home Town Tales' about his youthful fascination for midlands post-punk band The Nightingales and an outsized piece of public sculpture located in Birmingham's Bullring.
£9 – 5pm Wolverhampton Art Gallery – TICKET LINK
---
5) Sea Change Festival May 24 – 26
METRONOMY, THE COMET IS COMING, STEWART LEE AND BAGPUSS CONFIRMED FOR 2019
The Quietus presents Gazelle Twin – with full line-up to follow
You Tell Me, Hannah Peel & Will Burns, Pip Blom, TVAM join line-up
4AD and Moshi Moshi joins festival's group of curatorial partners
Sea Change to start the 2019 festival summer
Devon's Sea Change Festival, the much-loved event founded by Totnes's Drift Record Shop, is excited to announce the first artists confirmed for its 2019 line-up; the combination of artists and creative partners – a roll call of the country's greatest music labels – is a clear indication of the event's continued boldness and increased size and scope in its 4th year.
Friday night's headliner will be one of the UK's most critically and commercially successful acts, METRONOMY, returning to Devon for a huge homecoming show in the stunning Dartington Hall Gardens. The Mercury-nominated band is currently celebrating the 10th anniversary of breakthrough LP, Nights Out (a new expanded edition of which is available via Because) and founder Joe Mount has most recently been busy at work producing Robyn's Honey album. A long-time supporter of both Drift and Sea Change, Joe snuck into town to play a surprise DJ set at the inaugural Sea Change weekend. It has long been one of the festival's biggest ambitions to invite Metronomy to headline and we are pinching ourselves that he is going to grace the 2019 Sea Change stage.
Saturday night sees the cosmic psychedelic jazz of THE COMET IS COMING taking to the Sea Change stage. Following a 2018 Mercury nomination with the extraordinary Sons of Kemet, saxophonist Shabaka Hutchings – alongside bandmates Betamax Killer and Danalogue The Conqueror – turns his attentions back to soundtracking the imagined apocalypse with a fusion of jazz, Afrobeat and electronica. Exactly what the band has in store for 2019 we don't know (cryptic messages have been appearing), but all roads lead to Saturday night at Sea Change.
Sea Change is thrilled to join with Fire Records/Fire Films to offer the first look at KING ROCKER, a film investigating the mysterious existence of the front man and lyricist of The Nightingales, Robert Lloyd. Comedian and writer STEWART LEE and director MICHAEL CUMMING (Brass Eye, Toast) bring an exclusive first preview of the documentary to Sea Change, with a full panel talk and pounding live show from THE NIGHTINGALES, Britain's ultimate post-punk survivors. Robert Lloyd's The Prefects played with The Clash on the White Riot tour in 1977 and The Nightingales recorded more John Peel sessions than any other band.
Essential music and culture website, THE QUIETUS, returns as a key creative partner to proudly present a late-night set from GAZELLE TWIN. Latest LP, Pastoral, was The Quietus's 2018 album of the year (with the hypnotic and terrifying 'Hobby Horse' also ranking high in the 50 tracks of the year) and it noted, "On her latest extraordinary album, Elizabeth Bernholz serves the full English with extra discomfort, grotesquery and barely contained horror." The is just the start of The Quietus's plans, which will, of course, include DJ'ing another set of full-on bangers.
Another 2018 project born from obsession and joyous admiration was Earth Recording's BAGPUSS soundtrack reissue, declared by Drift as soundtrack release of the year. At last year's festival, the soundtrack specialists handed Drift a mysterious test pressing and now, less than a year on, Bagpuss will be holding court at Sea Change 2019. Series creators, aficionados and fans will explore the adored '70s animated classic and, as part of an exclusive, fully-immersive experience, musicians SANDRA KERR and JOHN FAULKNER – whose beautiful pastoral folk music helped to make the series so special – will perform the beautiful songs live.
Elsewhere, artist, producer and award-winning composer HANNAH PEEL collaborates with poet WILL BURNS to perform in the beautiful 15th-century St Mary's Church venue. And another celebrated collaboration see's Field Music's PETER BREWIS and Admiral Fallow's SARAH HAYES becoming YOU TELL ME, whose debut album was released this month to much critical praise.
The deft curation of Drift will see two of its favourite bands joining the line-up. Dutch 4-piece PIP BLOM made many new fans on a triumphant supporting slot for The Breeders last year, while big and beaty TVAM released debut LP Psychic Data to great acclaim towards the end of last year.
Creative partners HEAVENLY RECORDINGS, BELLA UNION, ERASED TAPES, ROUGH TRADE BOOKS and MUTE return for 2019, with new friends MOSHI MOSHI and 4AD also coming to Devon.
Sea Change takes place on Friday 24th, Saturday 25th and Sunday 26th May, moving to the late May Bank Holiday for the first time having staged three sell-out events on the August Bank Holiday. The 2019 edition sees the second partnership between the young festival and a revered old institution
with a new story, the Dartington Hall estate, a combination which continues to add new names to Dartington's quite-immaculate list of guest creators in music, art and culture.
As Sea Change moves to May, it also stretches into a third day, with music sets, talks and events, culminating in a special afternoon matinee headline performance at Dartington to close the festival. And while Dartington is the festival's Offshore stage, hosting music until late on Friday and Saturday, the buildings of Totnes remain central to Sea Change, presenting extremely special music guests, panel talks, films and events beneath the beautiful gold leaf ceiling of the Barrel House Ballroom, 15th century St Mary's Church, 1950s Civic Hall and restored Victorian Totnes Cinema.
Earlybird tickets sold out in record time in December, but day (£49), weekend (£89) and Young Person (£39) tickets are on sale now online or via THE DRIFT RECORD SHOP. https://www.seetickets.com/event/sea-change-2019/venues-in-totnes-dartington/1281511
Sea Change founder, Rupert Morrison, said, "For our fourth edition, we drew up a list of our most favourite friends and artists and went for broke… we just asked them and we're still pinching ourselves that we convinced Metronomy to come and play a massive homecoming show on the Sea Change stage. I guess we're doing something right, maybe we're just doing something different? Shabaka Hutchings' saxophone has been a huge part of our last 18 months, as have numerous of Stewart Lee's incendiary pearls of wisdom… and as for the saggy old cloth cat… Sea Change IV is already shaping up to be our dream line up. As ever, there is plenty more to come!"
FESTIVAL INFORMATION
Dates: Friday 24 – Sunday 26 May 2019.
Information and tickets: www.seachangefestival.co.uk & @driftseachange
Camping at Dartington will be available directly from its website from February.
Listings for hotels, hostels, BNB's, spare rooms and http://www.visittotnes.co.uk/where-to-stay
---
6) Meanwhile, I Arrogantly Recommend…
The Sound Of Music, Walthamstow Jazz Festival, Yo La Tengo, The Wave Pictures, Sleaford Mods, Ruts DC.
THE WAVE PICTURES – Feb 1st Soup Kitchen M'cr, Feb 2nd Clwb Ifor Bach Cardiff, Feb 21st Koko London. A few dates from superb Go-Betweens/Creedence Clearwater Revival literate indie-pop synthesists.
RUTS DC. FEB 12TH Concorde 2 Brighton, Feb 17th Cambridge Junction, Feb 18th Oxford Academy, Feb 28th Shepherds Bush Empire. Punky reggae innovators.
WALTHAMSTOW JAZZ FESTIVAL – WALTHAMSTOW ASSEMBLY HALL – 16TH FEB.
Cream drummer Ginger Baker (Rolling Stone Magazine's top 3 drummers of all time) will headline with his Jazz Confusion outfit.
The line-up also includes a DJ set from the effortlessly cool Django Django, free jazz pioneer Evan Parker, Stereolab's Laetitia Sadier, Sonic Youth's Thurston Moore, and rising stars such as Emma-Jean Thackray, Binker Golding, Project Karnak and others.
YO LA TENGO – EARTH, HACKNEY, LONDON – 17TH/18TH Feb. New Jersey indie rock pioneers.
SLEAFORD MODS, 100 CLUB LONDON, 21ST FEB. Pre-massive tour warm-up from lo-fi shouting geniuses.
FROM THE METRO-LIB-ELITE DESK OF Stewart Lee JAYNARY 2019 <<< Previous Article
Next Article >>>