All Tomorrow's Parties 2016
Is it time for All Tomorrow's Parties to call it quits? - The Independent, Thursday, May 5th, 2016.
Stewart Lee ATP 2.0, Prestatyn, April 15-17 2016 - Soundblab, Thursday, April 28th, 2016.
Stewart Lee's All Tomorrow's Parties review – the indie connoisseur's festival - The Guardian, Thursday, April 21st, 2016.
'A nightmare start' - The Independent, Wednesday, April 20th, 2016.
FESTIVAL REPORT: ATP 2.0 April 2016 curated by Stewart Lee – Pontins, Prestatyn, North Wales. - God Is In The TV Zine, Monday, April 18th, 2016.
We loved, we hated and, fucking hell, we moaned - Drowned In Sound, Monday, April 18th, 2016.
Schedule - , Sunday, April 17th, 2016.
ATP 2.0 - Shonen Knife's Blog, Sunday, April 17th, 2016.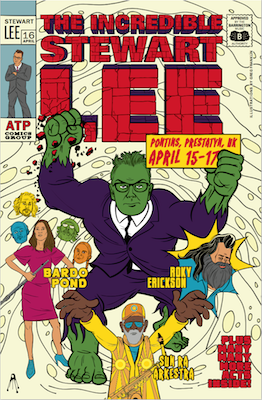 All Tomorrow's Parties took place between the 15th & 17th April 2016 at Pontin's Prestatyn, Wales.
Stew was asked to guest curate the festival and chose bands & artists such as The Fall, Ex Easter Island Head, The Necks, The Boredoms, Sleaford Mods, Sun Ra Arkestra, The Ex, Roky Erickson, Shonen Knife, Charlotte Church & Suns Of The Tundra to play the holiday camp across the weekend.
A comedy stage on the Saturday & Sunday was compered by Michael Legge with sets from Stew, Josie Long & Bridget Christie.
Click here, or the image above to download a PDF of the weekend's program.