FROM THE METRO-LIB-ELITE DESK OF Stew Art Lee July Extra 18
(Posted July 3rd, 2018)
CONTENT PROVIDER BBC2
Benefits
Nightingales
capri-batterie
Home Town Tales
Post-nearly press
Go Faster Stripe Singles Club
I Arrogantly Recommend;
Ben Moor, Pigspurt's Daughter, Bridget Christie, Wilson Dixon
CONTENT PROVIDER
A 2 hr film of the Content Provider Tour is on BBC on Saturday 28th July at 11pm, not earlier in the month on July 8th as previously announced.
Already the joke about the status of European migrants is dated.
---
BENEFIT SHOWS
8th July – The Secret Spy Cops' Ball – Rob Newman, Evelyn Mok, Mark Steel, Stewart Lee, Jackson's Lane, London. For women tricked into relationships w undercover police. Most of the performers on the bill are adopted orphans, oddly.
https://www.jacksonslane.org.uk/whats-on/the-secret-spycops-ball
---
NIGHTINGALES DATES
I am supporting Birmingham post-punk Legends The Nightingales doing 15 mins of my 80s material on seven of their autumn tour dates.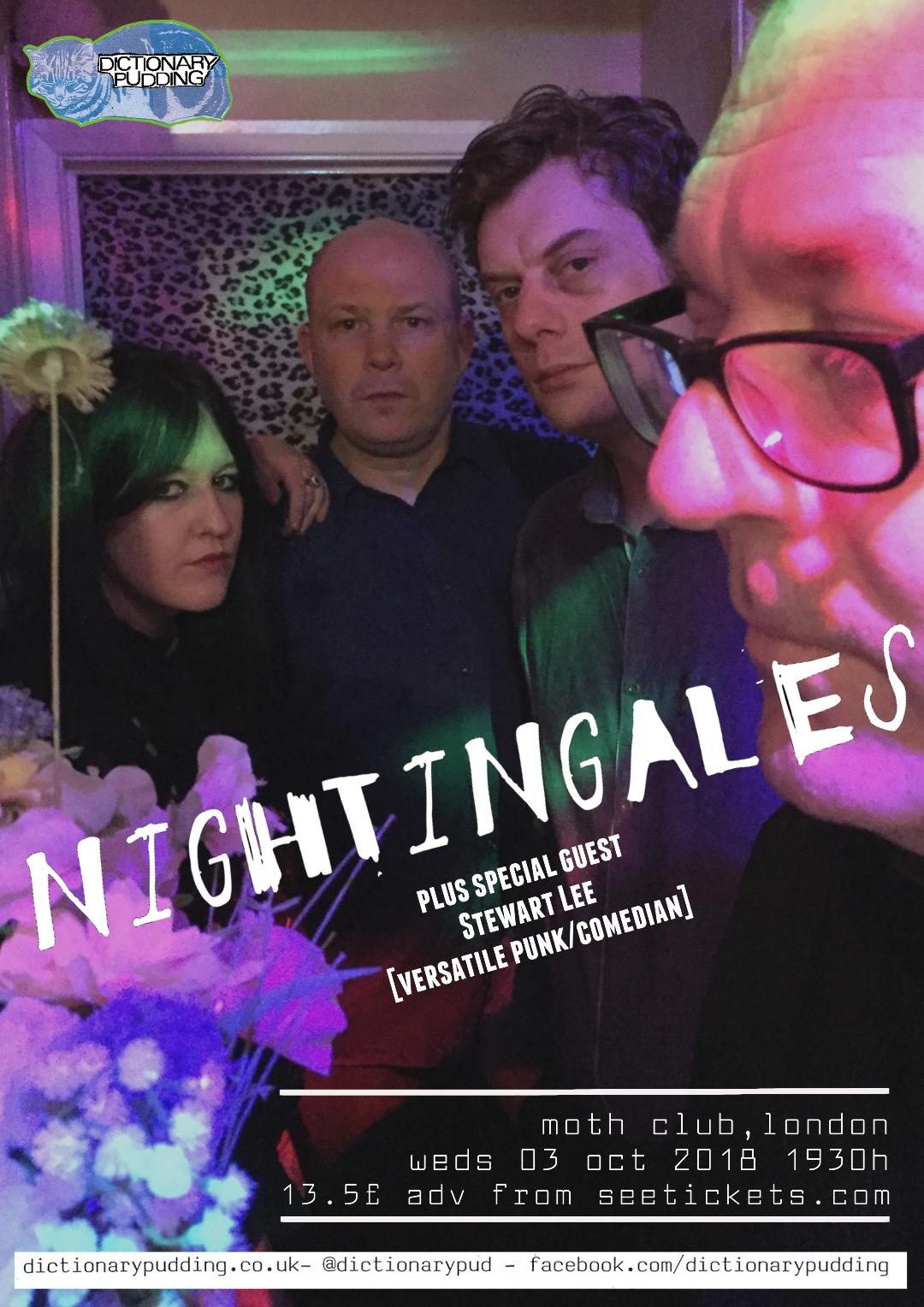 Thu SEPT 20 OXFORD, THE CELLAR
https://www.seetickets.com/event/the-nightingales/the-cellar/1227777
Fri SEPT 21 BRISTOL, THE EXCHANGE
https://www.seetickets.com/event/nightingales/exchange/1227678
Sat SEPT 22 PORTSMOUTH, WEDGEWOOD ROOMS
https://www.seetickets.com/event/the-nightingales/wedgewood-rooms/1225457
Tue OCT 2 BIRMINGHAM, HARE & HOUNDS
https://www.skiddle.com/whats-on/Birmingham/Hare-And-Hounds/The-Nightingales/13216234/
Wed OCT 3 LONDON, MOTH CLUB
https://www.seetickets.com/event/nightingales/moth-club/1227677
Thu OCT 4 CAMBRIDGE, PORTLAND ARMS
https://www.wegottickets.com/greenmind/event/439332
Sat OCT 6 BRIGHTON, GREEN DOOR STORE
http://www.wegottickets.com/event/439847
---
CAPRI-BATTERIE W STEWART LEE
You can buy Bristol Fashion, an industrial jazz album which we improvised in an hour, here for &pound7.
https://capri-batterie.bandcamp.com/album/bristol-fashion
---
Home Town Tales
The writer Maria Whatton and I are the joint authors of a new book of autobiographical fiction about Birmingham, Home Town Tales, which is out now.
https://www.amazon.co.uk/Hometown-Tales-Birmingham-Maria-Whatton/dp/147460594X/
---
Post Nearly Press
Neal Jackson of Post Nearly Press conducted a lengthy interview with me, available as a stand-alone book here www.postnearlypress.com
---
Go Faster Stripe Singles Club
https://www.gofasterstripe.com/cgi-bin/website.cgi?page=club
Comedy DVD indie GO FASTER STRIPE, which came into being to film my 90s Comedian show and saved my career, have a new initiative.
Chris Evans of GFS says…
THREE free downloads when you sign up. PLUS everything we do from now on
Join our club for &pound5 a month. You'll get a digital download of everything we will put out from the moment you sign up.
We will send you at least one full length show a month, and the download will include all the usual GFS extras. And there's usually a lot of extras.
The shows will be available to club members a day or two before they are released to the public – you'll get an email to let you know.
As usual they can be downloaded or streamed directly from our website.
SIGN UP BONUS
As soon as you sign up you can download or stream your choice of any THREE shows we've recorded since we started. There's loads of great stuff here. Have a look at that list on the left hand side of the screen. Cor blimey.
PLUS you should expect the unexpected. The idea is mostly to be a digital download club, but if this is a success I'll be sending out badges and patches and all sorts.
FAQs
How long do I have to sign up for?
You can unsubscribe from this crazy scheme at any time.
So I could just download the three free shows and eff off?
Yes you could. But we wouldn't be very pleased about it.
Wow, this sounds too good to be true.
Good.
How does it work?
When you sign up, you will get your own personal download area.
Then, you can choose your three free shows straight away to start filling it up, and any downloads you've previously bought will be automatically added in too.
Then, every time we release something it will appear by magic in your download area, slightly before the show is made available to everyone else.
We will send you an email when this happens.
What's in the pipeline?
We are putting the finishing touches to brand new shows by Mark Thomas, Rachel Fairburn, Simon Munnery, John-Luke Roberts, Nick Helm, David Trent, Richard Herring, Austentatious and loads more.
Can I sign up for a friend?
You better believe it. Yes. If you want to buy a club membership for a friend, enter their details on the signup page and enter your email at the bottom for billing purposes. You can then give your payment info to paypal, we will bill you, and they will get the goodies.
Is there any type of copy protection on the files?
No. We use the honour system here. All the files will be DRM free, so you can use them however you choose.
Why are you doing this?
Three reasons:
1. People have been asking me to organise a scheme like this for ages.
2. I'm now confident that we've got enough shows in post production to carry us though for at least a year.
3. Mainly though, no one buys DVDs anymore and I'm panicking.
---
Meanwhile, I Arrogantly Recommend
1) Ben Moor – Pronoun Trouble. New show from the performance art genius.
Ben Moor says…
5th July 2018
7.30pm
Greater Manchester Fringe Festival
Anthony Burgess Foundation
3 Cambridge Street
Manchester M1 5BY
The most academic place I have so far found to give the talk, and maybe the coolest.
There are lots of other great things going on during the Greater Manchester Fringe Festival too – why not check out the full programme?
TICKETS
29th June – 1st July 2018
Also Festival
Compton Verney
Warwickshire
A compact weekend of terrific speakers, musicians, performers and makers – I'm thrilled to be invited.
TICKETS
15th July 2018
Idler Festival
Fenton House
Hampstead Grove,
London NW3 6SP
This will be a wonderful weekend of talks by fascinating folk like Michael Palin, Sally Phillips and Carole Cadwalladr.
And I'll be performing a gentle Sunday morning version as part of the celebration of intelligent distraction.
TICKETS
16th – 19th August 2018
Green Man Festival
Crickhowell
Brecon Beacons
The lecture can be located in the brainy enclave of Einstein's Garden.
I'm so glad to be returning to Green Man; this is always an amazing weekend of music, inspiration, fresh air and laughter.
TICKETS
---
2) Drenched – Third Man Theatre Company.
I liked Third Man's work so much I became a patron of the company, essentially a vehicle for the visions of Dan Frost. They have a new show with dates so far in London this month and Edinburgh in August.
Daniel Drench. West Cornwall's most prolific and unstable storyteller, presents a bewildering and potentially moving interpretation of the classic Cornish folk tale 'The Mermaid of Zennor'.
Drenched is a one man comedy-theatre piece, challenging the form of a traditional solo performance with a combination of storytelling, character comedy and physical theatre.
Old Red Lion Theatre, Islington
2nd & 3rd July @ 7pm
4th July @ 9.30pm
Edinburgh Festival 2018
1-27 August – Pleasance Courtyard @ 3pm
---
3) PIGSPURT'S DAUGHTER
Daisy Campbell's memories of her father the performance art/comedy innvator Ken Campbell, is at Hampstead Theatre 11th – 14th July
TICKETS
---
4) Bridget Christie – What Now? (New stand-up show)
SEPTEMBER 2018
Friday 7th – WHAT NOW? – Tobacco Factory, BRISTOL – 8pm – 0117 902 0344 – TICKETS
Saturday 8th – WHAT NOW? – Tobacco Factory, BRISTOL – 8pm – 0117 902 0344 – TICKETS
Thursday 13th – WHAT NOW? – Leicester Square Theatre, LONDON – 7pm – 020 7734 2222 – TICKETS
Thursday 20th – WHAT NOW? – Leicester Square Theatre, LONDON – 7pm – 020 7734 2222 – TICKETS
Friday 21st – WHAT NOW? – Leicester Square Theatre, LONDON – 7pm – 020 7734 2222 – TICKETS
Saturday 22nd – WHAT NOW? – Leicester Square Theatre, LONDON – 7pm – 020 7734 2222 – TICKETS
OCTOBER 2018
Friday 5th – WHAT NOW? – Theatre Royal, WINCHESTER – 8pm – 01962 840 440 – TICKETS
Saturday 6th – WHAT NOW? – Corn Exchange, EXETER – 7.30pm – 01392 665938 – TICKETS
Tuesday 9th – WHAT NOW? – Leicester Square Theatre, LONDON – 7pm – 020 7734 2222 – TICKETS
Wednesday 10th – WHAT NOW? – Leicester Square Theatre, LONDON – 7pm – 020 7734 2222 – TICKETS
Thursday 11th – WHAT NOW? – Leicester Square Theatre, LONDON – 7pm – 020 7734 2222 – TICKETS
Friday 12th – WHAT NOW? – Leicester Square Theatre, LONDON – 7pm – 020 7734 2222 – TICKETS
NOVEMBER 2018
Thursday 1st – WHAT NOW? – Leicester Square Theatre, LONDON – 7pm – 020 7734 2222 – TICKETS
Friday 2nd – WHAT NOW? – Leicester Square Theatre, LONDON – 7pm – 020 7734 2222 – TICKETS
Saturday 3rd – WHAT NOW? – Leicester Square Theatre, LONDON – 7pm – 020 7734 2222 – TICKETS
Tuesday 6th – WHAT NOW? – Leicester Square Theatre, LONDON – 7pm – 020 7734 2222 – TICKETS
Wednesday 7th – WHAT NOW? – Leicester Square Theatre, LONDON – 7pm – 020 7734 2222 – TICKETS
Thursday 8th – WHAT NOW? – Leicester Square Theatre, LONDON – 7pm – 020 7734 2222 – TICKETS
Friday 9th – WHAT NOW? – Leicester Square Theatre, LONDON – 7pm – 020 7734 2222 – TICKETS
Saturday 10th – WHAT NOW? – Leicester Square Theatre, LONDON – 7pm – 020 7734 2222 – TICKETS
Saturday 24th – WHAT NOW? – Nuffield Theatre (NST City), SOUTHAMPTON – 7.30pm – 023 8067 1771 – TICKETS
Tuesday 27th – WHAT NOW? – The Junction, CAMBRIDGE – 8pm – 01223 511 511 – TICKETS
DECEMBER 2018
Monday 3rd – WHAT NOW? – Playhouse, NORWICH – 8pm – 01603 598598 – TICKETS
Tuesday 4th – WHAT NOW? – Playhouse, NORWICH – 8pm – 01603 598598 – TICKETS
---
5) WILSON DIXON
Jesse Griffin's dead-on parody of an American outlaw country singer, WILSON DIXON, has an intimate UK tour
July 2018
Sunday July 1st – The Stand Comedy Club, Glasgow – 0141 212 3389 – 4.30pm Tickets
Sunday July 1st – The Stand Comedy Club, Edinburgh – 0131 558 7272 – 7.30pm Tickets
Tuesday July 3rd – The Stand Comedy Club, Edinburgh – 0131 558 7272 – 7.30pm Tickets
Wednesday July 4th – Chapter Arts, Cardiff – 029 2030 4400 – 7.30pm Tickets
FROM THE METRO-LIB-ELITE DESK OF Stew Art Lee July 18 <<< Previous Article
Next Article >>> FROM THE METRO-LIB-ELITE DESK OF Stew Art Lee Augost 18