Content Provider
Stewart Lee Content Provider Airs On BBC2
The Quietus, Monday, July 23rd, 2018.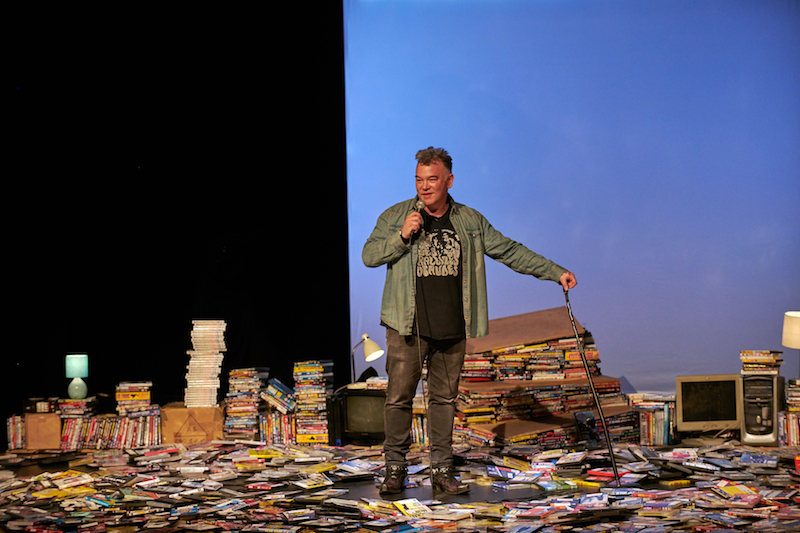 A two hour film of Stewart Lee's recent, amazing, Content Provider show will be aired by BBC 2 on Saturday night.
The show, which goes out at 10.45pm and will be available afterwards on the BBC iPlayer, was filmed at The Palace Theatre, Southend leg of the 18 month, 214 date tour.
The show, which stemmed from a writer's conundrum – how do you write about dynamically evolving political situations such as Brexit and the election of Donald Trump without alienating half of your potential audience or generating material that is immediately out of date – and deals with other anxieties created by the current digital media landscape, has proved to be the most successful point in the comedian's three decade long career so far.
tQ Editor John Doran went to see the show and had this to say: "It was fucking brilliant. Not just incredibly funny and very timely but fiendishly structured as well. I'm sure Lee will flatter his own aesthetic by telling himself it has the structure of a piece of avant garde jazz but it's loads better than that in my mind: too well rehearsed, too entertaining, too mind-boggling. It was more like the equivalent to some funky French prog from the late 70s in the Zeuhl-style with strong connections to the rhythm section of Magma.
"In fact it reached a state of such meta referentiality part way through the second half that I had a very intense acid flashback and nearly had to leave the theatre because my head was so kippered. Full disclosure – it's the only time I've seen any stand up comedy this century so I don't have much to judge it against. I don't know – maybe all stand up comedy is this good in 2018 and I'm just in the wrong job but my gut tells me that this isn't the case… that this show is completely out there on its own."
Posted by Stewart Lee in: Content Provider (Show), Reviews

Stewart Lee review: Magnificent jokes pushed to the limit ★★★★ <<< Previous Article | Next Article >>> From Hannah Gadsby to Sacha Baron Cohen: the 30 best living comedians