Content Provider
Content Provider, BBC2 – screamingly funny
FT.com, Friday, July 27th, 2018.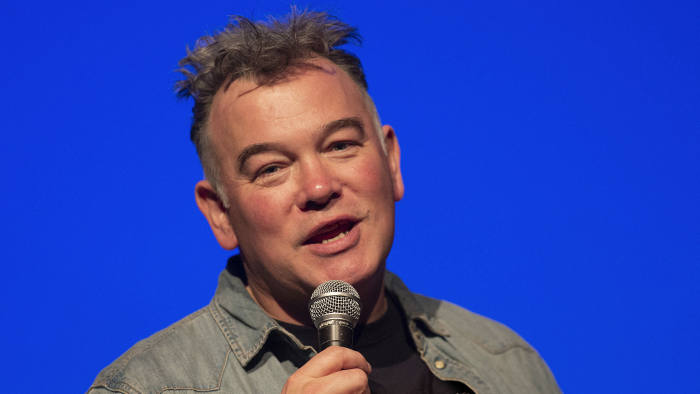 Stewart Lee divides comedy fans; his control of an audience is masterly, though he rarely tells conventional jokes and has no physical skills to speak of apart from stoutly leaning on his mic stand and occasionally capering up and down. I find him screamingly funny; plenty don't, accusing him of smugness and a wilful disdain for the punters. "I'm up here like a god and you're down there in the dark like pigs in an Essex ditch," he informs the "cackling sycophants" of Southend-on-Sea in Stewart Lee: Content Provider (Saturday, BBC2, 10.45pm). They love it.
Filmed on one of the last nights of his latest tour, he actually does begin with a (foul) political joke, but soon settles into familiar routines of analysing levels of audience enthusiasm, decrying his rivals (the set is littered with their DVDs) and pontificating on the nature of comedy: a good line "ends on or near a hard consonant", he maintains, and there's a lengthy analysis of the comic value of the phrase, "soon-to-be-deported eastern European workers".
His recent BBC2 series — axed, as he bitterly informs the audience — featured segments in which Chris Morris sternly pointed out Lee's manifold personal and professional deficiencies. Here his interlocutor is graphic novel genius Alan Moore, to whom Lee confesses, "It's not something that I feel is good enough to broadcast."
Those who enjoy "pretentious, meta-textual, self-aware shit" will disagree, and for everyone else, there's always Michael McIntyre.
Posted by Stewart Lee in: Content Provider (Show), Reviews

A majestic creature in slow, obvious and painful decline <<< Previous Article | Next Article >>> I am road-worn, shapeless and undignified, a relic, revelling in my own irrelevance