FROM THE METRO-LIB-ELITE DESK OF Stewart Lee JAYNARY 2019
(Posted January 7th, 2019)
1) CONTENT PROVIDER ON BBC2
2) KING ROCKER
3) Benefit Gigs
4) WOLVERHAMPTON LIT FEST
5) FOR SAKE OF JOY
6) I Arrogantly Recommend
7) My Cultural Year
---
1) CONTENT PROVIDER BBC
CONTENT PROVIDER is on BBC I-player until end of March.
And all the COMEDY VEHICLES seem to have gone back up too. See how the world has changed in a decade.
---
2) King Rocker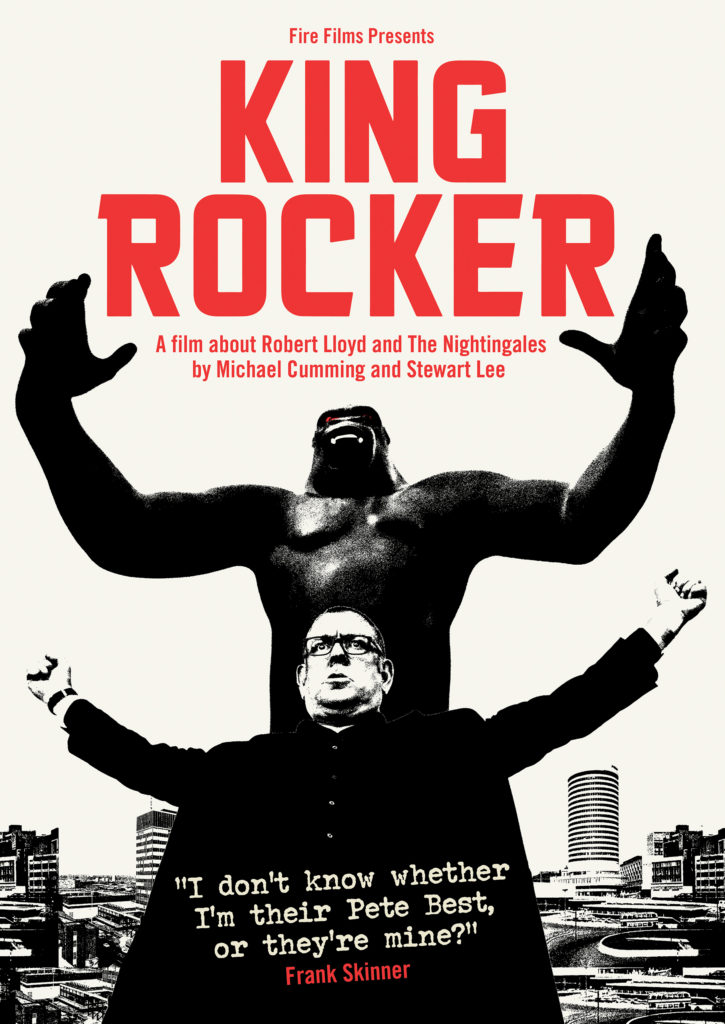 How does a working class autodidact, with no visible means of support, maintain his role as the leader of a cult British underground band into its fifth decade? Comedian and writer Stewart Lee (Stewart Lee's Comedy Vehicle) , director Michael Cumming (Brass Eye, Toast) and James Nicholls (Fire Records, Fire Films) investigate the mysterious existence of Robert Lloyd (The Prefects, The Nightingales, Robert Lloyd and the New Four Seasons), Britain's ultimate post-punk survivor.
Robert Lloyd's Prefects played with The Clash on the White Riot tour in 1977, and their ongoing incarnation, as Birmingham's Captain Beefheart suffused post-punk poets The Nightingales, recorded more John Peel sessions than any other band. Ever.
Buoyed by endless critical acclaim, but hampered by ongoing commercial indifference, Lloyd has nonetheless continued to tour and record, The Nightingales' affairs managed by drummer Fliss Kitson, from a Wolverhampton shipping container, and Lloyd himself, from the isolated borderland mountain fastness of Wellington, Shropshire, surrounded by prehistoric remains and industrial archaeology.
Lloyd, a post-punk flaneur, sometime postman, and master snug room raconteur, appears to have maintained a lifestyle outside the system via a succession of hustles, often involving an encyclopaedic knowledge of horse racing and pre-punk musical weirdness.
But what were the social, cultural and economic circumstances that enabled and sustained such outsider artists in the punk and post-punk eras, and how has the world changed to the point where such figures are unlikely to flourish in the same way today? Lloyd's own odyssey echoes how abstract notions of social mobility, of the value of culture and music, have changed in the last five decades.
In an odd coincidence, Lloyd's current home, the Shropshire market town of Wellington, in the shadow of the Wrekin, is also where the comedian Stewart Lee was born, though he only spent nine days there before being dispatched to an orphanage, and has not been back since.
Further chance collisions abound. For a brief period the skyline of '70s concrete Birmingham was defined by Nicholas Monroe's unloved, and soon sold off pop art sculpture, of the giant ape, King Kong. Missing and presumed lost for years, this icon of Birmingham was eventually discovered prostrate in a Lake District garden, before being critically rehabilitated in an exhibition of great British public sculpture at the Henry Moore Gallery in Leeds in 2017.
As a child, Stewart was fascinated by the sculpture, and in a strange piece of synchronicity Lloyd compared his onstage persona to Monroe's Kong in a triumphant post-gig rant in King's Cross this year. The parallels make the point of comparison too good to ignore. King Rocker will shadow Lloyd's story with that of Birmingham's forgotten, and rediscovered, giant art ape, King Kong.
---
3) BENEFIT GIGS
i) WALTHAMSTOW
I am doing a benefit for something with some other people, including Christian Reilly, at Ye Old Rose and Crown, Walthamstow on 22nd of Jan.
ii) UP THE CREEK, GREENWICH
I am doing a benefit for something with Phil Kay at Up The Creek, Greenwich on Tues 5th of Feb.
The Goodfather: PHIL KAY, STEWART LEE, TONY LAW
+ Roisin & Chiara, Lucy Hopkins, Russell Hicks, Tom Ward
and Phil Kay (MC aka The Goodfather)
Tue 5 Feb 2019 7:00 pm for 7:45 start. Up The Creek, SE10 9SW – EVENT LINK / TICKETS
iii) BELTER FOR THE SHELTER 19th Feb 2019
BELTER FOR THE SHELTER, Hackney Empire, London, 19th Feb 2019, 7.30.
Join us for a spectacular evening of comedy in aid of Hackney Winter Night Shelter. Going into its 5th year with an incredible line up at the Hackney Empire to help raise money for the Shelter's vital work with local homeless people.
All money raised on the evening goes towards keeping people off the streets of Hackney, providing them with a hot meal and warm bed throughout winter.
Providing the gags for the evening will be Bridget Christie (News Review), Kevin Eldon (TIE), Sofie Hagen (Scandinavia), Harry Hill (Tooting Medics' Review), Athena Kugblenu (Nish Kumar's Edinburgh Nights), Nish Kumar (Nish Kumar's Edinburgh Nights), Rosie Jones (Nish Kumar's Edinburgh Nights), Robert Newman (Steve Wright's Radio 1 Posse) and Stewart Lee (Richard Herring's Fist of Fun)
(compere to be announced).
TICKET LINK £10-£20.
---
4) WOLVERHAMPTON LIT FEST FEB 2ND
On Saturday 2nd February Stewart Lee (comedian/writer) will read from his contribution to the book 'Home Town Tales' about his youthful fascination for midlands post-punk band The Nightingales and an outsized piece of public sculpture located in Birmingham's Bullring.
£9 – 5pm Wolverhampton Art Gallery – TICKET LINK
---
5) FOR Sake of Joy
Improvised music at the LONDON REVIEW BOOKSHOP, Bloomsbury
LRB Sound / For Sake Of Joy Of Study Of Oneself Together: Allum, Beresford, Lee and Wastell
£15 – 20 January 2019 at 6.30 p.m. – London Review Bookshop
Jennifer Allum : violin
Steve Beresford : electronics
Stewart Lee : spoken word
Mark Wastell : percussion
For Sake Of Joy Of Study Of Oneself Together is a spoken word piece derived from a poem originally written by drummer John Stevens.
Stevens is best known as one of the original instigators in the development of freely improvised music that began to formulate in the middle 1960s and he dedicated his entire career to the discipline, through group performance, recordings, publications, teachings and workshops.
Mark Wastell transcribed the poem from a live concert recording given by Stevens in 1991 and set it to an improvised musical accompaniment for a project organised by Trestle Records which can be heard here.
This evening's concert will feature an extemporised reading by Stewart Lee together with an improvised score performed by Jennifer Allum, Steve Beresford and Mark Wastell. All four are fully conversant and highly experienced in the delivery of improvised material.
Dedicated to John Stevens 1940 – 1994
---
6) Meanwhile, I Arrogantly Recommend…
Michael Rother, Patti Smith, The Fallen Women, Mammoth Penguins, Phil Minton, Shirley Collins.
Patti Smith – Roundhouse, Camden, London Fri 25th Jan. Lone UK date for punk pioneer.
Michael Rother – Earth, Hackney, London, Sat 26th Jan. Lone UK date for Krautrock pioneer.
Fallen Women – Lexington, Angel, London, Sun 27th Jan. All-women Fall tribute band w special guest informants.
Mammoth Penguins – Moth, Hackney, London, Tues 29th Jan. Indie-pop classicists
Phil Minton – Ryan's Bar, Stoke Newington London, Weds 30th. Vocal experimentalist Minton is amongst the performers at tonight's Flim Flam improvisation session.
Shirley Collins – Roundhouse, Camden, London, Thurs 31st. Lone UK date for folk revival pioneer.
---
7) MY CULTURAL LIFE 2018
The best NEW BOOK I read all year was THIS IS MEMORIAL DEVICE by DAVID KEENAN, which seemed to find a new way of telling a story, a kind of fabricated docu-fiction, and gave utterly vivid 3-dimensional life to a community of outsider artists in a small Scottish town at the start of the '80s. It also made me think about memory, reality and how thoughts and ideas work. I felt imaginatively alive while reading it and oddly bereft when it ended. I found JOHN NIVEN's KILL 'EM ALL so funny people were staring at me as I read it on public transport.
The best old book I read was BESIDE THE OCEAN OF TIME by GEORGE MACKAY BROWN. I read it in Orkney, where it was set, looking across the sea at Hoy, and everything became temporally unstable.
My 11 year old said I would really like the early '70s acid-folk PENELOPE LIVELY children's novels he was reading, and I did. KUNT, from KUNT and THE GANG, self-published an autobiography, I KUNT, which, as well as being very funny, also identifies a lot of key cultural, social and technological shifts this century through the lens of jokes about wanking and shit.
MARK E SMITH died. So there was no FALL fun this year and there never will be again, which is still hard to believe when you find yourself suddenly laughing at a song lyric that arrives in the mind unbidden. My favorite NEW ALBUM was WE'RE YOUR FRIENDS MAN, a late period high point for the indestructible heavy-psyche songwriter Nick Saloman of BEVIS FROND, but PAT TODD's BLOOD AND TREASURE was an unmediated bar-room country-punk pleasure. THE WOLFHOUNDS' PEEL SESSIONS album HAND IN THE TILL was a welcome archival release, as was DEREK BAILEY with tap dancing legend WILL GAINES live at Stoke Newington's KLINKER in 2000.
I saw loads of great gigs this year, including five star sets from THE NIGHTINGALES, THE ON THE SHORE BAND, THE FALLEN LEAVES, THE WOLFHOUNDS, MARK KOZELEK, GIANT SAND/PATSY'S RATS, THE EX/BIG JOANIE, SID GRIFFIN & TOM HEYMAN & DAN STUART, YO LA TENGO, BEVIS FROND, MICHAEL ROTHER, IDLES, JILTED JOHN, & JOHN CARPENTER. I think the best gig I saw was LEE RANALDO at Hoxton Bar & Grill. I didn't listen to much jazz at all in 2019. I don't know how that happened. I don't think it was a very jazzy year. While it is good to experience art the disrupts and confounds, the snowflake Oi of IDLES, in both their live and recorded forms, delighted the entire family and made me, as a fifty year old 1980's politically correct liberal, feel less alone, which is another good thing that art can do.
Not going to the EDINBURGH FRINGE for the second year running improved my mental health and family relationships, but left a bit of a cultural hole, and I didn't see much theatre, or stand-up, or art, though ROSE WYLIE's Kentish primitivism seemed to be everywhere.
I didn't even read many comics in 2018. I liked HENRY'S KITCHEN on YOUTUBE and that thing where SLADE sing the opening line of their Christmas song over and over again. I liked THE BODYGUARD on TV, like everyone else. If a filmed stand-up set is shown on TV is it a film or is it TV? I watched a lot of family films with the kids and now think DWAYNE JOHNSON is some kind of genius, testing the elasticity of the role assigned to him by fate. I didn't see a ★★★★★ new film, but I watched lots of good old ones, including a re-mastered version of DUCCO TESSARI'S RETURN OF RINGO.
I watched the Finish comedy-horror RARE EXPORTS again at Christmas. 9 years ago I thought it was sick fun. Now it seemed like a metaphor for climate change, cultural vandalism, and the death of indigenous cultures. You never see the same film twice because you, the viewer, have changed. Only SHORT CIRCUIT II remains the same. GET SANTA is still the best Christmas film ever made.
The best place I went all year was MAESHOWE in ORKNEY, with my family, on my 50th, and that was the moment that I was happiest in 2018. The best thing I ate was a chicken jalfrezi at the ANGLO SPICE GRILL, STOKE NEWINGTON. The best drink I drank was an 18 year old whisky from THE HIGHLAND PARK DISTILLERY, Orkney. The best animal I saw was either a seal or a wild boar, in their natural habitats.
Nonetheless, here is an unedited list of all the cultural content I consumed in 2018, in the order I consumed it, as far as I remember.
NEW FILMS (2017/8)
Paddington II (2017)
Star Wars – The Last Jedi (2017) ★
Get Out (Jordan Peele, 2017) ★★★★
Early Man (Nick Park, 2018)
Black Panther (2018) ★
Death of Stalin (Armando Ianucci, 2017)
Isle Of Dogs (Wes Anderson, 2018)
Thor – Ragnarok (Taika Waititi, 2017)
Long Time Running (Jennifer Baichwal, 2017) ★★★★
Hostiles (Scott Cooper, 2018) ★★★★
Incredibles 2 (Brad Bird, 2018) ★★★★
Ant Man And The Wasp (Peyton Reed, 2018)
3 Billboards Outside Ebbing, Missouri (Martin McDonagh, 2018) ★
Ready Player One (Stephen Spielberg, 2018)
Rampage (Brad Peyton, 2018)
The Witch's Flower (Hiromasa Yonebayashi, 2017)
Jumanji Welcome To The Jungle (Jake Kasdan, 2017)
Deadpool II (David Leitch, 2018)
Skyscraper (Rawson Marshall Thurber, 2018)
NEW OLD FILMS REISSUED
The Return of Ringo (Duccio Tessari, 1965, Arrow) ★★★★
Sorcerer (William Friedkin, 1977)
If You Meet Sartana Pray For Your Death (G Paralini, 1968, Arrow)
I Am Sartana Your Agent Of Death (Giuliano Carmineo, 1969, Arrow)
Sartana's Here Trade Your Pistol For A Coffin ((G Carmineo, 1970)
Have A Good Funeral Friend Sartana Will Pay (G Carmineo, 1970)
OLD FILMS
Dr Zhivago (David Lean, 1964) ★★★★★
The Great Silence (Sergio Corbucci, 1966) ★★★★
Brave (Mark Andrews, 2012) ★★★★
The BFG (Stephen Spielberg, 2016)
Orca The Killer Whale (Michael Anderson, 1977)
Hot Fuzz (Edgar Wright, 2007) ★★★★
A Bullet For The General (Damiano Damiani, 1967) ★★★★★
Pat Garrett & Billy The Kid (Sam Peckinpah, 1973)
Apollo 13 (Ron Howard, 1995)
Up (Pete Docter, 2009)
Toy Story III (Lee Unkrich, 2010)
Rear Window (Alfred Hitchcock) ★★★★
Network (Sydney Lumet, 1976) ★★★★★
McCabe & Mrs Miller (Robert Altman, 1971)
Wolf Children (Mamoru Hosoda, 2012) ★★★★
Wuthering Heights (William Wyler, 1939) ★★★★
The Woman In Black (James Watkins, 2012)
The Medusa Touch (Jack Gold, 1978)
Stalingrad (Fedor Bondarchuk, 2013)
Hector (Jake Gavin, 2015) ★★★★★
The Life Aquatic (Wes Anderson, 2015)
Man About The House (John Robins, 1974)
Whisky Galore (Alexander Mackendrick, 1949)★★★★
My Neighbour Totoro (Hayao Miyazaki, 1988) ★★★★★
Moonrise Kingdom (Wes Anderson, 2012)
Richard Pryor Live In Concert (Jeff Margolis, 1979)
Wanted (Giorgio Ferroni, 1966)
I Called Him Morgan (Casper Collin, 2016) ★★★★
Eden Lake (James Watkins, 2008)
Dennis Leary – No Cure For Cancer (Ted Demme, 1993)
The Stranger & The Gunfighter (Antonio Margheriti, 1974)
Ice Station Zebra (John Sturges, 1968)
Monty Python & The Holy Grail (Terry Gilliam, 1974)
Monty Python's Life Of Brian (Terry Jones, 1979) ★★★★
Misery (Rob Reiner, 1990) ★★★★
Play Misty For Me (Clint Eastwood, 1971) ★★★★★
Area 51 (Oren Pelli, 2015)
The Good, The Bad and The Ugly (Sergio Leone, 1966)★★★★★
The Lady In The Van (Nick Hytner, 2015) ★★★★
Tepepa (Giulio Petroni, 1969) ★★★★
The Incredible Shrinking Man (Jack Arnold, 1956)★★★★
The Cars That Ate Paris (Peter Weir, 1974)
Monique – I Coulda Been Your Cellmate (G Binkow, 2007) ★★★★★
Arriety (Hiromasa Yonebayashi, 2011) ★★★★★
Glen Campbell : I'll Be Me (James Kneach, 2014)
Solider Blue (Ralph Nelson, 1970)
Arrival (Dennis Villeneuve, 2016) ★★★★
Dog Soldiers (Neil Marshall, 2002)
Butch Cassidy & The Sundance Kid (George Roy Hill, 1969)
The Pledge (Sean Penn, 2001) ★
Die Hard (John Mctiernane, 1989) ★★★★
Mission Impossible (Brian de Palma, 1996)
Slow West (John MacLean, 2015) ★★★★
Only Yesterday (Isao Takahata, 1991) ★★★★
Meek's Cutoff (Kelly Reichardt, 2011)
The Woman Eater (Charles Saunders, 1958)
Tomorrow Never Dies (Roger Spottiswode, 1997)
X-Men (Brian Singer, 2000)
Live And Let Die (Guy Hamilton, 1973) ★★★★
The Spy Who Loved Me (Lewis Gilbert, 1977)
The Man With The Golden Gun (Guy Hamilton, 1974)
Three Amigos (John Landis, 1987)
The Pink Panther Strikes Again (Blake Edwards, 1976)
Jaws (Stephen Spielberg, 1975)
Help! (Richard Lester, 1965)
Bill & Ted's Excellent Adventure (Stephen Herek, 1989) ★★★★
Robin Hood (Wolfgang Reitherman, 1973) ★★★★
Hard Day's Night (Richard Lester, 1963) ★★★★
The Mask (Charles Russell, 1994)
Deathstalker (James Sardellati, 1984)
Love Thy Neighbour (John Robins, 1973)
Basket Case (Frank Henenlotter, 1982) ★★★★
The Stuff (Larry Cohen, 1985) ★★★★
The Nutty Professor (Tom Shadyak, 1996)
Spy (Paul Feig, 2015) ★★★★
Queen Kong (Frank Agrama, 1976)
Ghost Rider (Mark Steven Johnson, 2007)
The Satanic Rites of Dracula (Alan Gibson, 1973)
Central Intelligence (Rawson Marhall Thurber, 2016)★★★★
Howard The Duck (Willard Huyuk, 1986)
Westworld (Michael Crichton, 1973)
They Live (John Carpenter, 1989) ★★★★
Nine To Five (Colbert Higgins, 1980) ★★★★
Punchline (David Seltzer, 1988) ★★★★★
Enchanted (Kevin Lima, 2007)
Octopussy (John Glenn, 1983)
The Man Who Cried For Revenge (Mario Calano, 1968)
The Devil's Men (Kostos Karagiannis, 1976) ★
Bill & Ted's Bogus Journey (Peter Hewitt, 1991)
Team America (Trey Parker, 2004) ★★★★
Planes, Trains & Automobiles (John Hughes, 1987)
The Fly (David Cronenberg, 1986)
Every Which Way But Loose (James Fargo, 1978) ★
Amazing Spider-Man (Mark Webb, 2012) ★★★★
Becket (Peter Glenville, 1964)
El Condor (John Guillermin, 1970)
100 Rifles (Tom Gries, 1969)
Miracle On 34th St (Les Mayfield, 1994)
Koyaanisqatsi – Godfrey Reggio (1982) ★★★★★
Arthur Christmas (Sarah Smith, 2011)
Big Gold Dream (Grant McPhee, 2015)
Nativity (Debbie Isitt, 2009)
Get Santa (Christopher Smith, 2014) ★★★★★
Amazing Spider-man 2 (Mark Webb, 2014) ★★
Where Eagles Dare (Brian Hutton, 1968) ★★★★★
Rare Exports (Jalmari Helander, 2010)
Forrest Gump (Robert Zemeckis, 1994)
The Hunger Games (Gary Ross, 2012)
NEW BOOKS
Shirley Collins – All In The Downs ★★★★
Bendle – Permanent Transience
Daniel Spicer – Andalou Psych 1965 – 1980 ★★★★
John Lemay – Deadly Spaghetti
Kunt – I Kunt
Robin Ince – I'm A Joke And So Are You
Toby Litt – Wrestliana
John Niven – Kill 'Em All ★★★★
David Keenan – This Is Memorial Device ★★★★★
Paul Ewen – Writer In Residence ★★★★
OLD BOOKS
Austin Fisher – Radical Frontiers In The Spaghetti Western (2011)
George Mackay Brown – A Calendar Of Love (1967) ★★★★
George Mackay Brown – For The Islands I Sing (1985)
George Mackay Brown – Beside The Ocean of Time (1994) ★★★★★
Anna Kavan – Ice (1967) ★★★★
Frederick Grice – Folk Tales Of The West Midlands (1952) ★★★★★
Richard Allen – Sorts (1973)
Richard Allen – Skinhead (1970)
Penelope Lively – Astercote (1970)
Penelope Lively – The Whispering Knights (1971) ★★★★
Penelope Lively – The Wild Hunt Of Hagworthy (1971) ★★★★★
Michael S Foley – Dead Kennedys' Fresh Fruit (2015) ★★★★
COMICS
Injection vol 3 (Warren Ellis/Declan Shavey) ★★★★
The Man-Thing Vol 1 1970-74 (Steve Gerber)
Kamandi The Last Boy On Earth – 1970's Jack Kirby DC comics
TV NEW AND OLD
The X-Files (S1) (1993 – 25 years ago!) ★★★★
Inside No 9 s4 (BBC2 2018) ★★★★
The Water Margin S1 (NTV 1973) ★★★★
Requiem (BBC1) ★★
The Twilight Zone (S1) ★★★★
Kung Fu (S2)★★★★★
Vic Reeves Big Night Out (C4, S1) ★★★★
Detectorists (BBC2, 1-3) ★★★★★
Endeavour (Itv) ★★★★★
The Story Of Skinhead – Don Letts (BBC4) ★★★★
Ricky Gervais' Humanity (Netflix) ★
This Country (S2) (BBC3)
Sarah Silverman, A Speck Of Dust ( Netfilx)
Chris Rock, Tamborine (Netflix)
Putin, The New Tsar (BBC) ★★★★
The Archiveologists (BBC2) ★★★★
Frankie Boyle – Hurt Like You've Never Been Loved (Netflix)
Jimmy Carr – Funny Business (Netflix)
John Bishop – Supersonic (Netflix) ★★★★
Jack Whitehall – At Large (Netflix) ★
Cunk On Britain (BBC2)
Jim Jeffries – Free Dumb (Netflix) ★
Chris Tucker – Live (Netflix)
Bill Burr – Walk Your Way Out (Netflix)
Doug Stanhope – Beer Hall Putsch (Netflix) ★★★★
Russell Howard – Recalibrate (Netflix) ★
Tales of The Unexpected (S1, ITV) ★★★★
Great British Bake Off (Series 1, 2, 3, 4, 5) (BBC) ★★★★★
My Next Guest Needs No Introduction (Netflix)
Gina Yashera (Netflix) ★★★★
Todd Glass – Act Happy (Netflix) ★★★★
Amy Schumer – The Leather Special (Netflix)
Monique – I Coulda Been Your Cellmate (G Binkow, 2007) ★★★★★
The Marvelous Mrs Maizel S1 (Amazon) ★★★★
A Very English Scandal (BBC) ★★★★★
Hannah Gadsby – Nanette (Netflix)
England vs Columbia
England vs Croatia
The Handmaid's Tale s 1 ★★★★★
The Handmaid's Tale s 2
Better Call Saul s 4
Ozark S1, S2 (Netflix) ★★★★★
Fargo S1 (Netflix) ★★★★★
Bodyguard (BBC1) ★★★★★
Henry's Kitchen (Youtube) ★★★★
Dr Who with a lady (BBC1)
This Week (BBC2)
Inside No 9 Halloween Special (BBC2) ★★★★
Louis Theroux in America (BBC1)
First Dates (C4)
Norsemen (Netflix) ★★★★
The Marvelous Mrs Maisel S2 (Netflix) ★
The Fix (Netflix) ★
Vic and Bob's Big Night Out (BBC3 2018) ★★★★
MAGAZINES AND PAPERS
Guardian, Mojo, Shindig, Record Collector, New European, Wire, RnR, Faunus, Machenalia
RADIO
James O'Brien (LBC) ★★★★★
Tom Robinson's Windrush Anniversary Show (6 Music) ★★★★★
Resonance 104.4 fm generally
The worst radio I heard was The Today Program (BBC Radio 4)
THEATRE
Alice (Minack Theatre, Cornwall)
The Battle of Evesham – Evesham
The Lost Disc – Wil Adamsdale/Tom Parry (Soho Theatre) ★★★★
M R James' Lost Hearts – Hampton Court ★★★★
Aladdin (Hackney Empire) ★★★★
COMEDY
Jimmy Carr/Neal Brennan/Dave Chapelle (Leicester Sq Theatre) ★
Wilson Dixon (Soho Theatre) ★★★★
Andy Kindler (Soho Theatre) ★★★★
Omid Djalili/Boothby Graffoe (Leicester Sq Theatre)★★★★
Felicity Ward – Busting A Nut (Soho Theatre) ★★★★
GIGS (45)
Michael Rother (Jazz Cafe) ★★★★★
Lee Ranaldo (Hoxton Bar & Grill) ★★★★★
Nightingales (Lexington) ★★★★
Shame/Gurr (Electric Ballroom)
Ashley Henry, Nubya Garcia, Cleo Laine (Shoreditch Town Hall)
Lore Lixenberg/Naomi Sato/Hen Ogledd (Cafe Oto) ★★★★
Yo La Tengo (Royal Festival Hall) ★★★★★
Iva Bittova w Abraham Brody (Rich Mix) ★★★★
Joss Cope/Anton Barbeau (Betsey Trotwood)
Evan Parker, John Edwards, Roger Turner (Vortex) ★★★★
Bevis Frond (100 Club) ★★★★★
The Bug Club (Electric Company, Hay On Wye)
Where Pathways Meet/Art Ensemble of Chicago (Jazz Cafe) ★★★★
Patsy's Rats/Giant Sand (Under The Bridge) ★★★★★
Bardo Pond (100 Club)
Olivia Chaney (Hoxton Hall)
The Ex/Big Joannie (Electrowerkz) ★★★★★
Wolves In The Throne Room (Garage) ★★★★
Alan Wilkinson/Steve Noble/John Edwards (Cafe Oto) ★★★★
Darren Hayman/Catenary Wires (St Pancras Old Church) ★★★★
Pharaoh Sanders (Ronnie Scott's)
Left Outsides/Trembling Bells (Cafe Oto)
Lower Slaughter (Latitude)
Idles (Latitude) ★★★★★
Billy Childish (Koko)
Dave Wakeling/Lee Perry/Toots & The Maytals (Ali Paly)
The Other Dramas/Nightingales (Jericho Tavern, Oxford) ★★★★
The Courtesy Group/Nightingales (Bristol Exchange) ★★★★★
Grief Daddy/Nightingales (Portsmouth Wedgwood Rooms) ★★★★
Nightingales (6 Music, Salford) ★★★★
Near Jazz Exp/Nightingales (Hare & Hounds, Brum) ★★★★★
Near Jazz Experience/Nightingales (Moth Club, London) ★★★★★
Near Jazz Exp/Nightingales (Portland Arms, Cambs) ★★★★★
The Wolfhounds/The Nightingales (Green Door, Brighton) ★★★★★
John Otway/Jilted John (229 Club, London) ★★★★★
Mark Kozelek (Union Chapel, London) ★★★★★
Ex-Easter Island Head (King's Place, London) ★★★★
John Carpenter (Shepherd's Bush Empire, London) ★★★★★
Idles (T&C, London)
Capri Batterie (Cafe Oto) ★★★★
Neko Case (Barbican)
Teenage Fanclub (Electric Ballroom)
The Fallen Leaves (Hope & Anchor, London) ★★★★★
Tom Heyman/Sid Griffin/Dan Stuart (The Islington) ★★★★★
On The Shore Band (Cafe Oto) ★★★★★
RECORDS I LISTENED TO IN THEIR ENTIRITY OLD SCHOOL THIS YEAR IN ONE SITTING AT A DESIGNATED LISTENING DEVICE
NEW RECORDS – 2017/2018 (97)
Pat Todd & The Rank Outsiders – Blood & Treasure ★★★★
Robyn Hitchcock – s/t
Lydia Loveless – Boy Crazy And Single(s) ★★★★
The Belbury Poly – New Ways Out
The Focus Group – Stop Motion Happening With
Paula Frazer and Tarnation – What Is And Was
Nick Luca – On A Mission
Nick Luca – Nick Of Time
Nick Luca – Midnight Mantra
The Belbury Circle – Outward Journeys
Hintermass – The Apple Tree
The Pattern Forms – Peel Away The Ivy
The Courtesy Group – Second City Liquor
Toi Toi Toi – Im Hag
Richard Youngs – Belief
Ron S Peno & The Superstitions – Guiding Light
Gun Outfit – Out of Range
Surfing Magazines – s/t ★★★★
Buffalo Tom – Quiet & Peace
Pugwash – Silverlake
Richard Youngs – A Brief Walk Outside
Hellenes – I Love You All The Animals
Kosmische Laufer – Live In Graz ep ★★★★
Stick In The Wheel – Follow Them True
Mammoth Penguins – John Doe
Laura Cannell – Hunter Huntress Hawker
The Bellrays – Punk Funk Rock Soul Vol 1 ep
Shopping – The Official Body
Calexico – The Thread That Keeps Us
The Feelies – In Between
Shame – Songs Of Praise
Carlton Melton – Mind Minerals
The Fall – Atlanta Albania Whatever (bootleg) ★★★★
Trembling Bells – Dungerness
Smitten – Blame
Julian Cope – Skellington 3
Yo La Tengo – There's A Riot Going On
Carla Bozulich – Quieter
Shadracks – No 1
Idles – Brutalism ★★★★
Goat Girl – Goat Girl
Pete Astor – One For The Ghost
Anthroprophh – Omegaville ★★★★
Evan Parker, Barry Guy, Paul Lytton – Music For Mossman ★★★★
Anthroprophh – SRR 2.5
The Left Outsides – All That Remains
Walter Salas-Humara – Work : Part One
Alejandro Escovedo – Burn Something Beautiful
Dope – The Intergalactic Re-Gilding of Detroit
Richmond Fontaine – Don't Skip Out On Me
Anton Barbeau – Natural Causes
Flamin' Groovies – Fantastic Plastic
Guided By Voices – Space Gun
Dope – Intergalactic Re-gilding Of Detroit
Neko Case – Hell Or
Giant Sand – Returns To Valley Of Rain ★★★★
The Ex – 27 Passports ★★★★
Dan Stuart – The Unfortunate Demise of Marlowe Billings ★★★★
Sonic Boom – Infinite Music
Nubya Garcia – Nubya's Five (2017)
Nubya Garcia – When We Are
Where Pathways Meet – Arrival
Rolling Blackouts Coastal Fever – Hope Downs
Charles Lloyd/Lucinda Williams – Vanished Gardens ★★★★
The Advisory Circle – Ways of Seeing
Sun Dial – Science Fiction
Dumptruck – Wrecked
Gabriel Naim Amor – Moments Before
Idles – Joy ★★★★
Nightingales – Perish The Thought ★★★★
Mudhoney – Digital Garbage
Laura Cannell & Andre Bosman – Reckonings
Dope featuring Fuck Authority – Seven Disquieting Dirges
21 Pilots – Trench
Nogroup – EP MXVIII
Nogroup – E P E G
Kevin Salem – Box of Words
Near Jazz Experience – Afloat
Bevis Frond – We're Your Friends Man ★★★★★
Cowboy Junkies – All That Reckoning
Darren Hayman – Thankful Villages 3 ★★★★
Chills – Snowbound
The Dream Syndicate – How We Found Ourselves ★★★★
Beths – Future Me Hates Me
Mark Kozelek, Ben Boye & Jim White – s/t ★★★★
Sleaford Mods – Sleaford Mods EP ★★★★
The Wave Pictures – Brushes With Happiness
The Wave Pictures – Look Inside Your Heart
Chris Cacavas – An Acoustic Evening With
Green Pajamas – Supernatural ★★★★
Richard Youngs – Endless Futures
Long Ryders – Psychedelic Country Soul ★★★★
Blue Orchids – Righteous Harmony Fist
Galya Bisengalieava – EP one ★★★★
Cult Figures – The 166 Ploughs A Lonely Furrow ★★★★
Emanem – Kamikazee
NEW OLD RECORDS
Dave Miller Set – Mr Guy Fawkes (1967-70)
v/a – Uzelli Psychedelic Anadolu (1975 – 84)
Fumio Miyashita – Live On The Boffomundo Show (79/80) ★★★★
V/A – The Ballad of Shirley Collins (1959-2016)
Derek Bailey & Company – Klinker (2000) ★★★★★
The Gun Club – In My Room (1991-93)
Lau – Decade – The Best of 2007-2017 (2017)★★★★★
Summerhill – Return To Lowdown (1988-89) ★★★★★
Sandra Kerr & John Faulkner – Bagpuss (1973) ★★★★
The Wolfhounds – Hands In Till Peel Sessions (1986 – 88) ★★★★★
Richard Lloyd – Live New York (1979)
Gene Clark – Sings For You (1967) ★★★★
Nikki Sudden, Johnny Fean & S Carmody – Last Bandits (1985-9)
John Coltrane – Both Directions At Once (1963) ★★★★★
Bob Dylan – The Best of The Bootleg Series (1964 – 1989) ★★★★
Gram Parsons – A Song For You box (1968-9)
The Posies – Frosting On The Beater (1993) ★★★★★
Alexander Spence – Andoragain (1968) ★★★★★
Ut – Conviction (1986) ★★★★★
The Long Ryders – State of Our Union box (1985) ★★★★★
The Long Ryders – Two Fisted Tales box (1987) ★★★★
Girls In The Garage Vols 1 – 6 Box (1960s) ★★★★★
The Beatles – White Album/Esher Demos (1968) ★★★★★
The Fall – Set Of Ten (box) (1980 – 2001)
OLD RECORDS
Tommy Keene – You Hear Me, A Retrospective 1983-2009 ★★★★
Oh-Ok – The Complete Recordings (1982-84)
Ruts DC – Music Must Destroy (2016)
Ruts DC – Rhythm Collision Vol 1 (1981)
Lloyd Cole & The Commotions – Rattlesnakes (1984) ★★★★★
The Sound – Heads And Hearts (1985) ★★★★
Rosemary Haddad – Coming Hohm (1975)
The Business – Welcome To The Real World (1983)
Lloyd Cole & The Commotions – Easy Pieces (1985) ★★★★
Lloyd Cole & The Commotions – At The BBC Vol 1 (1984)
Graves Brothers Delux – San Malo (2009)
David Tattersall & Howard Hughes – Lobster Boat (2011) ★★★★
The Wave Pictures – Bamboo Diner In The Rain (2016) ★★★★
Jeanne Lee – Conspiracy (1974) ★★★★★
Gord Downie & The Sadies – And The Conquering Sun (2014)
Jeanne Lee & Ran Blake – Newest Sound Around (1961) ★★★★
Richard Youngs – The Rest Is Scenery (2016) ★★★★
Andrew Cyrille, Jeanne Lee, Jimmy Lyones – Nuba (1979) ★★★★
The Highest Order – If It's Real (2013)
The Highest Order – Still Holding (2016)
Roger McGuinn – Rockpalast (1977)
Red Television – s/t (1974)
Karin Krog – Joy (1968) ★★★★★
Roswell Rudd – Flexible Flyer (1974) ★★★★
21 Pilots – Blurryface (2015) ★★★★★
Furry Lewis – Back On My Feet Again (1961)★★★★
The Sound – Jeopardy (1980)
The Sound – From The Lion's Mouth (1981)
The Fall – This Nation's Saving Grace (1985) ★★★★★
The Fall – The Real New Fall LP (2003)★★★★★
The Fall – Reformation Post-TLC (2007) ★★★★★
The Wild Flowers – Dust (1987)
John Bisset – 14 Guitar Instrumentals (?)
The Fall – The Marshall Suite (1999)
Christopher – Christopher (1970)
The Fall – Slates (1981) ★★★★
The Fall – Room To Live (1982) ★★★★
The Fall – Perverted By Language (1983) ★★★★★
Furry Lewis – Done Changed My Mind (1961) ★★★★
Graves Brothers Delux – Filter Feeders (2005)
Fiver – Lost The Plot (2013)
Beige Palace – Gravel Time (2016)
The Fall – The Unutterable (2000)
The Fall – Are You Are Missing Winner? (2001)
The Fall – Fall Heads Roll (2005) ★★★★
The Fall – Imperial Wax Solvent (2008) ★★★★
Pearl Jam – Ten (1991)
Pearl Jam – Vs (1993) ★★★★
Pearl Jam – Vitaology (1994)
The Fall – Are You Are Missing Winner (2001)
The Fall – The Real New Fall Album (2003) ★★★★★
The Fall – Reformation Post TLC (2007) ★★★★★
The Fall – Your Future Our Clutter (2010) ★★★★★
The Fall – Ersatz GB (2011) ★★★★
The Fall – Re-Mit (2013)
The Fall – The Remainderer (2013)
The Fall – Sub-lingual Tablet (2015) ★★★★★
The Fall – Wise Ol' Man (2016)
The Fall – New Facts Emerge (2017) ★★★★
Herbie Hancock – Maiden Voyage (1965) ★★★★
Karin Krog – We Could Be Flying (1974) ★★★★★
21 Pilots – Vessel (2014) ★★★★
John Lee Hooker – The Real Folk Blues (1966) ★★★★
Boo Hooray – Hepcat Gloss 12" (1983) ★★★★★
Pearl Jam – No Code (1996)
Pearl Jam – Yield (1998)
Pearl Jam – Binaural (2000)
Pearl Jam – Riot Act (2002)
Pearl Jam – Pearl Jam (2006)
Pearl Jam – Backspacer (2009)
Pearl Jam – Lightning Bolt (2013)
Steve Earle – I Feel Alright (1996) ★★★★★
Tom T Hall – Greatest Hits
Larry Jon Wilson – New Beginnings (1975)
Pearl Jam – Lost Dogs (2003)
Lee Ranaldo & Dust – Last Night On Earth Demos (2013) ★★★★
Tony Joe White – Black And White (1968) ★★★★
Tony Joe White – Continued (1969) ★★★★
Tony Joe White – Tony Joe (1970) ★★★★
Tony Joe White – Tony Joe White (1971) ★★★★
Tony Joe White – The Train I'm On (1972)
Tony Joe White – Home Made Ice Cream (1973)
Paul Desmond – Take Ten (1963)
Paul Desmond – Glad To Be Unhappy (1964)
Trembling Bells – Carbeth (2009)
Tanya Tagaq – Anuraaqtuq (2011) ★★★★★
Terry Manning – Home Sweet Home (1969)
Evan Parker – Monosceros (1978) ★★★★★
Trembling Bells – Abandoned Love (201)
Trembling Bells – The Constant Pageant (2011)★★★★
Trembling Bells – The Sovereign Self (2015)
Trembling Bells – The Wide Majestic Aire (2016) ★★★★
Skids – Scared To Dance (1979)
Orange Juice – The Glasgow School (1980-81) ★★★★
Big Star – #1 Record (1972) ★★★★★
Big Star – Radio City (1974) ★★★★★
Chris Robinson – New Earth Mud (2002)
Chris Robinson – This Magnificent Distance (2004)
Pentangle – Pentangle (1968) ★★★★★
Pentangle – Sweet Child (1968) ★★★★★
Pentangle – Basket of Light (1969) ★★★★
Pentangle – Cruel Sister (1970) ★★★★
Pentangle – Reflection (1971) ★★★★
Pentangle – Solomon's Seal (1972)
Don Carlos – Wipe The Wicked Clean (1983) ★★★★
Fairport Convention – Fairport Convention (1968)
Fairport Convention – What We Did In Our Holidays (1969) ★★★★
Fairport Convention – Unhalfbricking (1969) ★★★★
Fairport Convention – Liege and Lief (1969) ★★★★★
Fotheringay – Fotheringay (1970) ★★★★
Fotheringay – 2 (1970)
Sandy Denny – The North Star Grassman and The Ravens (1971)
Tim Buckley – Works In Progress (1966-72)
Percewood's Organum – Lessons for Virgins (1971)
Tim Buckley – Tim Buckley (1966)
Tim Buckley – Goodbye and Hello (1967) ★★★★
Tim Buckley – Happy Sad (1969)
Tim Buckley – Blue Afternoon (1969)
Tim Buckley – Lorca (1970)
Tim Buckley – Starsailor (1970)★★★★★
Edir Akbayar ve Dostlar – Singles Overview (1974-77)
Cem Karaca – Nin Apaslar, Kardaslar, Mogollar (1972-74)
Davy Graham – The Guitar Player (1963) ★★★★
Pentangle – One More Road (1993)
Sunforest – Sound Of Sunforest (1970)
Dawnwind – Looking Back On The Future (1975)
Lagger Blues Machine – Tanit (1970)
Xixa – Bloodline (2016)
Lau – Live (2007) ★★★★
Kris Drever – Black Water (2006) ★★★★★
Kris Drever – Mark The Hard Earth (2010)
Kris Drever – If Wishes Were Horses (2016)
Lau – Lightweights and Gentlemen (2007)
Lau – Arc Light (2009)★★★★
Lau – The Bell That Never Rang (2015)
Kris Drever with eamonn Coyne – Storymap (2013)
Martin Hayes & Dennis Cahil – Live In Seattle (1999) ★★★★★
Catherine Ribeiro + 2 Bis (1969) ★★★★★
The Unthanks – Mount The Air (2015)
Henry Junjo Lawes – Volcano Erruption (1982-1991)
Biff Bang Pow – Waterbomb (1984-89)
The Prisoners – Hurricane, The Best of (1982-1986)
Kelly Willis – What I Deserve (1999)
Sun Dial – Other Way Out (1990) ★★★★★
Ride – Smile (1990)
Mississippi John Hurt – Today (1966) ★★★★
Left Outsides – Gower Wassail (2013) ★★★★
Comsat Angels – My Mind's Eye (1992)
Wild Seeds – Brave, Clean & Reverant (1985)
Wild Seeds – Mud, Lies & Shame (1988)
Lee Morgan – The Sixth Sense (1968)
Lee Morgan – The Rumproller (1965)
Lee Morgan – City Lights (1958)
Neil Casal – Fade Away Diamond Time (1995)
Neil Casal – Wind, Rain, Speed (1996) ★★★★
Richard Buckner – Devotion And Doubt (1997) ★★★★
Peter Case – Peter Case (1986)★★★★
Peter Case – Man w The Blue Post-Modern Guitar (1989) ★★★★
The Lemonheads – It's A Shame About Ray (1992) ★★★★★
Thirteen Engines – Before Our Time (1987)
Thirteen Engines – Byram Lake Blues (1989) ★★★★
Rick Oliver – Continual Battle Of Thoughts (2006)
Alejandro Escovedo – With These Hands (1996)
Minutemen – Double Nickels On The Dime (1983) ★★★★
Tortoise – Millions Now Living Will Never Die (1996) ★★★★★
A Minor Forest – Flemish Altruism (1996)
Cary Hudson – Bittersweet Blues (2006)
Cindy Lee Berryhill – Naked Movie Star (1989) ★★★★
Moonshake – Dirty & Divine (1996)
Come – Eleven : Eleven (1992) ★★★★
Earth – Angels of Darkness, Demons of Light I (2011)
Earth – Angels of Darkness, Demons of Light II (2011)
The Piersons – Humbucker (1996)
The Schramms – Rock Paper Scissors Dynamite (1992) ★★★★
James Griffin – Breakin' Up Is Easy (1974) ★★★★
Love – Forever Changes (1967) ★★★★★
Love – Love (1966) ★★★★
Love – Da Capo (1966)
James Griffin – James Griffin (1977) ★★★★
Geraldine Fibbers – What Part of Get Thee Gone… (1997) ★★★★
Joe Henry – Reverie (2011)
V/A – Got No Chains, Songs of The Walkabouts (2009)
Jeff Buckley – Garage bootleg (1994) ★★★★
Wolves In The Throne Room – Black Cascade (2009) ★★★★★
Wolves In The Throne Room – Malevolent Grain (2009) ★★★★
Vermonster – Spirit of Yma (1990) ★★★★
Vermonster – Instinctively Human (1991) ★★★★
Chris Brokaw – Incredible Love (2005)
Bottle Rockets – 24 Hours A Day (1997)
Bottle Rockets – South Broadway Athletic Club (2015)
Jeff Buckley – Grace (1993) ★★★★★
Live Skull – Positraction (1989)
Live Skull – Snuffer (1988)
Laura Cantrell – When The Roses Bloom Again (2002)
Malcolm Ross & The Low Milfs – s/t (2008)
Paul McCartney – McCartney II (1979)
Maya Caballero – For Sale (2015)
Stereolab – Transient Random-Noise Bursts (1993)
Rico – Wareika Dub (1976)
Junior Parker – Like It Is (1967)
Flamin' Groovies – Step Up (1984-9)
Flamin' Groovies – One Night Stand (1987)
Thee Headcoats – Elementary Headcoats (2000) ★★★★
Stereolab – Mars Audiac Quintet (1994) ★★★★
Pharoah Sanders – Karma (1969) ★★★★
Michael Hall – The Song He Was Listening To.. (2006)
Abba – Arrival (1976) ★★★★
Michael Hall – Lucky Too (2001)
Michael Hall – Dead By Dinner (2000)
Wolfhounds – United Kingdom (2016) ★★★★
Eleventh Dream Day – Prairie School Freakout (1988) ★★★★★
Hefner – Breaking God's Heart (1998) ★★★★
Kevin Salem – Soma City (1995)
Cowboy Junkies – Caution Horses (1990)
Betsy & Charlotte Renals, Sophie Legg – Catch Me If You Can (1978)
Julian Cope – Jehovakill (1992) ★★★★
The Primevals – Eternal Hotfire (1984)
The Primevals – Live At The Klub Foot (1985)
The Primevals – Sound Hole (1986) ★★★★★
The Doors – The Doors (1967)★★★★★
Penguin Cafe Orchestra – Mini Album (1983)
Augustus Pablo – Ital Dub (1974) ★★★★
V/A – Musique du Burundi (1968) ★★★★
Ali Farka Toure – s/t (1976) ★★★★★
Julian Cope – Peggy Suicide (1991)
Gabriel Naim Amor – Hear The Wall (2014)
Noel Akchote & Gabriel Naim Amor – Rickety-Doo (2014)
The Beatles – White Album (1969) ★★★★★
The Beatles – Magical Mystery Tour (1967) ★★★★★
The Beatles – Revolver (1966) ★★★★★
The Beatles – Please Please Me (1963)
The Beatles – With The Beatles (1963)
The Beatles – Hard Day's Night (1964) ★★★★★
The Beatles – Beatles For Sale (1964) ★★★★
The Beatles – Help (1965) ★★★★
The Beatles – Rubber Soul (1965) ★★★★★
Suns Of The Tundra – Bones Of Brave Ships (2015) ★★★★
Beatles – Sgt Pepper's Lonely Hearts Club Band (1967) ★★★★★
The Beatles – Abbey Road (1968) ★★★★
Lucinda Williams – Car Wheels On A Gravel Road (1998) ★★★★★
The Goon Sax – We're Not Talking Anymore (2016)
Brian Henry Hooper – Trouble (2010) ★★★★
Gene Clark – Flying High (1963-1991) ★★★★★
Larry Murray – Sweet Country Suite (1971)
Gene Clark – Here Tonight (1970) ★★★★
Toots & The Maytals – Pressure Drop (1968)
Madness – Very Best Of (1979-2014) ★★★★★
Gene Clark – Two Sides To Every Story (1977)
The Nightingales – Pigs On Purpose (1982) ★★★★★
Nightingales/Prefects/ – Radio Sessions (1978 – 2010) ★★★★★
Joy Division – Unknown Pleasures (1979) ★★★★★
The Fall – This Nation's Saving Grace (1985) ★★★★★
The Beach Boys – Surf's Up (1971)
Stiff Little Fingers – Guitar and Drum (2003)
Stiff Little Fingers – Hope Street (1999)
Nick Drake – Five Leaves Left (1969) ★★★★
The Byrds – Mr Tambourine Man (1965) ★★★★
Ex-Catheads – Our Frisco (1990)
V/a – What A Nice Way To Turn Seventeen Vol 3 (1984) ★★★★
Duran Duran – Girls On Film 1979 demos (1979)
Swell Maps – A Trip To Marineville (1979) ★★★★
Swell Maps – Jane From Occupied Europe (1980)
The Serfers – Live Westwood Recordings (1980)★★★★
Red House Painters – Old Ramon (1998) ★★★★
Kirk Swan – It's About Time (1998)
Dumptruck – Lemmings Travel To The Sea (2000)
Chris Holliman – The Sailor's Daughter (2009)
Christine Perfect – Complete Blue Horizon (1970) ★★★★
John Carpenter – Greatest Hits (1974-1989)
Stiff Little Fingers – Tinderbox (1997)
Stiff Little Fingers – Get A Life (1994)
Theolonius Monk – Underground (1967)
The Icicle Works – s/t (1983) ★★★★
Sonny Rollins – Sonny Boy (1956)★★★★
Nancy Wilson & Cannonball Adderley – s/t (1961)★★★★★
Dexy's – Searching For The Young Soul Rebels (1980) ★★★★★
Denim TV – Denim TV (1988)
Denim TV – Starving Rich (1990)
Herbert Stanley Littlejohn – 17thc Funerary Violin (1956) ★★★★
Green Pajamas – Strung Behind The Sun (1997)
Goblin Market – Live At Showbox (2010)
Sean O'Brien – Seed Of Mayhem (2004)
Mark Kozelek – Sings Favorites (2016)
Popealopes – Kerosene (1990) ★★★★
Denver Mexicans – s/t (1988)
Just Water – Downtown & Brooklyn (1974-79)
Sean O'Brien – Future Harvest (2012)
Volcano Suns – Career In Rock (1991)
V/A – Brown Acid, The Second Trip (1970-77)
V/A – Brown Acid, The Fourth Trip (1969-75)
Gila Bend – Natureburger (1997)
The Aces – Chicago Beat (1970-73)
The Long Ryders – Best of (2004) ★★★★
Lloyd Cole – Bad Vibes (1993)
The Long Ryders – 10-5-60 (1983)★★★★
The Long Ryders – Native Sons (1984) ★★★★★
Tom Stevens – Points Of View (1982)
v/a – Titan It's All Pop (1978 – 81)
Sonny Rollins – Live At The Village Vanguard Vol 1(1958) ★★★★
Goldie – Timeless (1995) ★★★★★
Jayhawks – Live At The Belly Up (2015) ★★★★
Tom Stevens – Home (2007)
Tom Stevens – Another Room (1995)
Tom Stevens – Last Night (1992)
Tom Stevens – Sooner (2009)
V/A – Don't Shoot (1986)
Blue Nile – Hats (1989)
Trees – Polly On The Shore (1970)★★★★★
The Chameleons – Script Of The Bridge (1983)★★★★★
The Chameleons – What Does Anything Mean? (1985)★★★★
Dr Alimontado – Best Dressed Chicken In Town (1978)
HISTORIC SITES
Goodrich Castle, Gloucestershire
Brompton Oratory, London (including genuine fragment of True Cross)
Broch of Birsay, Orkney
Maes Howe, Orkney
Cuween tomb, Orkney
Wideford Tomb, Orkney
Tomb of The Eagles, Orkney
Churchill Barriers, Orkney
Broch of Gurness, Orkney
St Magnus Cathedral, Kirkwall, Orkney
Grain Earth House, Kirkwall, Orkney
Rennibister Souterrain, Orkney
Ring of Brodgar, Orkney
Stones of Stennes, Orkney
Skara Brae, Orkney
Birsay Earl's Palace, Orkney
Longhope Lifeboat Museum, Hoy
Ness Battery, Stromness, Orkney
Orkney Wireless Museum, Kirkwall, Orkney
Stromness Museum, Orkney
Italian Chapel, Orkney
Hereford Cathedral & Mappa Mundi
Kilpeck Church & castle, Herefordshire
Arthur's Stone, Herefordshire
Llanthony Priory, Herefordshire
Jewish Museum, Camden
Barsham 'solar alignment' Church, Suffolk
Bungay Castle, Suffolk
Wayland's Smithy Chambered Tomb, Wiltshire
West Kennet Long Barrow, Wiltshire
Avebury Stone Circle, Wiltshire
Silbury Hill, Wiltshire
Crop Circle Museum, Honeystreet
Carn Galver Mine, Cornwall
Men An Toll, Cornwall
Nine Maidens Stone Circle, Cornwall
Chysauster Romano-British Village, Cornwall
Carn Euny Romano-British Village & Holy Well, Cornwall
Boscawen-un Stone Circle, Cornwall
Zennor Church & Mermaid Chair, Cornwall
Merry Maidens Stone Circle, Cornwall
Tregiffian Burial Chamber, Cornwall
Gun Ruth standing stone, Cornwall
The Pipers standing stones, Cornwall
Site of Ithell's Vow Cave, Cornwall
Boleigh Fogou, Cornwall
Caerleon Roman amphitheatre, Gwent
Caerleon Roman baths, Gwent
Culbone church, Exmoor
Palace of Knossos, Crete
Heraklion museum, Crete
El Greco's birthplace, Fodele, Crete
Speech House, Verderers' Court, Forest of Dean
Great Witcombe Roman Villa, Gloucestershire
Ashmoleon Museum, Oxford
Verulamium ruined Roman city, St Albans
Verulamium museum, St Albans
Verulamium Roman theatre, St Albans
Cannop Colliery, Forest of Dean
All Saints Church, Newland, Forest of Dean
Skenfrith Castle, Monmouthsire
Malvern Clock Tower Well, Worcestershire
British Camp, Worcestershire
Vasa Ship Museum, Stockholm
Stockholm Old Town
Abba Museum, Stockholm
Hampton Court, London
Natural History Museum, London
ART/EXHIBITIONS/INSTALLATIONS
London Lumiere Festival, King's Cross, London
Rose Wylie – Quack Quack (Serpentine, London) ★★★★
Penzance School collection – Pier Arts Centre, Stromness ★★★★★
AR Woods – Ness Battery Mess Mural, Stromness ★★★★★
Asterix – Jewish museum, Camden
Dawn Of The Superheroes – O2
Rose Wylie – History Painting (Newlyn, Cornwall) ★★★★
Spellbound – Ashmoleon Museum, Oxford
Strange Days, Memories of The Future (The Store, London)
Beyond The Deepening Shadow – (Tower of London) ★★★★★
Ginger Bread House Art Exhibition, Stockholm
FROM THE METRO-LIB-ELITE DESK OF Stewart Lee XMAS XTRA 2018 <<< Previous Article
Next Article >>> SAVE BBC RADIO FROM ITSELF