FROM THE METRO-LIB-ELITE DESK OF Stew Fart Wee, Sept 18
(Posted August 29th, 2018)
CONTENT PROVIDER BBC2
Nightingales
I Arrogantly Recommend…
Billy Childish, Toots & The Maytals, Lee Ranaldo, Lean Left, Chuck Prophet, Mammoth Penguins, Bivouac, Fossil Fools, Bridget Christie
Dear Readers
I hope you enjoyed your Summers, and the Ed Frin if you were there. I wasn't.
I travelled the land in disguise, visiting fogous and friends, avoiding both praise and blame.
Here is possibly the thinnest monthly mailing list I have sent in 15 years, padded out with recommendations of other people's shows.
CONTENT PROVIDER
A 2 hr film of the Content Provider Tour is no longer on the BBC i-player.
In the month it sat there it got a few more viewers than an episode of COMEDY VEHICLE used to get (scraping over a million or so) and universally good press, apart from in columns by Gary Bushell and Tony Parsons. Lots of people who never heard of me saw me for the first time, oddly, so maybe that will keep the live shit rolling another decade.
In terms of prestige and viewing figures it was a good deal for the BBC, as I am currently apparently "the world's best living stand-up comedian" (Times), although I am on 0.053% of R Gervais' Netflix rates, so make of that what you will.
I think they have an option to show it again a few times. I will flog hard copies of it next time I tour, which may be a few years away anyway, as I am not sure what to do next, or how best to exist in these times, and at my age.
Thanks for all your support. I cannot embrace you all.
NIGHTINGALES DATES
I am supporting Birmingham post-punk Legends The Nightingales doing 15 mins of my 80s material on seven of their autumn tour dates.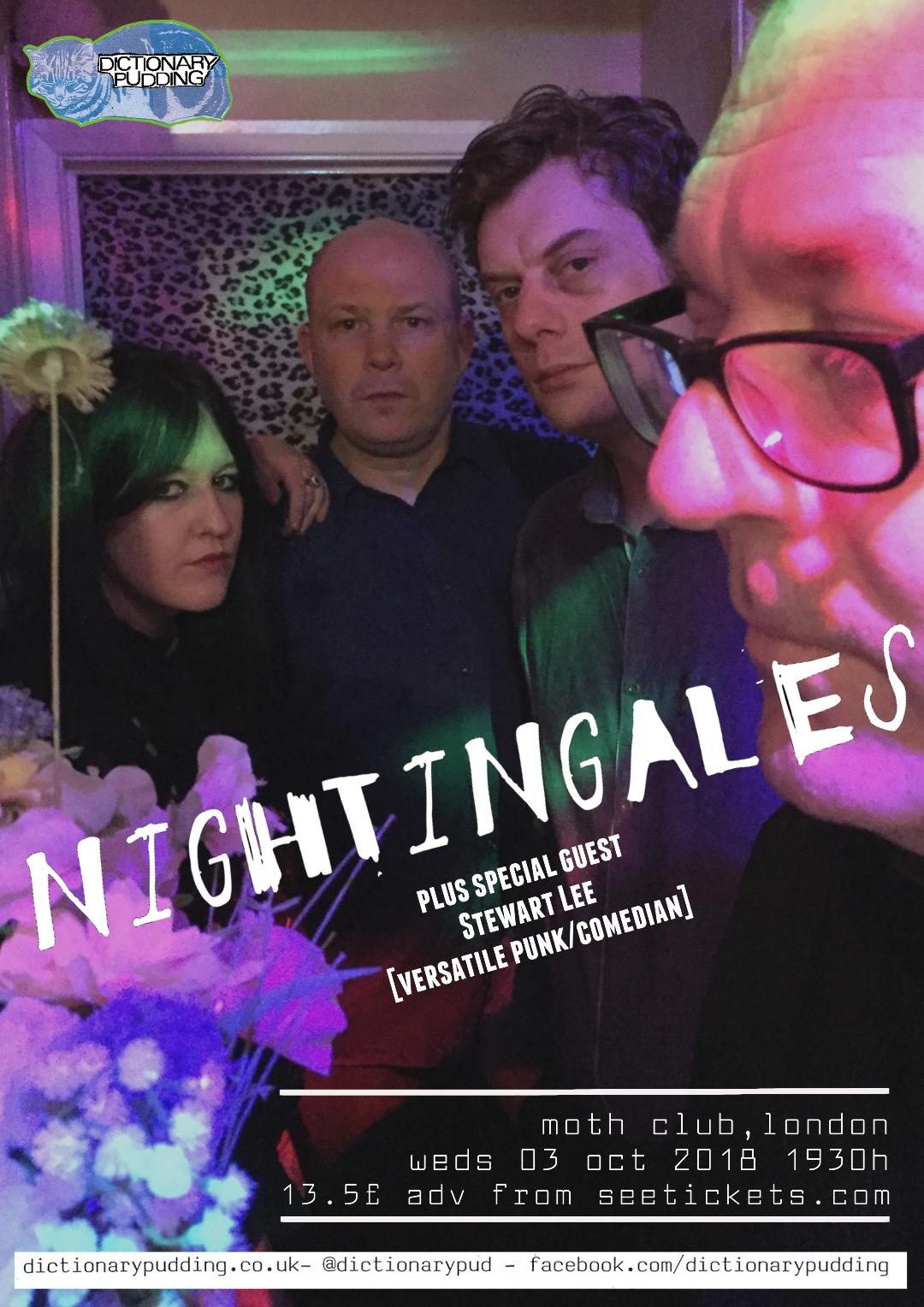 Thu SEPT 20 OXFORD, THE CELLAR
–
TICKETS
Fri SEPT 21 BRISTOL, THE EXCHANGE
–
TICKETS
Sat SEPT 22 PORTSMOUTH, WEDGEWOOD ROOMS –
TICKETS
Tue OCT 2 BIRMINGHAM, HARE & HOUNDS –
TICKETS
Wed OCT 3 LONDON, MOTH CLUB –
TICKETS
Thu OCT 4 CAMBRIDGE, PORTLAND ARMS –
TICKETS
Sat OCT 6 BRIGHTON, GREEN DOOR STORE –
TICKETS
Meanwhile, I Arrogantly Recommend
1) Billy Childish – Koko, London
– Thurs 6th Sept. Garage rock art maven.
2) London International Ska Festival feat Toots & The Maytals
– Ali Pali, London – Sat 8th Sept. Soulful ska-reggae legend.
3) Lee Ranaldo
– Café Oto, London – Mon 10th Sept. Only UK date for ex-Sonic Youth statesman Lee Ranaldo's superb Laurel Canyon meets No Wave stylings. Lee's last London date is the best thing I have seen this year so far.
4) Lean-Left
– Café Oto, Londo – Tues 11th Sept. Anglo-Dutch-American punk jazz improv with members of The Ex.
5) Chuck Prophet / Stefanie Finch
– Bush Hall, London – Tues 18th Sept, Komedia, Brighton – Tues 25th Sept. 2 acoustic dates from the Tom Petty-faced ex-Green On Red guitar wrangler and alt country pioneer, and long term sideswoman.
6) Mammoth Penguins
– Shacklewell Arms, London, Tues 25th Sept. Songwriterly indiepop old people think they don't make anymore.
7) Bivouac.
September.
Night People, M'cr – Mon 24th.
Bodega, Nottingham – Tues 25th.
Mash House, Edinburgh – Weds 26th.
Wharf Chambers, Leeds – Thurs 27th.
Camden Assembly, London – Fri 28th.
Reunion dates by overlooked British '90s Dinosaur Jr/Husker Du inheritors, who I stood next to whilst watching Neil Young and Crazy Horse down the front at Phoenix Festival in 1996, and very nice lads they were too.
8) Fossil Fools
– Hope & Anchor, London. Sat 29th Sept. Rare date by o.c.d. XTC tribute band in front of people who have travelled from Japan.
9) Bridget Christie – What Now? (New stand-up show)
September 2018
Friday 7th – WHAT NOW? – Tobacco Factory, BRISTOL – 8pm – 0117 902 0344 – TICKETS
Saturday 8th – WHAT NOW? – Tobacco Factory, BRISTOL – 8pm – 0117 902 0344 – TICKETS
Thursday 13th – WHAT NOW? – Leicester Square Theatre, LONDON – 7pm – 020 7734 2222 – TICKETS
Thursday 20th – WHAT NOW? – Leicester Square Theatre, LONDON – 7pm – 020 7734 2222 – TICKETS
Friday 21st – WHAT NOW? – Leicester Square Theatre, LONDON – 7pm – 020 7734 2222 – TICKETS
Saturday 22nd – WHAT NOW? – Leicester Square Theatre, LONDON – 7pm – 020 7734 2222 – TICKETS
October 2018
Friday 5th – WHAT NOW? – Theatre Royal, WINCHESTER – 8pm – 01962 840 440 – TICKETS
Saturday 6th – WHAT NOW? – Corn Exchange, EXETER – 7.30pm – 01392 665938 – TICKETS
Tuesday 9th – WHAT NOW? – Leicester Square Theatre, LONDON – 7pm – 020 7734 2222 – TICKETS
Wednesday 10th – WHAT NOW? – Leicester Square Theatre, LONDON – 7pm – 020 7734 2222 – TICKETS
Thursday 11th – WHAT NOW? – Leicester Square Theatre, LONDON – 7pm – 020 7734 2222 – TICKETS
Friday 12th – WHAT NOW? – Leicester Square Theatre, LONDON – 7pm – 020 7734 2222 – TICKETS
November 2018
Thursday 1st – WHAT NOW? – Leicester Square Theatre, LONDON – 7pm – 020 7734 2222 – TICKETS
Friday 2nd – WHAT NOW? – Leicester Square Theatre, LONDON – 7pm – 020 7734 2222 – TICKETS
Saturday 3rd – WHAT NOW? – Leicester Square Theatre, LONDON – 7pm – 020 7734 2222 – TICKETS
Tuesday 6th – WHAT NOW? – Leicester Square Theatre, LONDON – 7pm – 020 7734 2222 – TICKETS
Wednesday 7th – WHAT NOW? – Leicester Square Theatre, LONDON – 7pm – 020 7734 2222 – TICKETS
Thursday 8th – WHAT NOW? – Leicester Square Theatre, LONDON – 7pm – 020 7734 2222 – TICKETS
Friday 9th – WHAT NOW? – Leicester Square Theatre, LONDON – 7pm – 020 7734 2222 – TICKETS
Saturday 10th – WHAT NOW? – Leicester Square Theatre, LONDON – 7pm – 020 7734 2222 – TICKETS
Saturday 24th – WHAT NOW? – Nuffield Theatre (NST City), SOUTHAMPTON – 7.30pm – 023 8067 1771 – TICKETS
Tuesday 27th – WHAT NOW? – The Junction, CAMBRIDGE – 8pm – 01223 511 511 – TICKETS
December 2018
Monday 3rd – WHAT NOW? – Playhouse, NORWICH – 8pm – 01603 598598 – TICKETS
Tuesday 4th – WHAT NOW? – Playhouse, NORWICH – 8pm – 01603 598598 – TICKETS
FROM THE METRO-LIB-ELITE DESK OF Stew Art Lee – july 24th 2018 <<< Previous Article
Next Article >>> FROM THE METRO-LIB-ELITE DESK OF Stuart Lee Oct 2018