FROM THE METRO-LIB-ELITE DESK OF Stew Art Lee July 18
(Posted June 15th, 2018)
CONTENT PROVIDER BBC2
Benefits
Nightingales
capri-batterie
Home Town Tales
Post-nearly press
I Arrogantly Recommend;
Ben Moor, Pigspurt's Daughter, Bridget Christie, Wilson Dixon
CONTENT PROVIDER
A 2 hr film of the Content Provider Tour is on BBC on Sunday 8th July at 11pm.
---
BENEFIT SHOWS
8th July – The Secret Spy Cops' Ball – Rob Newman, Evelyn Mok, Mark Steel, Stewart Lee, Jackson's Lane, London. For women tricked into relationships w undercover police. Most of the performers on the bill are adopted orphans, oddly.
https://www.jacksonslane.org.uk/whats-on/the-secret-spycops-ball
---
NIGHTINGALES DATES
I am supporting Birmingham post-punk Legends The Nightingales doing 15 mins of my 80s material on seven of their autumn tour dates.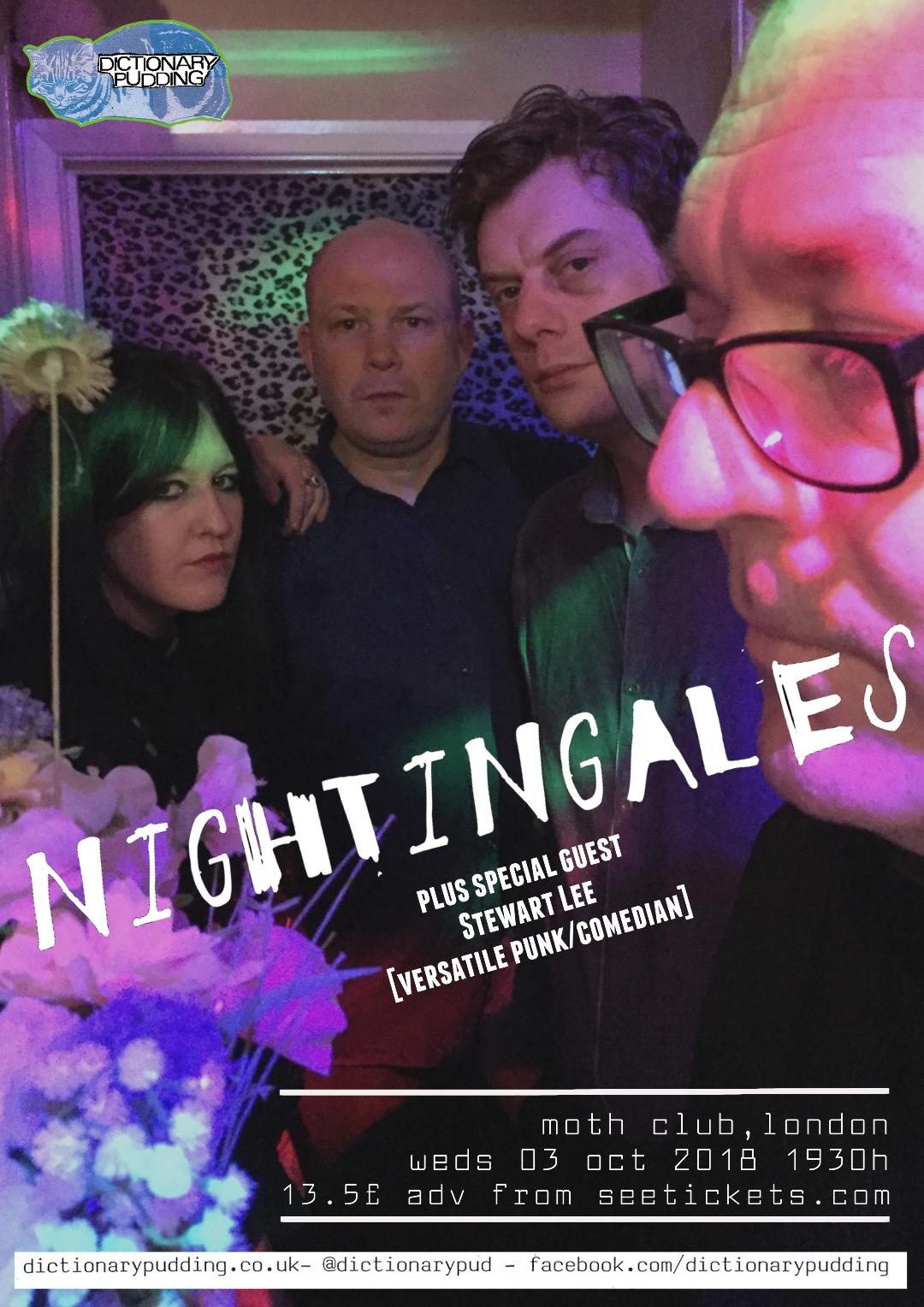 Thu SEPT 20 OXFORD, THE CELLAR
https://www.seetickets.com/event/the-nightingales/the-cellar/1227777
Fri SEPT 21 BRISTOL, THE EXCHANGE
https://www.seetickets.com/event/nightingales/exchange/1227678
Sat SEPT 22 PORTSMOUTH, WEDGEWOOD ROOMS
https://www.seetickets.com/event/the-nightingales/wedgewood-rooms/1225457
Tue OCT 2 BIRMINGHAM, HARE & HOUNDS
https://www.skiddle.com/whats-on/Birmingham/Hare-And-Hounds/The-Nightingales/13216234/
Wed OCT 3 LONDON, MOTH CLUB
https://www.seetickets.com/event/nightingales/moth-club/1227677
Thu OCT 4 CAMBRIDGE, PORTLAND ARMS
https://www.wegottickets.com/greenmind/event/439332
Sat OCT 6 BRIGHTON, GREEN DOOR STORE
http://www.wegottickets.com/event/439847
---
CAPRI-BATTERIE W STEWART LEE
You can buy Bristol Fashion, an industrial jazz album which we improvised in an hour, here for &pound7.
https://capri-batterie.bandcamp.com/album/bristol-fashion
---
Home Town Tales
The writer Maria Whatton and I are the joint authors of a new book of autobiographical fiction about Birmingham, Home Town Tales, which is out now.
https://www.amazon.co.uk/Hometown-Tales-Birmingham-Maria-Whatton/dp/147460594X/
---
Post Nearly Press
Neal Jackson of Post Nearly Press conducted a lengthy interview with me, available as a stand-alone book here www.postnearlypress.com
---
I Arrogantly Recommend
1) Ben Moor – Pronoun Trouble. New show from the performance art genius.
5th July 2018
7.30pm
Greater Manchester Fringe Festival
Anthony Burgess Foundation
3 Cambridge Street
Manchester M1 5BY
The most academic place I have so far found to give the talk, and maybe the coolest.
There are lots of other great things going on during the Greater Manchester Fringe Festival too – why not check out the full programme?
TICKETS
29th June – 1st July 2018
Also Festival
Compton Verney
Warwickshire
A compact weekend of terrific speakers, musicians, performers and makers – I'm thrilled to be invited.
TICKETS
15th July 2018
Idler Festival
Fenton House
Hampstead Grove,
London NW3 6SP
This will be a wonderful weekend of talks by fascinating folk like Michael Palin, Sally Phillips and Carole Cadwalladr.
And I'll be performing a gentle Sunday morning version as part of the celebration of intelligent distraction.
TICKETS
16th – 19th August 2018
Green Man Festival
Crickhowell
Brecon Beacons
The lecture can be located in the brainy enclave of Einstein's Garden.
I'm so glad to be returning to Green Man; this is always an amazing weekend of music, inspiration, fresh air and laughter.
TICKETS
---
2) Drenched – Third Man Theatre Company.
I liked Third Man's work so much I became a patron of the company, essentially a vehicle for the visions of Dan Frost. They have a new show with dates so far in London this month and Edinburgh in August.
Daniel Drench. West Cornwall's most prolific and unstable storyteller, presents a bewildering and potentially moving interpretation of the classic Cornish folk tale 'The Mermaid of Zennor'.
Drenched is a one man comedy-theatre piece, challenging the form of a traditional solo performance with a combination of storytelling, character comedy and physical theatre.
Old Red Lion Theatre, Islington
2nd & 3rd July @ 7pm
4th July @ 9.30pm
Edinburgh Festival 2018
1-27 August – Pleasance Courtyard @ 3pm
---
3) PIGSPURT'S DAUGHTER
Daisy Campbell's memories of her father the performance art/comedy innvator Ken Campbell, is at Hampstead Theatre 11th – 14th July
TICKETS
---
4) Bridget Christie – What Now? (New stand-up show)
JUNE 2018
Monday 18th – WHAT NOW? – The Stand, NEWCASTLE – 8.30pm – 0191 300 9700 – TICKETS
Tuesday 19th – WHAT NOW? – The Stand, NEWCASTLE – 8.30pm – 0191 300 9700 – TICKETS
Thursday 21st – WHAT NOW? – Playhouse, NOTTINGHAM – 8pm – 0115 941 9419 – TICKETS
Wednesday 27th – WHAT NOW? – Picturehouse, HEBDEN BRIDGE – 7pm – 01422 842807 – TICKETS
Friday 29th – WHAT NOW? – Playhouse, OXFORD – 7.30pm – 01865 305305 – TICKETS
SEPTEMBER 2018
Friday 7th – WHAT NOW? – Tobacco Factory, BRISTOL – 8pm – 0117 902 0344 – TICKETS
Saturday 8th – WHAT NOW? – Tobacco Factory, BRISTOL – 8pm – 0117 902 0344 – TICKETS
Thursday 13th – WHAT NOW? – Leicester Square Theatre, LONDON – 7pm – 020 7734 2222 – TICKETS
Thursday 20th – WHAT NOW? – Leicester Square Theatre, LONDON – 7pm – 020 7734 2222 – TICKETS
Friday 21st – WHAT NOW? – Leicester Square Theatre, LONDON – 7pm – 020 7734 2222 – TICKETS
Saturday 22nd – WHAT NOW? – Leicester Square Theatre, LONDON – 7pm – 020 7734 2222 – TICKETS
OCTOBER 2018
Friday 5th – WHAT NOW? – Theatre Royal, WINCHESTER – 8pm – 01962 840 440 – TICKETS
Saturday 6th – WHAT NOW? – Corn Exchange, EXETER – 7.30pm – 01392 665938 – TICKETS
Tuesday 9th – WHAT NOW? – Leicester Square Theatre, LONDON – 7pm – 020 7734 2222 – TICKETS
Wednesday 10th – WHAT NOW? – Leicester Square Theatre, LONDON – 7pm – 020 7734 2222 – TICKETS
Thursday 11th – WHAT NOW? – Leicester Square Theatre, LONDON – 7pm – 020 7734 2222 – TICKETS
Friday 12th – WHAT NOW? – Leicester Square Theatre, LONDON – 7pm – 020 7734 2222 – TICKETS
NOVEMBER 2018
Thursday 1st – WHAT NOW? – Leicester Square Theatre, LONDON – 7pm – 020 7734 2222 – TICKETS
Friday 2nd – WHAT NOW? – Leicester Square Theatre, LONDON – 7pm – 020 7734 2222 – TICKETS
Saturday 3rd – WHAT NOW? – Leicester Square Theatre, LONDON – 7pm – 020 7734 2222 – TICKETS
Tuesday 6th – WHAT NOW? – Leicester Square Theatre, LONDON – 7pm – 020 7734 2222 – TICKETS
Wednesday 7th – WHAT NOW? – Leicester Square Theatre, LONDON – 7pm – 020 7734 2222 – TICKETS
Thursday 8th – WHAT NOW? – Leicester Square Theatre, LONDON – 7pm – 020 7734 2222 – TICKETS
Friday 9th – WHAT NOW? – Leicester Square Theatre, LONDON – 7pm – 020 7734 2222 – TICKETS
Saturday 10th – WHAT NOW? – Leicester Square Theatre, LONDON – 7pm – 020 7734 2222 – TICKETS
Saturday 24th – WHAT NOW? – Nuffield Theatre (NST City), SOUTHAMPTON – 7.30pm – 023 8067 1771 – TICKETS
Tuesday 27th – WHAT NOW? – The Junction, CAMBRIDGE – 8pm – 01223 511 511 – TICKETS
DECEMBER 2018
Monday 3rd – WHAT NOW? – Playhouse, NORWICH – TBCpm – 01603 598598 – ON SALE SOON
Tuesday 4th – WHAT NOW? – Playhouse, NORWICH – TBCpm – 01603 598598 – ON SALE SOON
---
5) WILSON DIXON
Jesse Griffin's dead-on parody of an American outlaw country singer, WILSON DIXON, has an intimate UK tour
June 2018
Monday June 25th – Soho Theatre, London – 020 7478 0100 – 9.30pm
Tuesday June 26th – Soho Theatre, London – 020 7478 0100 – 9.30pm
Wednesday June 27th – Soho Theatre, London – 020 7478 0100 – 9.30pm
Thursday June 28th – Soho Theatre, London – 020 7478 0100 – 9.30pm
Friday June 29th – Soho Theatre, London – 020 7478 0100 – 9.30pm
Saturday June 30th – Soho Theatre, London – 020 7478 0100 – 9.30pm
Booking link
July 2018
Sunday July 1st – The Stand Comedy Club, Glasgow – 0141 212 3389 – 4.30pm Tickets
Sunday July 1st – The Stand Comedy Club, Edinburgh – 0131 558 7272 – 7.30pm Tickets
Tuesday July 3rd – The Stand Comedy Club, Edinburgh – 0131 558 7272 – 7.30pm Tickets
Wednesday July 4th – Chapter Arts, Cardiff – 029 2030 4400 – 7.30pm Tickets
FROM THE METRO-LIB-ELITE DESK OF Stew Art Lee – Juin 18 <<< Previous Article
Next Article >>> FROM THE METRO-LIB-ELITE DESK OF Stew Art Lee July Extra 18