FROM THE DESK OF STEWART LEE Octo-bra '16
(Posted September 27th, 2016)

Pea Green Boat
Recommends
Content Provider Book
Content Provider Tour
Benefits
Aldeburgh Comedy – Laugh East
Arnold Brown's Birthday
Live circuit stand-up Dates
Baconface's Global Globules
Dead Funny Encore
Ithell Colquhoun
PEA GREEN BOAT 10″

Vinyl re-release of 15 year old comedy-art-drone piece on Green Vinyl.
An owl wakes up at sea in a pea green boat. It is accompanied by a cat, its natural predator. There is some honey. What chain of events led to this dangerous situation?
This is a long awaited luxury vinyl repress of the legendary Pea Green Boat record. On Pea Green Vinyl! (note – it's slightly darker than it looks in the photo)
It's more or less identical to the 2007 release, except this time we have pressed the record on pea green vinyl, and in deference to the times, each disc comes with an mp3 download.
Also we've removed the references to myspace from the back of the sleeve.
Buy at Go Faster Stripe
S LEE RECOMMENDS
I unreservedly recommend the following shows at London's Leicester Square Theatre, some of which can be seen after me some nights, so why not double-dip it!
In recommending them, I do not seek to use my vast influence to damage the careers of other comedians who I am not recommending, or to seek to take business away from other venues, which are not the Leicester Square Theatre.
Tony Law, 21st – 29th Oct, 9.30 TICKETS
You know Tony – like a car crash in a paint factory.
Hans Teeuwen 3rd – 26th Nov, 9.30 TICKETS
Hans is one of the greatest stand-ups ever.
Bridget Christie. 29th Sep – 1st Feb, 9.30 TICKETS
In the interests of full disclosure I am married to this woman, who is now sold out until the December dates.
I recommend also…
Suns Of The Tundra – The Bedford, Balham, S London, Oct 20th TICKETS
Featuring comic-monologuist-writer Ben Moor as the narrator the ATP-shaking psych-prog band perform their concept album on the arctic explorer Ernest Shackleton.
CONTENT PROVIDER BOOK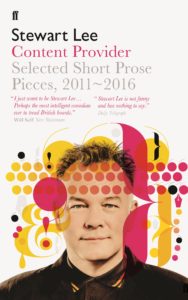 I had a new book out on August 4th, Content Provider, through Faber. "Over the last five years, often when David Mitchell has been on holiday, the comedian Stewart Lee has been attempting to understand modern Britain, and his own place in it, in a series of irregular newspaper columns.
Will Scotland become the Promised Land of the Left? Is it possible to live a life without crisps? Who was Grant Shapps? What does your Spotify playlist data say about you? Are Jeremy Corbyn and Stewart Lee really the new Christs? And so on. Selected, introduced and, where necessary, explained by the author and corrected by readers, Content Provider is funny, grumpy, provocative, confusing and brilliant."
This is the Faber link: http://www.faber.co.uk/shop/drama/9780571329021-content-provider.html
This is an Amazon link:
https://www.amazon.co.uk/Content-Provider-Selected-Pieces-2011-2016/dp/0571329020/
CONTENT PROVIDER TOUR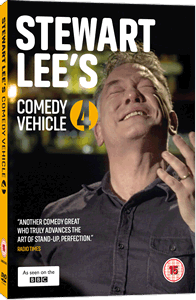 This clunky title, as well as being the same name as my next book, will be another full-on, finished, Carpet Remnant/41st Best/Milder Comedian type epic show, with an actual set, although the exact material is currently in freefall post-Brexit.
Until Nov the shows are work-in-progs and then I will tour it for about 18 months (everywhere in UK and EIRE, except Carlisle) into mid-2018, unless there is no demand for it or I get sick or bored. Here's some dates.
OCT
11th – 15th, 18th – 20th Digital Content Provider w free DVD, Leicester Sq Theatre London
NOV (Digital Content Provider w free DVD)
November 1st – Watford Colosseum – 7.30pm – 01923 571102 – TICKETS
November 2nd – Liverpool Philharmonic Hall – 8pm – 0151 709 3789 – TICKETS
November 3rd – Cambridge Corn Exchange – 8pm – 01223 357851 – TICKETS
November 4th – Cardiff St. David's Hall – 8pm – 029 2087 8444 – TICKETS
November 6th – Newcastle Upon Tyne Theatre Royal – 7.30pm – 08448 11 21 21 – TICKETS
NOV (Content Provider)
8th – 12th, 15th – 19th, 22nd 24th, 29th Leicester Sq Theatre, London
DEC (Content Provider)
1st – 3rd, 5th -8th, 10 Leics Sq Theatre
JAN 2017
2-7, 9-10, 12-14, 16-21, 23-28 Leics Sq Theatre
The 2017 Content Provider tour will cover much of the UK, Scotland & Ireland and will run – at least – from February to June 2017.
Dates are currently being booked.
As such, the dates below are the ones confirmed so far.
More dates – and the full tour schedule – will be added shortly. For now, though…
January 2017
February 2017
March 2017
May 2017
Unpaid Charity Benefit Shows
As usual, I continue to work tirelessly for charity.
Oct 7th – Stop The War, Shaw Theatre, w Michael Rosen, Jen Brister and more.
I have had to drop out of this due to a funeral. I continue to think war should be stopped.
March 21st – South & North London Care. Leics Sq Th, London. Details TBC
AlDEBURGH COMEDY FEST LAUGH EAST
Me, Danielle Ward, (the late) Ivor Cutler, Alexei Sayle, Bridget Christie, Tina C, Johnny & The Baptists. In Aldeburgh! 30th Sept – 2nd Oct.
http://www.laugheast.co.uk
ARNOLD BROWN'S BRITHDAY BASH
The legendary and inspiring comedian Arnold Brown celebrates his birthday with this generation-spanning bill at the Comedy Store, London, on Nov 21st at 7.30.
Joining him for this very special show will be MC Clive Anderson, Paul Merton, Stewart Lee, Sara Pascoe, John Hegley, Bridget Christie, Norman Lovett, Adam Bloom, Nick Revell & more acts to be announced. Also, a rare chance for fans of weird shit to see inside the temple of comedy.
http://thecomedystore.co.uk/london/show/arnold-browns-birthday-bash/
Other live s-up Dates
(mainly 30 mins sets w some previews)
OCT
1st Aldeburgh Comedy Festival – TICKETS
3rd Susan Murray's Covent Garden gig
4th and 5th Red Imp, London
6th Sevenoaks somewhere w Maff Brown
7th Bush Hall, London
10th Happy Mondays, London
Global Globules with Baconface
On Wednesdays at 11pm on Resonance 104.4 fm and on the station website, the barely present cult Canadian stand-up comedian Baconface continues to play lengthy and mainly uninterrupted selections from his late brother's extensive record collection of '60s and '70s psychedelia, progressive rock, free jazz, folk, acid folk, folk rock, acid rock, electronic music, and ethnoforgeries.
In association with the Chilliwack Office of Leisure. [Repeated Saturday 4am.] The shows can also be heard here.. http://www.baconfacecanada.com/global-globules/
Resonance is a groundbreaking 24/7 radio station which broadcasts on 104.4 FM to central London, DAB to Greater London, nationally on Radioplayer and live streamed to the rest of the world.
Dead Funny Encore book
Comedian Robin Ince, the co-editor of the new comedians' horror fiction anthology, in which I have a piece, writes…
"Hello everyone. Dead Funny Encore is out. i am really pleased with it, as is Johnny Mains. Sorry it took longer than thought, but really couldn't be helped.
This is a link to book page – https://www.saltpublishing.com/products/dead-funny-encore-9781784630393
We did a horror event at Latitude that viciously plugged the book, http://cosmicgenome.com/features/podcasts/
Here is the book on that Amazon
https://www.amazon.co.uk/Dead-Funny-Encore-Robin-Ince/dp/178463039X/
ITHELL COLQUHOUN
I have written the introduction for two reprints of travel books by the surrealist-occultish Ithell Colquhoun, out this month.
It was a pleasure.
http://www.peterowenpublishers.com/product-category/authors/ithell-colquhoun/
FROM THE DESK OF STEWART LEE SEPTEMBER '16 <<< Previous Article
Next Article >>> FROM THE DESK OF STEWART LEE Octo-bra '16.2