FROM THE FRENCH EURO-DESK OF Stewart Lee NOOZ AUG '16
(Posted July 28th, 2016)
Eighteen Ed Fringe Tips
Content Provider Book
Content Provider Tour
Benefits
Live circuit stand-up Dates
Baconface'S Global Globules
Dead Funny Encore
Chilcot Report Reading
Simon Munnery & Friends 22nd
Gallivant Screening 29th
Edinburgh Book Fest Sold Out 19th
EIGHTEEN ED FRINGE TIPS
I'm all sold out for the Ed Fringe but here's eighteen tips of things likely to be better than me.
11.00 am Stand 1 Bridget Christie (the duchess of stand-up)
11.30 am Assembly George Sq – Derevo – Once (physical euro-theatre)
12.00 mid-day Stand 2 – Daniel Kitson (the arch-duke of stand-up)
3.15pm Bob's Blundabus – Grainne Maguire (politico-personal stand-up)
3.40pm Stand 3 Andy Zaltzman (stand-up from the red clown)
4pm Stand 1 Simon Munnery (Redondan king of comedy)
5.30pm Stand 1 Josie Long (the Angela Mason of stand-up)
5.45pm Three Sisters – Kunt & The Gang (childish swearing sex comedy)
6.45 Spiegeltent – Simon Munnery 30 Not Out (22nd) (go pay homage)
7.00 Pleasance Courtyard – Colin Hoult (character comedy)
7pm Summerhall Richard Dawson (18th only) (mind-fuck avant-folk)
7.30pm Assembly Hall – David O'Doherty (v low energy musical whimsy)
8pm Pleasance Courtyard Nish Kumar (stand-up) HIS TIME IS NOW!!
8pm Acoustic Music Centre – Dick Gaughan (SNP folk) (23rd only)
8.15pm Surgeon's Hall – Blueswater (blues-based edu-tainment)
10.10pm Underbelly – Christeene (sick gay disco dry-ice art wank)
10.00pm Traverse – Mouse by D Kitson (comedic ur-theatre)
10.35pm Stand 4 Will Franken (trans-gender reactionary comedy)
Remember, it is best wherever possible to avoid UNDERBELLY, PLEASANCE, & ASSEMBLY, and favour Stand, Free Fringe variants, Blundabus, Summerhall and others, as big venues are loss-making traps for acts and in hock to big agencies/production companies and PR spin-bullshit. Run by a cabal of English upper class twits, they should only be patronised as a last resort if the stuff on at them is culturally essential or requires your financial and/or moral support.
CONTENT PROVIDER BOOK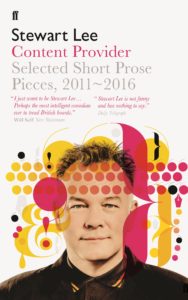 I have a new book out on August 4th, Content Provider, through Faber. "Over the last five years, often when David Mitchell has been on holiday, the comedian Stewart Lee has been attempting to understand modern Britain, and his own place in it, in a series of irregular newspaper columns.
Will Scotland become the Promised Land of the Left? Is it possible to live a life without crisps? Who was Grant Shapps? What does your Spotify playlist data say about you? Are Jeremy Corbyn and Stewart Lee really the new Christs? And so on.
Selected, introduced and, where necessary, explained by the author and corrected by readers, Content Provider is funny, grumpy, provocative, confusing and brilliant."
This is the Faber link: http://www.faber.co.uk/shop/drama/9780571329021-content-provider.html
This is an Amazon link:
https://www.amazon.co.uk/Content-Provider-Selected-Pieces-2011-2016/dp/0571329020/
CONTENT PROVIDER TOUR
This clunky title, as well as being the same name as my next book, will be another full-on, finished, Carpet Remnant/41st Best/Milder Comedian type epic show, with an actual set, although the exact material is currently in freefall post-Brexit.
Until Nov the shows are work-in-progs and then I will tour it for about 18 months (everywhere in UK and EIRE, except Carlisle) into mid-2018, unless there is no demand for it or I get sick or bored. Here's some dates.
AUG
Stand, Edinburgh – Content Provider. SOLD OUT
OCT
11th – 15th, 18th – 20th Digital Content Provider w free DVD, Leicester Sq Theatre London
NOV (Digital Content Provider w free DVD)
November 1st –  Watford Colosseum – 7.30pm – 01923 571102 – TICKETS
November 2nd – Liverpool Philharmonic Hall – 8pm – 0151 709 3789 – TICKETS
November 3rd  – Cambridge Corn Exchange – 8pm – 01223 357851 – TICKETS
November 4th – Cardiff St. David's Hall – 8pm – 029 2087 8444 – TICKETS
November 6th – Newcastle Upon Tyne Theatre Royal – 7.30pm – 08448 11 21 21 – TICKETS
NOV (Content Provider)
8th – 12th, 15th – 19th, 22nd 24th, 29th Leicester Sq Theatre, London
DEC (Content Provider)
1st – 3rd, 5th -8th, 10 Leics Sq Theatre
JAN 2017
2-7, 9-10, 12-14, 16-21, 23-28 Leics Sq Theatre
Unpaid Charity Benefit Shows
As usual, I continue to work tirelessly for charity.
Sept 14th – White Helmets Syria @ Union Chapel w Michael Legge, Bridget Christie, Nish Kumar, Eleanor Tiernan
Other live s-up Dates
(mainly 30 mins sets w some previews)
August
19th Edinburgh Book Fest w Ian Ranking Roger
22nd Simon Munnery 30th Anniversary Show – incl Alan Parker's Urban Warriors, w me on guitar.
SEPT
2nd – 4th End Of The Road
9th Martin Soan's gig, South London
12th Tattershall Castle, London
15th Soho Theatre, London
24th Union Chapel, London
27th Soho Theatre
28th Soho Theatre
29th Chippenham Com Fest, rescheduled
OCT
1st Aldeburgh Comedy Festival
3rd Susan Murray's Covent Garden gig
4th and 5th Red Imp, London
6th Sevenoaks somewhere w Maff Brown
7th Bush Hall, London
10th Happy Mondays, London
Global Globules with Baconface
On Wednesdays at 11pm on Resonance 104.4 fm and on the station website, the barely present cult Canadian stand-up comedian Baconface continues to play lengthy and mainly uninterrupted selections from his late brother's extensive record collection of '60s and '70s psychedelia, progressive rock, free jazz, folk, acid folk, folk rock, acid rock, electronic music, and ethnoforgeries. In association with the Chilliwack Office of Leisure. [Repeated Saturday 4am.] The shows can also be heard here.. http://www.baconfacecanada.com/global-globules/
Live b'cacting of B's GGs is suspended during August for Resonance's annual Summer experimento-pause.
Resonance is a groundbreaking 24/7 radio station which broadcasts on 104.4 FM to central London, DAB to Greater London, nationally on Radioplayer and live streamed to the rest of the world.
Dead Funny Encore book
Comedian Robin Ince, the co-editor of the new comedians' horror fiction anthology, in which I have a piece, writes…
"Hello everyone. Dead Funny Encore is out. i am really pleased with it, as is Johnny Mains. Sorry it took longer than thought, but really couldn't be helped.
This is a link to book page – https://www.saltpublishing.com/products/dead-funny-encore-9781784630393
We did a horror event at Latitude that viciously plugged the book, http://cosmicgenome.com/features/podcasts/
Here is the book on that Amazon
https://www.amazon.co.uk/Dead-Funny-Encore-Robin-Ince/dp/178463039X/
Chilcot Report Reading
Starting at 6pm on Monday 8 August, and continuing 24/7 until they reach the end, a host of Edinburgh Fringe performers, writers, and politicians plus members of the public will stage a nonstop, out loud, live streamed reading of the recently published Chilcot Report, in its 2.6 million word entirety. Ian Rankin, Tommy Sheppard MP, Stewart Lee, Reg D Hunter, Arthur Smith, Francesca Martinez, Seann Walsh, Jo Caulfield, Simon Munnery, Tony Law, Ed Gamble, Stephen Frost, Michael Legge, Howard Read, Andy Askins, Andy Smart and many others have volunteered to take part.
The organisers have launched an appeal for more readers to sign up via iraqoutloud.com. Iraq Out & Loud is being organised by Fringe veterans Bob Slayer and Omid Djalili, and aims to bring the Fringe's creative community and international audience together to discuss and reflect on the conflict and the UK's role in it. At an approximate rate of 120 words per minute the reading is predicted to take over two weeks to complete. Iraq Out & Loud will take place in a garden shed, beside Bob Slayer's Blundabus on South College Street, with two readers each hour.
Tickets to be part of the small live audience in the shed go on sale on Monday 25th July, with four seats allocated per hour. Audience members also have the opportunity to take part in the live streamed reading. Stewart Lee said: "I like the length of the Chilcot Report, but am disappointed by the variety of content…" Ian Rankin said: "I was on my holidays when the Chilcot Report was published, so this is my best chance to get to read at least some of it. It's either that or wait for the film." Omid Djalili said: "Has there ever been a more current and brilliant Edinburgh Fringe Festival idea?" Tommy Sheppard MP said he was: "Delighted to do my part in drawing attention to this damning indictment of Tony Blair's government – pretty much every British military intervention he sanctioned made a bad situation worse."
Bob Slayer said: "Producing this is going to be a truly mammoth undertaking, however I know I would totally regret not doing it much more than actually doing it…" A Gofundme appeal has been set up to cover out of pocket costs for staging the reading, any additional money raised will be donated to the International Rescue Committee, which provides aid to refugees and victims of armed conflict around the world.
SIMON MUNNERY AND FRIENDS
Famous Spiegeltent, 6.45, August 22nd. Simon Munnery marks his 30th year of Fringe shows with an unmissable, one-off gala. He'll be joined by Alan Parker: Urban Warrior, Buckethead, The League Against Tedium and a plethora of friends and very special guests spanning the serial innovator's three decades at the Edinburgh Festival Fringe.
I will be in the Alan Parker band in this celebration of a fringe giant, and one of the greatest comedians of all time.
https://tickets.edfringe.com/whats-on/simon-munnery-and-friends-30-not-out
GALLIVANT SCREENING
On Sunday 28th Aug at 9pm, as part of the Edinburgh 'curated by' season, I will be introducing a screening of Andrew Kotting's Gallivant at the Cameo Picturehouse. This is a superb film and it will be great to see it on a big screen.
https://www.picturehouses.com/cinema/Cameo_Picturehouse/film/gallivant-with-stewart-lee
EDINBURGH BOOK FEST SOLD OUT
I am being talked to by Ian Rankin about the new book at this on Fri Aug 19th but it is sold out.
https://www.edbookfest.co.uk/the-festival/whats-on/stewart-lee
From The Desk Of Stewart Lee – July 2016 <<< Previous Article
Next Article >>> FROM THE scot-DESK OF Stewart Lee