FROM THE DESK OF Stewart Lee Weds march 9th NEWS EXTRA
(Posted March 9th, 2016)


This mini-newsletter is intended to cover weekly extras in the current slew of stuff related to me. The absence of anything should not be seen as an indication of its cancellation.
Everything will be covered in the next big monthly or weekly newsletter, including final line-ups for ATP at Prestatyn 15-17 April, which isn't cancelled, and Edinburgh and Autumn dates. In the meantime…
SLCV SERIES 4
Baconface's Global Globules
Bridget Christie Tour
SLCV Series 4
This continues on BBC2 tomorrow March 10th at 10pm
BBC page for the series with clips & links to iPlayer episodes (after broadcast) is here.
Global Globules with Baconface
Tonight 9th of March at 11pm on Resonance 104.4 fm and on the station website, the barely present cult Canadian stand-up comedian Baconface continues to play lengthy and mainly uninterrupted selections from his late brother's extensive record collection of '60s and '70s psychedelia, progressive rock, free jazz, folk, acid folk, folk rock, acid rock, electronic music, and ethnoforgeries. In association with the Chilliwack Office of Leisure. [Repeated Saturday 4am.]
This week's show covers the music of Sweden and is uncharacteristically enjoyable.
Last week's show can be heard here.. http://www.baconfacecanada.com/listen/
Resonance is a groundbreaking 24/7 radio station which broadcasts on 104.4 FM to central London, DAB to Greater London, nationally on Radioplayer and live streamed to the rest of the world.
http://www.baconfacecanada.com | https://www.resonancefm.com
BRIDGET CHRISTIE TOUR
My wife Bridget Christie begins her A Book For Her tour tonight in Salford.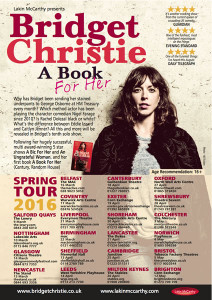 March 2016
9th – The Lowry, Salford Quays, SALFORD – 8pm – A BOOK FOR HER – 0843 208 6010 TICKETS
10th – Lakeside Arts, NOTTINGHAM – 7.30pm – A BOOK FOR HER – 0115 846 7777 TICKETS
14th – Citizen's Theatre, GLASGOW (COMEDY FESTIVAL) – 8pm – A BOOK FOR HER – 0844 873 7353 TICKETS
15th – The Stand, NEWCASTLE – 8.30pm – A BOOK FOR HER – 0844 693 3336 TICKETS
16th – The MAC, BELFAST – 7.45pm – A BOOK FOR HER – 028 9023 5053 TICKETS
17th – Warwick Arts Centre, COVENTRY – 7.30pm – A BOOK FOR HER – 02476 524524 TICKETS
21st – Everyman Theatre, LIVERPOOL – 7.30pm – A BOOK FOR HER – 0151 709 4776 TICKETS
22nd – The MAC, BIRMINGHAM – 8pm – A BOOK FOR HER – 0121 4463232 TICKETS
April 2016
13th – Memorial Hall, SHEFFIELD – 8pm – A BOOK FOR HER – 0114 2789 789 TICKETS
14th – WYP Courtyard, LEEDS – 7.45pm – A BOOK FOR HER – 0113 213 7700 TICKETS
18th – Gulbenkian Theatre, CANTERBURY – 7.30pm – A BOOK FOR HER – 01227 769075 TICKETS
19th – Corn Exchange, EXETER – 8pm – A BOOK FOR HER – 01392 665938 TICKETS
20th – Ropetackle Arts Centre, SHOREHAM BY SEA – 7.30pm – A BOOK FOR HER – 01273 464440 TICKETS
21st – The Dukes, LANCASTER – 8pm – A BOOK FOR HER – 01524 598500 TICKETS
25th – The Junction, CAMBRIDGE – 8pm – A BOOK FOR HER – 01223 511511 TICKETS
26th – The Stables, WAVENDON, MILTON KEYNES – 8pm – A BOOK FOR HER – 01908 280800 TICKETS
27th – North Wall Arts, OXFORD – 7.30pm – A BOOK FOR HER – 01865 319450 TICKETS
28th – Theatre Severn, SHREWSBURY – 7.30pm – A BOOK FOR HER – 01743 281281 TICKETS
May 2016
3rd – The Mercury, COLCHESTER – 7.30pm – A BOOK FOR HER – 01206 573948 TICKETS
4th – Playhouse, NORWICH – 8pm – A BOOK FOR HER – 01603 598598 TICKETS
5th – Tobacco Factory, BRISTOL – 8pm – A BOOK FOR HER – 0117 9020344 TICKETS
9th – Sugar Club, DUBLIN – 8.30pm – A BOOK FOR HER – 0818 903001 TICKETS
10th – Sugar Club, DUBLIN – 8.30pm – A BOOK FOR HER – 0818 903001 TICKETS
11th – Glee Club, CARDIFF – 7.30pm – A BOOK FOR HER – 0871 472 0400 TICKETS
12th – Corn Exchange, BRIGHTON – 7.30pm – A BOOK FOR HER – 01273 709 709 TICKETS
FROM THE DESK OF Stewart Lee – March 16.2 <<< Previous Article
Next Article >>> FROM THE DESK OF Stewart Lee – NEWS EXTRA Edbro dates